Mavericks return to playoffs behind Carlisle and Nowitzki's brilliance
Dallas makes the playoffs despite a terrible defensive identity behind Dirk being Dirk and a veteran resiliance.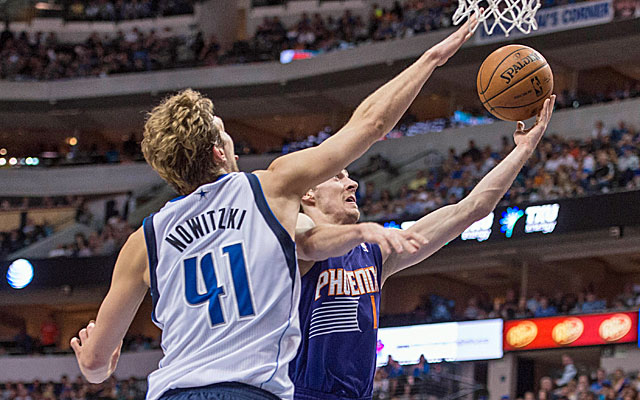 More NBA: Power Rankings | Expert Picks | Latest news, notes
Dallas clinched a playoff berth Saturday night with a win over the Phoenix Suns, securing their 13th playoff appearance in 14 seasons, returning to the postseason after last season's failed run. On the surface, it makes sense. Dallas will finish with 49 or 50 wins in the brutal Western Conference. They're anchored by an all-time great in Dirk Nowitzki, and have name players like Monta Ellis, Shawn Marion, Vince Carter, and Jose Calderon. 
Why wouldn't they make the playoffs? 
But the reality is that this Mavericks team may be Rick Carlisle's greatest coaching performance with the Mavs, even greater than the brilliant 2011 run that netted the team's first and only title. Because the Mavericks can hit 50 wins with a win Wednesday vs. Memphis, and this is not a 50-win roster. 
Marion and Carter are still valuable in their own rights, especially situationally. Calderon is a great shooter and can run the offense. Brandan Wright has been a revelation, making plays as he did Saturday in patrolling the paint and making huge blocks. Devin Harris can run an offense. And Ellis has been better than he has ever been this season, shooting 49 percent from the field. And of course, there is Nowitzki, but we'll get back to him in a minute. 
But they are a nightmare defensively. The Mavericks have given up 110 points per 100 possessions to the other playoff teams this season. They're ranked 22nd overall in points allowed per possession. Calderon can't contain the perimeter, Marion can't contain the damage anymore or take the tougher assignments. Their starting lineups don't feature a strong defensive player. 
Their starting unit scores 102 points per 48 minutes of play and still gets outscored. 
And yet, here they are, 49 wins already with another game to play Dallas. It's been situational mastery by Carlisle, as the Mavericks have gone 26-21 in games within five points in the last five minutes according to NBA.com. He has found wins where none should have been found, capitalized on schedule weaknesses, and worked their way to 49 wins. You can say you are what your record says you are, but Dallas is proof that context needs to be considered. 
It's proof more than anything that the core of what you are can go so far in this league. So many teams try and piece things together without a winning combination at their heart, and fall short. Carlisle is half of that puzzle. Nowitzki is the other. 
It's been a reclamation season for Nowitzki. He struggled in 2011-2012, coming back late from a championship celebration when the lockout ended suddenly. He missed time last year with injury and then found a team that didn't know how to get him the ball. But this season has been a return to the Dirk we've known so well. And now he's back where he belongs, the playoffs and another run, though his odds of an unlikely run are slim. 
The Mavericks are back in the playoffs, despite a lot of reasons to be surprised. And while the Mavericks have a nightmare path to try and make a serious playoff run, there's a bigger nightmare waiting for their opponents. You can get past them, but you have to get past Carlisle and Nowitzki, and the Mavericks who don't know how to lose. 
Steve Kerr opens up about his back issues and more

OJ Mayo, banned from the NBA for positive drug test, is considering playing overseas

The King? 'LeBron, it turns out, is Aquaman,' or so the account via Dwyane Wade's wife goe...
From Penny to Thunder Dan to Pistol Pete to Agent Zero, guys who would be better in 2017

Griffin said recently he thinks it's more likely that LeBron James goes to New York than L...

Mayo was suspended for two years last summer for violating the league's anti-drug program