Mavericks sign-and-trade Ian Mahinmi for Darren Collison and Dahntay Jones
Pacers trade Darren Collison and Dahntay Jones to Dallas in a sign-and-trade for Ian Mahinmi.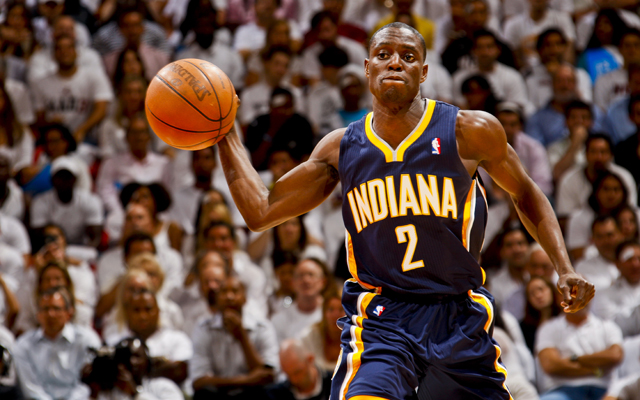 The Mavericks did not land Deron Williams as a free agent. They'll have to settle for Darren Collison.
(Getty Images)
The Mavericks missed out on all their top free agents. So they're getting inventive to remake the roster. 
Draft Express reported and both SI.com and the Indianapolis Star confirm Wednesday night that the Mavericks have agreed to terms on a sign-and-trade deal of reserve center Ian Mahinmi to Indiana for Darren Collison and Dahntay Jones. 
The news comes with a great deal of surprising elements. 
For starters, the Pacers just traded Darren Collison who was the starter for the majority of last season and he's arguably the best player in this deal. It leaves the Pacers with only Lance Stephenson as backup point guard after releasing A.J. Price. Yahoo Sports reports that the Pacers are talking to the Bobcats about a sign-and-trade for D.J. Augustin. 
It also means the Pacers are taking on a reported $4 million per year for 4 years deal for a backup seven-footer without a go-to offensive game, after Ken Berger of CBSSports.com reported they came to an agreement with Roy Hibbert to provide him with the same deal offered by the Blazers in a separate contract. It gives the Pacers tons of length, but also a lot of money invested on two centers without a lot of experience (though Mahinmi is hardly green and played a pivotal role on the Mavs' 2011 championship team).
As for the Mavericks, they get a faster point guard with great scoring potential to pair with Dirk Nowitzki. Collison's pick and roll play suffered since being traded to Indiana as part of the system in place. But he can be an excellent pick and roll guard and is capable of the drive-and-kick offense that Rick Carlisle often likes to employ. It's a roster remake as the Mavericks, who signed Chris Kaman earlier Wednesday, redistribute their salary to a younger base in light of recent events. It's a smart move as the Mavericks have never been fully sold on Mahinmi.
Now they have a point guard to replace Jason Kidd, they can play Rodrigue Beaubois at combo-guard, and Dahntay Jones gives them a versatile defender behind Shawn Marion. 
Everyone seems to win in this transaction, but there are gambles on both sides. The Mavericks are now desperate for rebounding and center size, the Pacers looking at having traded a starter-caliber point guard for the starting point guard of the worst team in the league (though Augustin was arguably the team's best player).  Can't just sit around. Not in this offseason of madness.  
Markieff Morris was already in line to miss the start of camp due to a pending assault cas...

The 76ers should hopefully get a lot of play out of their young guys this season

Okafor's been on and off the trade block for over a year and doesn't seem to be in Philly's...
Fisher is the fourth NBA player to compete for the Mirror Ball trophy on the show

Barkley commends the NBA, sarcastically, for extending the season and reducing back-to-back...

Enes Kanter isn't seeing much comedy in the Kevin Durant social media situation