Mavericks sign Jameer Nelson to two-year deal
The Dallas Mavericks have signed point guard Jameer Nelson.
by

Eye on Basketball staff

• 3 min read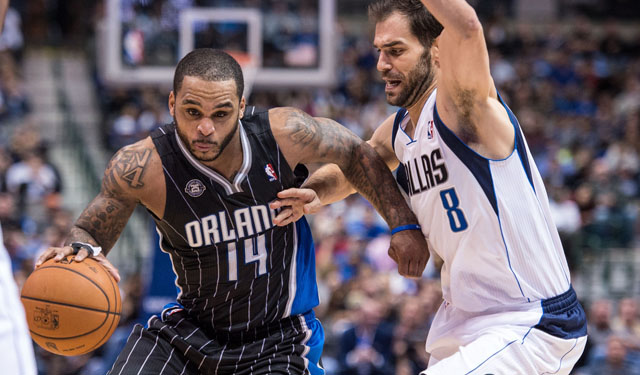 More Offseason Analysis: Coaching changes, news | Free Agency | Draft
Update 6:53 p.m.:  The Mavericks have announced the deal, it's official. 
Nelson spoke with the Dallas Morning News about the decision: 
"I am excited," Nelson said. "It's one of those things that during the process it was fun to go through, but there came a point where I was ready to get it done. From the start, Dallas was on my radar and one of the top teams I was targeting.

"This is how I look at things – one day at a time. It's a process. It's a process to be a good team and to win games. They already have a great pedigree here and I've been a winner, so I think it's a good fit for me."

Nelson also said that he's looking forward to working with Dirk Nowitzki and Monta Ellis. His numbers have been consistent throughout his career. But last season, he shot only .348 from 3-point range, substantially below his .374 career mark.

"My 3-point percentage hopefully will go up playing with better guys," he said. "The looks will be there. Dirk will draw a lot of attention. Monta draws a lot of attention. Chandler Parsons, too. Everybody's going to draw attention, so somebody's going to be open. I'm just preparing myself to make open shots.
via New Maverick Jameer Nelson expects a bump in his 3-point shooting this season | Dallas Morning News.
---
The Dallas Mavericks are putting the finishing touches on a pretty successful offseason. With Dirk Nowitzki re-signing for a bargain rate, the team also traded for center Tyson Chandler and point guard Raymond Felton, signed Chandler Parsons away from the Houston Rockets, and signed Al-Farouq Aminu to a bargain deal to add to their depth on the wing. Dallas hasn't been able to bring in a superstar to pair with Nowitzki but they've reloaded a very nice cast of role players around him once again. They might not be done, either.
Eddie Sefko of the Dallas Morning News is reporting the team will meet with point guard Jameer Nelson on Thursday and as long as his physical checks out, the team is expected to sign him for the room exception. That would bring $2.7 million to Nelson this season and he'd be expected to compete with Felton and the re-signed Devin Harris for point guard minutes.
Meanwhile, two sources said the Mavericks were preparing to welcome 6-foot Jameer Nelson to town on Thursday. He is expected to take a physical and if everything is in order, will sign with the Mavericks for their cap-room exception of $2.7 million.

He would likely split time at the point guard with Raymond Felton. Devin Harris also can play the position but spent a lot of time at shooting guard last season. The Mavericks would keep all three, which would play to the strength of coach Rick Carlisle's philosophy that quality depth at all positions is crucial.
The 10-year veteran was waived from the Magic in a cap saving move. The Magic owe Nelson $2 million this season, making the discount he's giving the Mavericks not such a bad deal for him. Nelson has started nearly every game at point for the Magic the past eight seasons and played in 68 games for Orlando last season. He averaged 12.1 points and 7.0 assists in 32.0 minutes. His shooting over the last two seasons has struggled mightily though, finishing both campaigns under 40 percent from the field (39.2 and 39.4 percent, respectively). 
Dan Fegan was once considered as one of the most influential agents in the NBA

Ersan Ilyasova isn't quite the player he used to be, but maybe the 76ers can bring the best...

LeBron James speaks his mind and that's part of what makes him a superhero to Gregg Popovi...
We've got all the scores, top plays and news from Sunday's NBA games

Stephen Oh has his finger on the pulse of Wizards basketball and released a play for Sunda...

The Warriors don't have any interest in winning a popularity contest. They're fine winning...