Mavericks unhappy with Derek Fisher's decision to re-join Thunder
Dallas isn't thrilled with how Derek Fisher played his cards this season.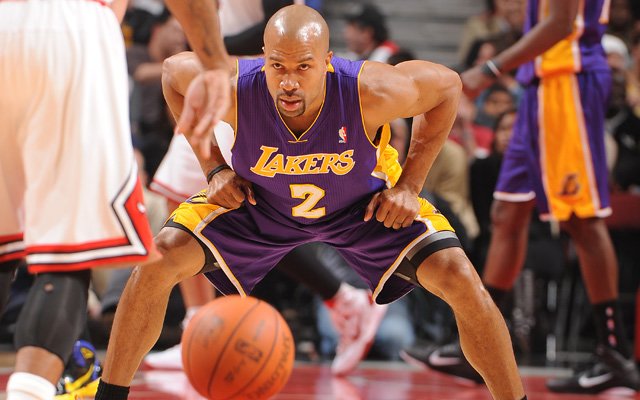 The Mavericks brought Derek Fisher out of free agency and gave him work. But after a knee injury, Fisher walked away, and the Mavericks let him go quietly. Fisher said he wanted to be closer to his family. 
But then on Sunday, he re-signed with the Oklahoma City Thunder, rejoining a contender for another playoff push. So how did the Mavericks feel about getting ditched for OKC? 
They didn't take it great. 
"It wasn't a big surprise," one Mavs veteran said. "We expected him to end up with the Lakers or OKC."

Added another Dallas veteran, while rolling his eyes: "Good for him. Good for him."

According to NBA.com, a league source described the Mavs' front office as "agitated" by Fishers decision to sign with Oklahoma City less than three months after his sudden exit from Dallas, although the 38-year-old point guard left open the possibility of playing again when he left the Mavs.
via Derek Fishers signing with Oklahoma City Thunder no surprise to Dallas Mavericks -- ESPN Dallas.
Oh, what's that? Mark Cuban has feelings on the subject? You don't say! 
"His kids are older," Cuban said. "It's easier to fly in and out of Oklahoma City than Dallas. I understand that. It's a decision a parent has to make. Every parent has difficult decisions to make."

Moments later, Cuban added: "A lot can happen in 65 days."
via Sarcasm drips as Cuban discusses Fisher -- Dallas Mavericks Blog -- ESPN Dallas.
The fact is that the Mavericks really shouldn't have brought Fisher in in the first place. All it did was hurt Darren Collison's confidence, which has been rattled all season. Fisher's only value is as a veteran on a team like OKC to provide leadership in the locker room and hit the occasional 3. He's not even "Gary Payton 2006" at this point (or ever). What was he supposed to do for Dallas? 
But it's still annoying that he signed up, then walked away and went to Oklahoma City to chase the title. It makes it seem like he just used Dallas to get into shape. But that's the league. What else is new? 
Maybe next time, stay away from the former Lakers, Mavs. 
The Blazers guard was a guest on the Sirius XM radio show 'Sway in the Morning'

L.A. reached a three-year jersey ad patch deal with Wish, a San Francisco-based e-commerce...

John Paxson doesn't intend to buy Wade out without some sort of compromise from the 3-time...
Lonzo's signature shoes have a sleek, all-black design and will be available in November

Durant recently apologized for tweets criticizing the Thunder and Billy Donovan

Jackson says he has 'no respect' for Durant after KD created fake Twitter pages