Mavs' Donnie Nelson wanted to draft Antetokounmpo, Mark Cuban said no
Dallas could have had Giannis Antetokounmpo, if it wasn't for Mark Cuban's insistence on sticking to his plan.
• 2 min read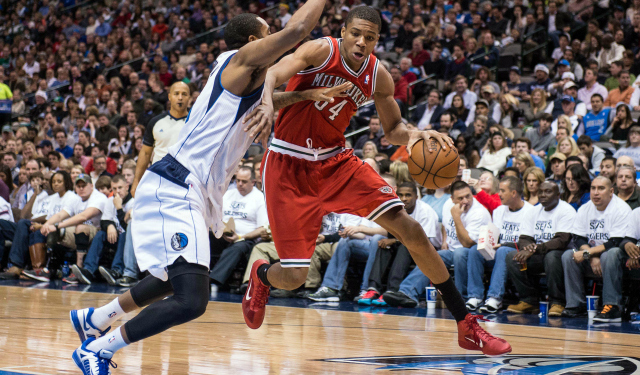 Dallas Mavericks president of basketball operations Donnie Nelson wanted to select Giannis Antetokounmpo with the No. 13 pick in the 2013 draft, but owner Mark Cuban wouldn't do it, via the Dallas Morning News' Eddie Sefko. Cue Dallas fans dreaming of Antetokounmpo starring in "teammate trivia" videos alongside Dirk Nowitzki.
[Nelson] made his sentiment known to owner Mark Cuban, who was receptive, sort of, but when it came time to make hard choices, Cuban elected to go with a plan that the Mavericks had set in place and passed on Antetokounmpo with the 13th pick, which they eventually traded down to the 18th pick and, where they got Shane Larkin.

"He's making us look bad for sticking to our plan," Cuban said Tuesday. "That was Donnie. That (taking Antetokounmpo) is what Donnie wanted to do and I said we should stick to the plan. The whole point was that I wanted to stick to the plan and Donnie was like, this guy's going to be good. I'll risk everything that he's going to be good. I said, I believe you Donnie.

"But still, what if all of the sudden we find out that so-and-so (free agent) is dying to come to the Mavs and now you don't have the cap room. That's why we put together a plan and our consolation wasn't too bad."
If that draft was to be re-done, I'd guess Antetokounmpo would go first overall. He's 6-foot-11 with guard skills, infinite potential and outrageous length. This season he's displayed a much more aggressive mentality on offense. The Milwaukee Bucks are extremely fortunate to have him, and they deserve credit for making a pick that was considered risky at the time.
It's easy to imagine Antetokounmpo sliding right into the Mavericks' rotation, but it wouldn't necessarily have worked like that. Dallas wound up including Shane Larkin in the trade for Tyson Chandler this past summer, which looks like a great move. Front offices are always juggling several different options around draft time, and each one comes with costs associated with future plans.
At the same time, who knows how much playing time Antetokounmpo would have earned on a playoff team last season as opposed to the league-worst Bucks? Surely he would have attracted some attention if he produced highlights in limited minutes, but he might not be thought of in the same terms as he is now. He was given a platform to perform in Milwaukee, which was important for his development.
It's refreshing that Cuban is willing to say that he's "making us look bad." The Mavs are just one of many teams that might regret passing on him. How good would Antetokounmpo look, for example, in Jeff Hornacek's up-and-down Phoenix Suns system? How about putting him next to Gordon Hayward, Derrick Favors and Enes Kanter in Utah? The Bucks face Dallas on Wednesday, but all of the teams Antetokounmpo plays against employ executives who'd love to have him.
CBS Sports HQ Newsletter
We bring sports news that matters to your inbox, to help you stay informed and get a winning edge.
Please check the opt-in box to acknowledge that you would like to subscribe.
Thanks for signing up!
Keep an eye on your inbox for the latest sports news.
Sorry!
There was an error processing your subscription.
The NBA's plan to finish the season at Disney World is coming into focus

Unseld, an NBA champion and MVP, was arguably one of the greatest rebounders in the history...

From Michael Cooper to Raja Bell, these five players helped pave the way for others in that...
These players would have put together even more impressive careers had they come around decades...

The list is headlined by five active players, including two for the Golden State Warriors

The NBA still has at least possible postseason options still on the table
Our experts held their first NBA Mock Draft of 2020 on CBS Sports HQ

Conley's indoor gym may have actually been the MVP of the tournament