Mavs, Parsons agree to three-year, $46 million offer sheet
Restricted free agent Chandler Parsons will sign a lucrative offer sheet with the Dallas Mavericks.
• 1 min read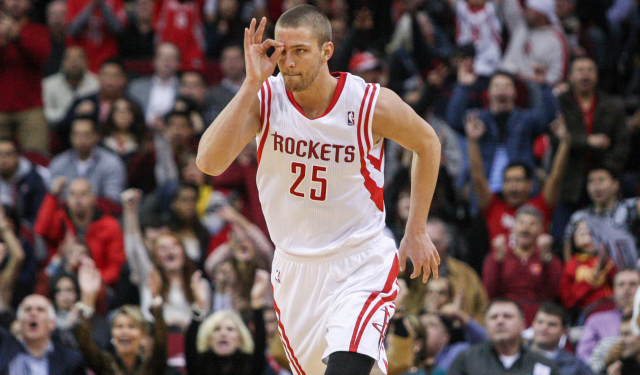 More Offseason Analysis: Coaching changes, news | Free Agency | Draft
The Dallas Mavericks have reached an agreement with Houston Rockets restricted free agent Chandler Parsons on a three-year offer sheet for more than $45 million.
ESPN sources say Mavericks and Rockets RFA Chandler Parsons have reached agreement on three-year offer sheet worth in excess of $45 million

— Marc Stein (@ESPNSteinLine) July 9, 2014
Restricted free agent Parsons, I'm told, will sign deal early Thursday ... after which Houston will have three days to match Dallas' offer

— Marc Stein (@ESPNSteinLine) July 9, 2014
League sources confirm RFA Chandler Parsons and the Mavs are finalizing a three-year, approximately $46m offer sheet. Dallas done waiting.

— Ken Berger (@KBergCBS) July 9, 2014
Houston and Parsons, a restricted free agent, negotiated throughout day, but were unable to come to an agreement on a deal, sources said.

— Adrian Wojnarowski (@WojYahooNBA) July 9, 2014
Chandler Parsons is expected to sign his offer sheet with the Mavericks at 12:01 AM EST, a source said.

— Marc J. Spears (@SpearsNBAYahoo) July 9, 2014
Chandler Parsons has a player option in third year of the offer sheet with the Mavs & was attracted to their uptempo offense, a source says.

— Marc J. Spears (@SpearsNBAYahoo) July 9, 2014
For the Rockets, there will be a 72-hour window after the agreement is signed in which the team will be able to acquire a star, such as Chris Bosh, before going over the salary cap to match Parsons' deal. Otherwise, if Houston is going to sign a marquee free agent, it will have to surrender Parsons. This would hurt after allowing Parsons to hit restricted free agency rather than paying him less than $1 million in 2014-2015 before he'd become an unrestricted free agent next summer.
If the Rockets don't match, this is a great deal for Dallas. Parsons would be a tremendous fit for the Mavericks, and that isn't an unreasonable amount of money for a player this young and versatile. When you consider that Gordon Hayward agreed to a four-year, $63 maximum offer sheet, this looks like it would be an absolute steal.
The problem, for Dallas, is that Houston could very well match it. And in the meantime, the Mavs' cap space would be tied up for three days, while their other targets would be free to sign elsewhere.
The reserves will be drafted playground style by LeBron James and Stephen Curry

Seven players from each conference will join the starters

A report last week indicated Charlotte is looking to move Walker, along with one of its hefty...
Barea responds by claiming that none of Wall's teammates like him; the Wizards continue to...

Cousins finished with 44 points, 24 rebounds, and 10 assists

Love left Saturday's game, which the Cavs lost 148-124, due to illness