Mavs' Terry loses headband in CrossFit bet with Magic's Nelson
Why is Jason Terry of the Mavericks not wearing a headband Friday night against the Magic? He lost a CrossFit competition to Jameer Nelson during All-Star weekend in Orlando. As a CrossFitter myself, I feel their pain.
The Magic play the Mavericks Friday night in Orlando, and if you're flipping through the channels, one glimpse is all it will take. You'll have to stop, stare and ask yourself, "Why?"
Why is
Jason Terry
not wearing a headband? Where are his trademark knee-high socks?
Terry's attire of choice will be a fashion statement some would say he should've made years ago. Although, I have to admit, after watching him for 13 years, the crooked headband and goofy socks have sort of grown on me.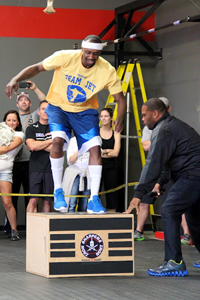 Jason Terry takes to the box jump at a crossfit competition.
(Reebok)
But there
is
a reason for the Mavs' renowned sixth man eschewing habit and superstition for this particular game. Terry lost a bet during All-Star weekend. He lost to Magic point guard Jameer Nelson in a CrossFit competition.
What's CrossFit?
Many of you know, based on the replies I get when I tweet about it. For those who don't, it's a workout program, a way of life, functional fitness for the somewhat poorly adjusted.
Sort of like Red Bull for the soul.
On All-Star Saturday, Terry teamed up with Jadakiss against Nelson and Bill Bellamy at the CrossFit Firebase in Orlando. The challenge was this, if Terry and Nelson chose to accept it: The loser would have to wear the winner's shoes the next time the teams played, which is Friday night. The competition was sponsored by Reebok, with whom both Terry and Nelson have shoe contracts. Thankfully, they wear the same size, too.
That was all well and good, but Terry and Nelson decided to make things interesting. Thus, if Terry won, Nelson would have to suit up for Friday night's game wearing Terry's headband and long socks. If Nelson won, Terry would have to leave those trademark items in the locker room.
Thus, you'll be treated to Terry's bare forehead and skinny legs Friday night in Orlando.
"He's a good guy," Nelson said Wednesday night, after the Magic played the Knicks in New York. "He's a man of his word."
But wait a minute. In a phone interview Thursday, Terry claimed to have found a loophole in their agreement. Apparently,
how long
Terry would have to play sans headband and high socks was never specifically addressed.
"See, my teammates got wind of it and now they're trying to make me renege," Terry said. "I think I may get through the first quarter, but if I miss my first two shots, I'm gonna do a quick wardrobe change. If I make my first two shots, then I'll rock it for the rest of the night and get the win."
The JET apparently is unaware of the following rule: He who reneges on a CrossFit bet must perform 100
burpees
on the spot. This is going to look odd while Dirk Nowitzki shoots free throws. I see ridicule, a delay of game whistle, maybe a technical foul, and a look of utter bewilderment on the face of coach Rick Carlisle. Stan Van Gundy will no doubt launch into a postgame tirade. "I don't think this CrossFit, or whatever it is, OK, had anything to do with us not contesting any shots tonight, I really don't," he'll say.
"I lost fair and square, the challenge that we had," Terry said on the phone, seemingly reconsidering. "And I guess I'm going to hold to my word."
As you can see
, the competition was a pretty basic CrossFit workout: four rounds of shuttle run, burpee box jumps, air squats and ring rows. As with all CrossFit workouts, it was a race against time.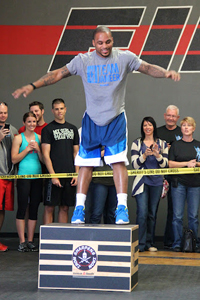 Jameer Nelson faced off against Terry at a Crossfit competition.
(Reebok)
"It's a good workout," Nelson said. "It's an hour, get in and get out, but you're exhausted afterward. Exhausted."
Tell me about it.
Let me say here that I've done all of the above, and more, during my nearly three years of CrossFitting. Let me say that, since I started during Las Vegas Summer League in July 2009, I've lost 25 pounds -- allowing me to fit into 32-waist pants and size-38 suits I thought had been lost forever. When I started, I could barely do 10 situps or three pullups. Now, I knock out 50 of the former and 20 of the latter at a time.
I'm 41 years old. I'm in better physical condition than when I was 21. (Aside from SLAP tears in both shoulders, injuries that sidetracked me for a while but now just grudgingly come along for the ride.)
My deadlift loads have gone through the roof; my squat cleans now come as naturally as walking. My hands have calluses, and my shins are always scraped from the deadlifts. I wear my wounds with pride.
It's a mixture of Olympic lifting, gymnastics, plyometrics, physical balance and mental imbalance. Many of the workouts are named after women (I don't know why) or fallen U.S. military personnel (there's a strong CrossFit following among the military, firefighters and law enforcement.) The signature workout is "Fran," which involves 21, 15 and nine reps each of
thrusters
and pullups. My most recent time, after three rounds of deadlifts, was 8:32.
"I've done the workout before, and I think CrossFit is a phenomenon that's kind of taking over now in the health industry," said Terry, 34. "It's something that I'm going to implement into my training regimen on a regular basis during the offseason. I just think overall, total body strength and conditioning is great, especially for an athlete like myself. It's challenged me to another level that I've not yet reached."
Personally, I've had such amazing results with the workouts that I adopted the signature CrossFit diet: the Paleolithic, or
Paleo diet
, which consists primarily of lean meats, wild-caught fish, vegetables, fruits and nuts. (No dairy, grains, wheat, rice, legumes, tubers, processed sugars, etc. That stuff will kill you. Or just make you feel lousy while spawning various diseases.
If you ever bump into me in an airport, ask me to show you the contents of my computer bag, which is never without an emergency stash of nuts and dried fruit. I drink black coffee on the road, since coconut milk isn't fun to travel with.
A confession: I live in New York, so I'd be lying if I said I never ingested a slice of pizza on occasion. (Especially during the lockout.)
I'm not going to share with you my bloodwork since adopting this diet, but let's just say it defies all known boundaries of conventional medicine and federal dietary guidelines. Nor am I recommending any of this for anyone; you should always check with your doctor before beginning an exercise regimen or new diet. Besides, as with most fitness programs, if you do this stuff wrong or dive in too quickly, you can get hurt.
I don't work out at a CrossFit box -- the gyms are called boxes, not gyms -- because there isn't one close enough to my home. On the road, I know which hotels have pullup bars in their fitness centers (Cleveland Renaissance, Biscayne Bay Marriott in Miami) and which one also has a rowing machine (Long Wharf Marriott in Boston).
When I'm not traveling, I show up most mornings at my local gym and no longer get strange stares when I crawl on all fours across the floor (
bear crawls
), carry 45-pound dumbbells around in circles (
farmer walks
) or drop into a pushup, jump to my feet, jump again to catch the bar and do a pullup and then do it all over again --
burpee pullups
-- as fast as possible.
They're used to me by now. And little by little, I've seen other people doing the stuff I'm doing. And then, my worlds collided -- basketball and CrossFit -- when I learned of the All-Star event in Orlando.
"We had comedians, entertainers, rappers," Terry said. "To watch them get out of their element and into this CrossFit challenge was just comical."
I was intrigued. I wanted to compete, or at least attend. But duty called. I spent that day, instead, hanging out at the state fairgrounds on the outskirts of Orlando to speak with Billy Hunter and other National Basketball Players Association officials for a column.
I did, however, get my CrossFit on later that day. According to my workout log, it was one minute of
goblet squats
, one minute of burpees, one minute of rest, five rounds.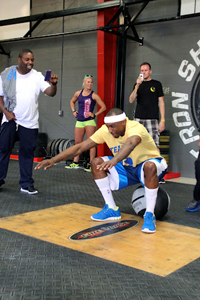 Terry lost more than a headband during an intense Crossfit session.
(Reebok)
A few miles away, Team Jameer beat Team JET, setting up the fashion oddity you'll see when Terry takes the floor Friday night in Orlando. I have to say, from watching the video, Nelson started off pretty shaky on the burpee-box jumps, but was cranking them out with solid form by the end. Terry? His quickness was on display in the shuttle runs, but his air squats? The ugliest I have ever seen. Period.
"That was the most difficult part of the challenge," Terry said. "... There was just something about a man squatting down on a ball that really kind of threw me off. I really wasn't comfortable with that position."
For the record, they were both better than
Charles Barkley
.
Nelson wasn't aware of any fellow
NBA
players who follow a CrossFit regimen, but trainers incorporate a lot of the concepts into players' offseason routines. "I know some football players who do it," Nelson said. "But, you know, football players are crazy."
Terry, who will be a free agent in the summer and turns 35 next season, says the fact that other NBA players aren't doing CrossFit yet makes him more enthusiastic about adding it to his conditioning program.
"If no one's doing it and I'm doing it," Terry said, "it will give me an edge."
Terry says he's asked for a rematch at All-Star weekend next February in Houston, and is promising to exact revenge. "For sure," he said.
I want in, and sooner than that. At a CrossFit box convenient to all of us, I'd like to challenge Nelson and Terry to another competition this summer. The trainer at the gym gets to choose the workout.
As far as the bet, I don't need any stakes. Maybe we can raise a few bucks for charity. If I win, that will be satisfaction enough. If I lose, I'll have something to shoot for. Either way, the Paleo postgame lunch will be on me.
Is this rock bottom for the Cavaliers because it sure feels like it is

Wade, as he's done so many times in his career, threw it up to LeBron for the thunderous f...

The Warriors coach added there should be no shame in being picked last since everyone's an...
We've got all the scores, highlights and news from all of Saturday's games

The two teams have reportedly not had any substantial discussions to this point

Oladipo may be getting most of the shine, but this second-year big man has been phenomenal...