Maybe Jeremy Lin's departure didn't hurt MSG's stock after all as it hits all-time high
Looks like all that Linsanity impacting MSG was more of natural ebb and flow of a stock price. Because at close of business on Monday, MSG's stock price hit an all-time high.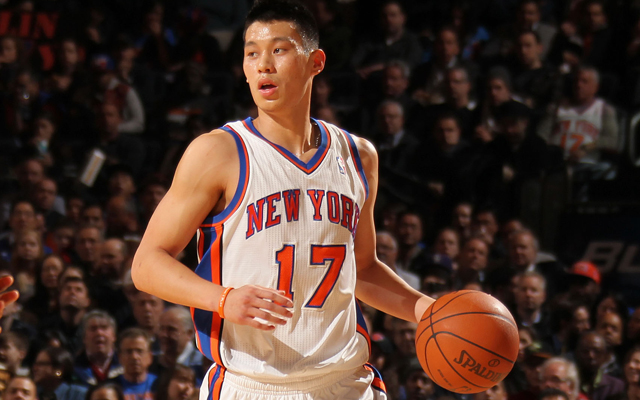 MSG's stock has reached an all-time high, post-Linsanity.
(Getty Images)
It wasn't just a theory about Jeremy Lin's departure from the Knicks having a major impact on MSG's stock. It was real.
After he signed an offer sheet with the Rockets, MSG was down $93 million. He clearly was having an influence on it. When Lin made his first start for the Knicks Feb. 6, MSG shares were trading at $29.49. On July 5, the stock had risen more than 30 percent up to $38.80. But after Lin signed the "poison pill" offer sheet than might make it tough to retain him, shares dipped to $35.50, an 8.5 percent fall.
Except maybe that was all really a coincidence. Or at likely a natural ebb and flow of a stock price with outside factors impacting it. Because at close of business on Monday, MSG's stock price hit an all-time high. Via Deadspin:
Shares of $MSG closed the day at 39.39, for a market cap of $2.98 billion. That's an all-time high for the stock, squeaking past the previous high at the beginning of NBA free agency, and blowing past the numbers at the height of Linsanity. This means nothing, but so does everything that came before it.

In other words, no one with any real influence gave a damn about what uniform Jeremy Lin would wear in the fall. MSG is a strong company, with or without Jeremy Lin, and we're seeing that re-correction. From a three-month low of 34.73 on July 23, shares have climbed steadily, gaining 13.4 percent in just 28 days. Which isn't to say the Knicks aren't a better or more marketable team with Lin than without him, only that his departure wasn't the death blow it was made out to be, and that MSG Inc. is healthier than ever, even Lin-free.
It made enough sense though. Jeremy Lin's incredible popularity and buzz ramped up attention on the Knicks, merchandise sales, ticket sales and visibility. Everyone was buying in, everyone wanted a piece.
And when he left, so did all that extra stuff. Except the thing is, MSG is a whole lot bigger than a point guard. Or even the Knicks, for that matter. MSG is made up of four pro sports franchises, a family of TV networks, stadiums, venues and a number of other things.
While it was fun to point to Lin and show what an influence and impact he had on New York and the Knicks, and thereby his departure being financially devastating to James Dolan and his company, all of that was a bit over-the-top. Technically factual, but not entirely within context.
You see, we really did all go a bit Linsane.
T.J. Warren gets paid big money by the Suns in a four-year deal

Melo didn't hold back on his feelings about President Donald Trump and urges for help in Puerto...

The Wizards star says the NFL won't change until important players like Brady and Rodgers speak...
Popovich spoke at length about sports, race, culture, and politics during Spurs media day on...

Carmelo Anthony finds the idea of coming off the bench very funny

Several teams spoke about Trump's recent comments about protests and the Warriors' White House...