Mayweather, Oprah, other celebs interested in buying Clippers
Floyd Mayweather and Oprah Winfrey are just two of the names being discussed as potential Clippers buyers.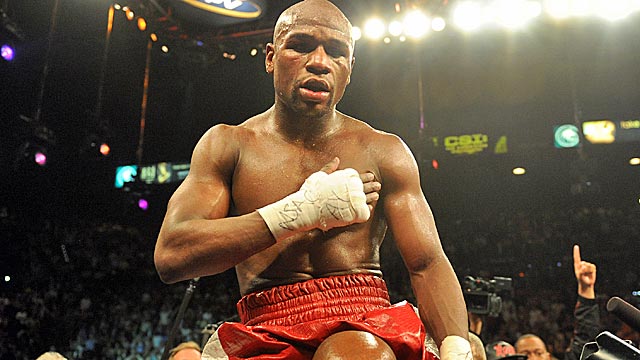 More: Sterling banned for life | Latest updates | NBA news
In the wake of Adam Silver's lifetime ban on Los Angeles Clippers owner Donald Sterling and the directive from Silver for the Board of Governors to vote to force a sale of the team (despite Sterling's intentions to resist a sale), a parade of celebrities have lined up as potential suitors for the franchise whose value has been estimated as high as $1.5 billion by some outlets. 
Let's go down the list. We begin with Floyd Maywether. From CBS Vegas: 
Mayweather said Tuesday he's interested in putting together a group — with himself as a majority owner — to buy the Clippers if the team is put up for sale.

"Do we want to buy the Clippers? Yes we do," Mayweather said. "I'm very, very interested in buying the Clippers."

Mayweather may not have enough money to buy the Clippers by himself, but he's certainly got enough for a good down payment. The boxer will make another $40 million or so Saturday night when he takes on Marcos Maidana in the third fight of a six-fight deal with Showtime that is reportedly worth $250 million.

And he's plenty familiar with the team. Mayweather has a condo next to Staples Center and is a courtside fixture at both Lakers and Clippers games.

"We want to buy the Clippers and we can afford to buy the Clippers," Mayweather said.
via Boxer Floyd Mayweather Jr. Wants To Buy Clippers « CBS Las Vegas.
Next up? Oprah Winfrey herself! 
Oprah Winfrey considering teaming with David Geffen & Larry Ellison to make bid to buy Clippers, sources tell ESPN. pic.twitter.com/7biRYYb0Nt

— SportsCenter (@SportsCenter) April 30, 2014
This is less notable for the Queen of Daytime than it is for Ellison being involved. Ellison was recently listed by Forbes as the fifth-richest person in America, and has twice tried to buy an NBA franchise (finishing second to the Lacob group for the Warriors and missing out on the then-Hornets-now-Pelicans because he wanted to move the team to San Jose). 
Ellison was going to be a bidder regardless and considering the value he's getting here, with big-name support, that's a strong bidder. 
Actor Matt Damon is also interested in entering into a minority ownership role with the team. I am most excited for this possibility for the ability to make "How do you like them apples" jokes. Those are still relevant, right? 
Not many games, but still plenty of action and intrigue Sunday in the Association

Kobe Bryant had a solid piece of advice for back in 2016 when he left OKC for Golden State

An old rivalry is reignited between LeBron James and the Cavaliers and John Wall and the W...
SportsLine's Mike McClure, a DFS pro with more than $1M in winnings, gives optimal lineup...

LeBron had 29 points, 11 rebounds, and 10 assists in the Cavs' 109-100 win over the Jazz

The montage showed Carmelo's best Knicks moments before playing the Thunder game