Meet Stefhon Hannah, the heart of Las Vegas Summer League
Meet Stefhon Hannah of the D-League Select team. It's OK if you don't know who he is. He's the reason Las Vegas Summer League works.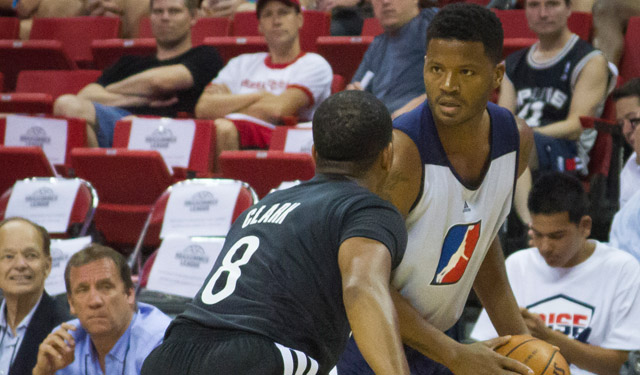 LAS VEGAS -- Don't worry if you have no idea who Stefhon Hannah is. Up until eight days ago, I didn't know who he was either. 
Let me tell you a little about what I've learned about him. The Chicago native point guard played overseas in Cyprus and Lithuania after he attended the University of Missouri. Between the time he came out of college and the time he eventually found his way to the D-League, he blew out his knee by tearing his ACL. As he attempted to come back from the knee injury, he didn't have an agent and found out about an open tryout in the D-League through a friend. 
At the time of his open tryout with the Iowa Energy in 2010, he had offers from overseas to continue playing and make more money. How much more money isn't exactly known, but the typical D-League contract is $13,000, $19,000 or $25,000, according to this piece by Marc Stein of ESPN.com. Hannah had the tough decision to make between trying to fast track his career to the NBA or bringing home a bigger paycheck to support his two kids and his girl.
"I'm not chasing money," Hannah said after a successful stint in the 2013 Las Vegas Summer League. "I know at the end of the day, I'm going to be straight, so I'd rather chase a dream and fulfill it than try to get money and be miserable or living with regrets. I want to give it my full shot and know that I gave it my full shot.
"It's hard when you've got to support your family, but for your girl to be saying, like, 'Come on,' because she knows my desire and my heart. She knows what I want. If I don't get it then she just doesn't want me to live with regrets. My mom's the same way. Because I was thinking they'd be like, 'Naw, man, get money.' [Instead] they was like, 'Do it.'"
Over the past eight days, Hannah has played well enough to get NBA teams to take notice. Various scouts, media members and coaches I've talked to have all been incredibly impressed with his play as a member of the D-League Select team that went 4-1 over the past week.
And really, this is why the Las Vegas Summer League is such an important thing. It gives players like Hannah the proper stage to introduce themselves to NBA coaches and executives in a more intimate setting and leave an impression on those decision-makers.
Playing for the D-League Select team was something Hannah chose to do over playing for the summer league team of various NBA franchises. It was to show a sense of pride in where he's played over the past three years and prove the D-League not only has talented players, but deserves the respect and recognition for developing those players.
"Probably the talent," Hannah answered when asked about the biggest misconceptions about the D-League. "Some people look at it like, 'They're not that good,' or like, 'That's the D-League,' but I think with the right opportunity, anybody can play in the NBA -- anyone of us."
He's certainly helped prove that point about the D-League having talent. Over the course of five games in summer league, Hannah averaged 13.0 points and 2.6 assists in 21.4 minutes. He made 48.8 percent of his field goals and 36.4 percent of his 3-pointers while playing attacking defense and being a vocal leader for his squad.
This is how he's used to playing as a dynamic point guard. Two years ago, after winning the D-League championship as a heavy playoff contributor in his first season in the D-League, Hannah had an incredible season with the Dakota Wizards. He averaged 18.4 points and 4.8 assists, while shooting 45.0 percent from the field, 40.7 percent from downtown, and 89.1 percent from the free throw line. 
He sounds like a pretty good prospect, right? So why wouldn't he already have an NBA job lined up instead of showcasing what he can do in the summer league this past week?
Hannah took a big step back in terms of production with shooting percentages of 34.3 percent from the field and 29.9 percent from 3 last season with the Santa Cruz Warriors. He suffered a torn tendon in his ankle while he was on the training camp roster for the Golden State Warriors in October. It was an injury that bothered him for most of last season, but finally healed toward the end.
The big questions regarding the 28-year-old's prospects as a pro are his size and how he'll be able to defend in the NBA because of that size. He's listed at 6-foot-1 and 175 pounds, which is a little on the small side for a lot of point guards in the NBA. With today's league being so focused on closing out on shooters and bothering the outside shot on defense, wondering whether or not Hannah can do that effectively is a valid concern.
However, defense shouldn't be a problem with Hannah, though, because he's actually a really good defender. Hannah has won Defensive Player of the Year in the D-League the last two seasons. When he won the award in 2011-12, he only played 29 of his team's 50 games because he spent part of the lockout-shortened season in Poland. That didn't stop the D-League coaches from noticing just how tough he is as a defender.
Hannah is the type of defender who will try to pressure the ball at all times and make you earn every inch of the court as you advance the ball.
"In the NBA or on this level, a lot of people don't want that pressure," Hannah explained. "Some people can sustain the pressure for [only] so long. I try to get people out of their comfort zone. Try to get them to play fast sometimes or play out of their rhythm or play a way they're not used to playing."
He certainly had players out of their comfort zone with his defensive pressure during summer league. To Hannah, it's like a boxing match in which he tries to wear down a player over the course of a game with body blows, instead of just swinging for the head. He calls himself "a pest" and even had teammates of the players he was defending this week ask him during the game if he'd just let that guy get the ball easily.
"If you have Deron Williams or a big guard, that won't bother him," said Alex Jensen, D-League Select team coach and recently hired director of player development with the Utah Jazz. "They're such good ball handlers. That's what I told him this week, it's more, 'Once you get into half court, that's where you can attack.' He's phenomenal, he's good for a little bit in the half court, but sometimes that's where he tends to get lost."
So has he done enough to get himself to the NBA?
"I think it's increased," Jensen said. "I think he'll definitely get a chance to go to [training] camp. The one thing most NBA people will say first is his size. Like I tell any player I've coached with his size is you've got to do something that they see where they say, 'Oh, he's small but he's tough.'"
In the span of a week, Hannah stood out in the Las Vegas Summer League and increased the attention on his game and what he can do. While he's not going to convince all 30 GMs around the league to sign him, he may have found at least one executive to bring him to camp with the real possibility of earning a roster spot in the NBA and fulfilling a dream he's sacrificed so much to realize.
If/when he makes an NBA team, who will he call first?
"I don't know," Hannah said as he laughed about the decision. "It's either going to be my mother or my girl. If I say my mother, my girl's going to get mad. If I say my girl, my mother's going to get mad. I might do a conference call, just to keep both of them happy."
Just over a week ago, I didn't know anything about Stefhon Hannah. One thing I've learned during Las Vegas Summer League is he belongs in the NBA.
The inaugural BIG3 season comes to a close Sunday with the championship game

Thomas was traded to Cleveland yet some fans are taking it out on him ... and his jerseys

The Celtics dealt the No. 1 pick to Cleveland as part of the Kyrie Irving-Isaiah Thomas tr...
Thompson was rumored to have been a point of discussion with the Cavs regarding Kyrie Irvi...

What the Celtics and Cavs look like after the Eastern Conference powers swap point men

Simmons was the No. 1 pick in the 2016 NBA Draft but did not play last season