Melo says business interests influenced decision to return to NY
Knicks forward Carmelo Anthony has plans for his brand, and thinks that New York was the only place to accomplish them.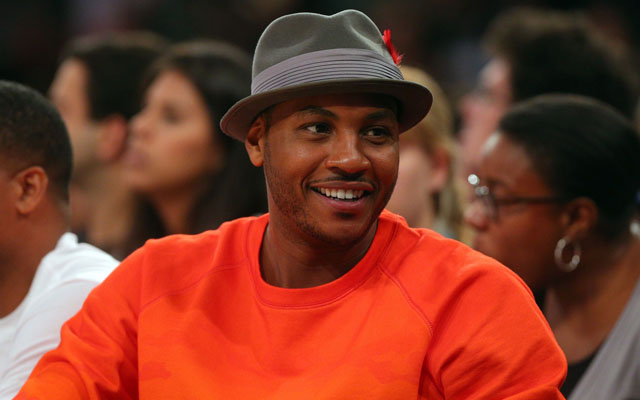 Carmelo Anthony rejoined the Knicks this summer, turning down offers from the Bulls, Rockets, and Mavericks that would have put him in a position to contend for a title. The extra money the Knicks could offer, $124 million being the number he landed, was certainly a factor. But the money he makes from just being in New York had an impact, too.
On Thursday, he appeared at a panel at Bloomberg Sports and answered a few questions, and pointed to his business interests being a major factor behind his decision to return to the Big Apple. 
Carmelo Anthony said Thursday there were business reasons in addition to basketball ones that led him to re-sign with the Knicks this offseason.

"I just couldn't leave from that perspective," he said at the Bloomberg Sports Business Summit in Manhattan. "There were so many opportunities that I started to build upon here in New York City, business opportunities, different situations, things I've already started to build here.

"I just felt if I was to leave I would have to start all over in the next place, meet new people, build that foundation up once again, and it took me a lot to build that foundation and get it up and going to where it's at right now."

Anthony spoke at length at the summit about his new company, Melo 7 Tech Partners, which focuses on investing in tech companies, most recently the secondary ticket search engine SeatGeek. (Peyton and Eli Manning also invested in the company.)

"I want to brand myself as THE digital athlete," said Anthony, who used the word "brand" often. "I really want to be the pioneer for that digital athlete and when it comes to tech I want to be the face of that space."
via Carmelo Anthony says business a big reason he stayed with Knicks - Newsday.
OK, I'm going to try and rationalize this, considering the immense disparity between the team he could have had in Chicago and the team he's going to have in New York, where Jose Calderon is the second-best player on the team. 
Most people's lives aren't defined by their job. They have families, interests, hobbies, circumstances. So it's unreasonable to expect an athlete not to have the same concerns, even if their job is more involving and outside the realm of most people's occupations. 
Anthony's worked hard to build himself into more than just an athlete, and he's not alone. LeBron James has openly stated he wants to be a billion dollar brand, Chris Paul and Dwyane Wade are both equally invested in the expansion of their business influence. So there's reason and precedent for him to make this kind of decision. The other factor to consider is how much of his life will be spent outside of basketball. A championship ring, which is still very possible in New York ... eventually, can't really do much for him when he's 45 and looking to continue making money and living in the lifestyle to which he's become accustomed to. So $124 million will certainly help with that, but Anthony has big plans for himself as a business entity and he's only scratched the surface. 
Now, his star power, and as a byproduct, his business influence would be much greater if he were to win a title. But Anthony from the get-go has been about having it all. He didn't just want a trade out of Denver, he wanted a trade to where he wanted, and he wanted it when he wanted it so he could get the money he wanted. That's what most of this is about. Anthony doesn't want to give up anything to get other things. He wants it all. And in his mind, New York is the place to get it. 
We've got all the scores, top plays and news from a busy NBA Friday

Our advanced computer model simulated Saturday's Magic vs. 76ers game 10,000 times

Several playoff contenders could use the services of Ilyasova, who's nearing a buyout agre...
Durant says he probably wouldn't have gone to college because he 'needed the money'

Ball, who has missed the last 15 games with a sprained MCL, will be on a minutes restricti...

Larry Hartstein is in the midst of his best run of the season and released a pick for Mavericks...