Melo says he's 'on the same page' with Phil
Speaking for the first time since Phil Jackson was introduced as the Knicks' new president, Carmelo Anthony said Wednesday night that he and the 13-time champion are 'on the same page.'
More Knicks: A renewed hope in New York | Berger: Phil's greatest enemy is within
NEW YORK -- Reacting to Phil Jackson's comments that he's in the future plans and has "another level he can get to," Carmelo Anthony said Wednesday night that he and the new Knicks president are "on the same page."
"I was hoping that I would be part of the future plans," Anthony said before the Knicks played the Pacers. "I never once said that I wanted to leave New York or anything like that. The only thing I said was I'm going to dabble and try the free agency out, that I was going to opt out and become a free agent. ... I'm excited about the opportunity to hopefully work with Phil."
When he was introduced as the Knicks' top basketball decision-maker on Tuesday, Jackson unequivocally threw his support behind Anthony and called him one of the best scorers and isolation players in the game. But the 13-time NBA champion also said he believes that Anthony can raise his game higher.
"I love it," Anthony said. "I don't think that was anything bad that he said. As an individual, over the years I think I've gotten better as a player and I'm playing at a very high level as an individual right now. So for him to come in and say that, we're on the same page. I believe that I can take my game to a whole other level that I haven't even taken it to right now.
"With Phil's expertise, I can rely on him and talk to him and use him as a mentor to try to get to that next level," he said. "I'm not at a stage where I'm sold on this or sold on that. I want to get better. I'm looking to get better, and with that, hopefully we're winning championships. I'm all about enhancing my game. I'm all about that. If Phil can help that, I'm all about that. I spend a lot of time in the offseason trying to enhance my game and trying to get better. So with his expertise, if he can help me out with that, my door is open."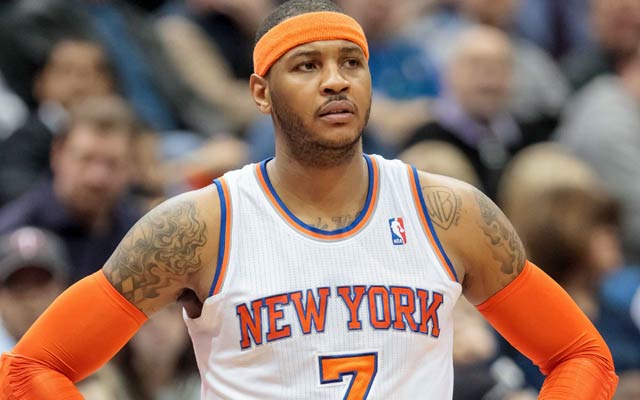 Jackson visited the Knicks' locker room Wednesday and spoke briefly with the team. It lasted only a couple of minutes; Amar'e Stoudemire characterized it as "just an introduction."
"It was short and quick," Anthony said. "He came in, spoke, shook everybody's hand, said how excited he was about this opportunity and said he wanted us to focus on the game."
On Jackson's championship resume, Anthony said, "That goes without even saying. That gives me a lot of excitement and hope just to be able to have that here with me right now. We all know what his resume stands for, what he's able to do with the game of basketball. He's a genius. He's a basketball guru. He's done it so many times, so many ways in so many different situations. Hoepfully we can make something happen here."
As far as the future, Anthony said, "That's going to handle itself."
The Knicks (28-40) beat the East-leading Pacers 92-86 on Wednesday night for their seventh straight victory as they try to close a five-game gap in the loss column in a push for a playoff spot.
"It's kind of hard for me to even sit here before the game and talk about the Phil Jackson situation when I've got a game to go out there to play and we have 15 or 16 games to make this push into the playoffs," Anthony said. "It's a great situation on one hand, but it's an unfortunate situation on the other hand."
The NBA broke its silence with a statement related to the Lakers-Paul George tampering cha...

The Clippers big man thinks LeBron will reunite with the banana boat crew at some point

Have the Clippers reportedly found their next GM?
The NBA stayed to the point in their response to the Greek basketball federation

The Pacers believe the Lakers tampered with Paul George before they traded him

Among the questionable decisions by Jackson was signing Noah to a long-term, lucrative dea...