Memphis Grizzlies defeat Phoenix Suns to clinch playoff berth
The Memphis Grizzlies' win over the Phoenix Suns clinched a playoff berth for them.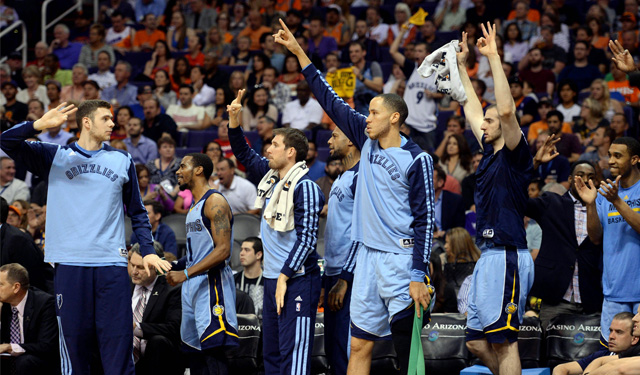 More NBA: Power Rankings | Expert Picks | Latest news & notes
With everything on the line for the Phoenix Suns, they gave it their all and provided everybody watching this game with a fantastic effort and show. But the Memphis Grizzlies were simply too much for them, like they've been all season long. The Grizzlies completed their season series sweep over the Suns with a 97-91 victory and clinched their fourth straight playoff appearance. 
Zach Randolph was everything the Grizzlies neeed him to be, leading the team with 32 points on 15-of-25 shooting and nine rebounds. He handled every double and triple team the Suns threw his way to help lead them to the victory. He received the majority of the Suns' defensive attention but managed to turn the ball over just one time. He dominated the paint and used his brute strength and incredible touch inside on most of his shots.
Mike Miller chipped in with 21 points off the bench and Marc Gasol had 18 points to help complement Randolph inside. For the Suns, they needed to stay alive with a win Monday night and then have a Grizzlies' loss on Wednesday come with a win of their own to make the playoffs in a year they were expected to finish near the bottom of the West. 
Phoenix's backcourt of Eric Bledsoe and Goran Dragic struggled to bring their typical impact and production against a fantastic Grizzlies defense. Bledsoe had 13 points on 6-of-16 shooting and Dragic had 14 points on 6-of-14 shooting. Both players combined to shoot 1-of-9 from downtown as the Suns' entire team made just 19.4 percent of their 3-pointers. Reserve Markieff Morris led the team with 21 points, as he finishes up his campaign for Sixth Man of the Year.
The Suns can finish no better than 48-34 on the season and the Grizzlies have a shot at 50 wins when they play the Mavericks on Wednesday. A win Wednesday would decide the 7-seed in the West and relegate the losing team to facing the San Antonio Spurs in the first round of the playoffs.
Trail Blazers guards Damian Lillard and C.J. McCollum have been pushing for Anthony to join...

Anthony reportedly gave the Knicks an expanded list of teams he'd waive his no-trade clause...

The Suns will also receive a second-round pick in the deal
Kerr noted Warriors are deeper than the NBA championship team of last season

The Dubs will make a decision as a team on visiting the White House, but Steph would vote...

Wolves are an up-and-coming NBA squad, but this region knows heartache too well