Metta World Peace coming to 'Yo Gabba Gabba', vampire spoof series
The Lakers' starting small forward is set to appear on one of the most bizarre kids shows on the planet Sunday, according to his twitter account.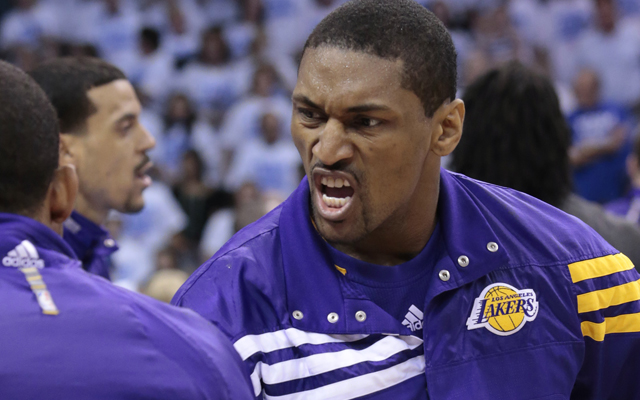 MWP: Sucking blood and dancing with furry creatures.
(Getty Images)
Metta World peace is, unbelievably, about to get a whole lot weirder. The Lakers' starting small forward is set to appear on one of the most bizarre kids shows on the planet Sunday, according to his twitter account : 
Yo Gabba episode with Metta World and his daughter, Diamond, premieres this Sunday at 8:30PM EST on Nick Jr!

— Metta WorldPeace (@MettaWorldPeace) August 15, 2012


"Yo Gabba Gabba" is quite possibly the strangest show you're going to find on television, and that's saying something. Kids tend to love the program featuring creatures with no discernible classification beyond the robot one, dancing and singing such songs as "Don't Say Mean Things To Friends (It's Not Nice)." The show has featured Amar'e Stoudemire in the past, along with celebrities like Andy Samberg and Jack Black. It's a real celebrity hotbed.
I'm honestly not prepared for this to occur, and I have a genuine concern for the lovable creatures on the show. 
...But if we were gonna put odds on which creature Metta would assault in some way, I'd list it as follows:
Plex: 70/1
Muno: 30/1
Foofa: 1000/1
Toodee: 1000/1
Brobee: EVEN
Honestly, if he nails Brobee, he should be a hero to millions. 
What the creators should have done in all seriousness is reach out to James Harden, and then they could do a show with a song called "Don't Give Friends Concussions Because Your Team is Vastly Outmatched." Carly Ray Jepsen could be the musical guest. It would have been great. 
But wait! There's more!
MWP is also set to appear as an "overtly sexual vampire elder" in a spoof of the "Real Housewives" series. From the presser, courtesy of Deadspinvia BDL: 
Metta World Peace has joined the cast of the original scripted spoof pilot "Real Vampire Housewives" (RVH) where he will portray a gregarious and overtly sexual vampire elder. RVH follows a group of mischievous women who are married to vampires. The housewives find plenty of wicked trouble to occupy them during the day while their husbands rest. For the pilot, a recently engaged couple must seek permission from the clan's elder to wed. The elder, Gossamer will be portrayed by Metta.  RVH shoots in September on location in Encino, California. [...]

Real Vampire Housewives is written by Andre Jetmir who will also direct.  Jetmir jumped at the opportunity to work with Metta, "Robert mentioned Metta World Peace and it was yes in an instant.  Metta is perfect as a vampire; he is physically intimidating in an Alpha-male way, very charming, a little mischievous and he has a raw sexuality I think most actors try to find when they play a vampire."
via Metta World Peace to play an 'overtly sexual vampire elder' in TV pilot | Ball Don't Lie - Yahoo! Sports.
... You know what? I'm just gonna leave that one there. 
HT: Los Angeles Times, NBAM
LeBron had 29 points, 11 rebounds, and 10 assists in the Cavs' 109-100 win over the Jazz

The montage showed Carmelo's best Knicks moments before playing the Thunder game

KCP can't leave California for 25 days due to the terms of his pleading guilty to a misdemeanor...
Keep it right here for all of the news, notes, scores and highlights from around the leagu...

LeBron tried to keep what he said a secret, but one mic on the court picked it up

SportsLine's Mike McClure, a DFS pro with more than $1M in winnings, gives optimal lineup...