Metta World Peace discusses dysfunction, Detroit brawl book
New York Knicks forward Metta World Peace sits down for a Q&A and discusses how dysfunction affected him, a book he wrote about the Malice at the Palace, and more.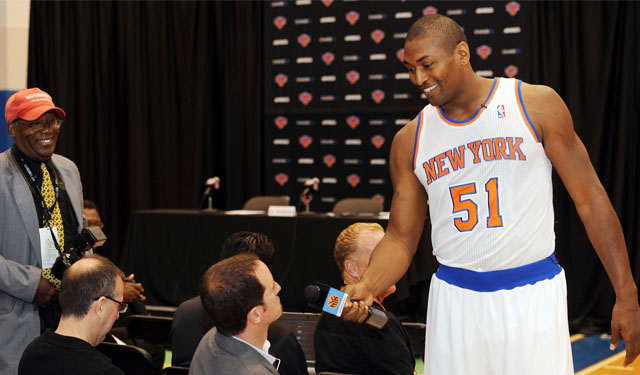 Metta World Peace, or Ron Artest before the name change, has never had trouble expressing how he feels in interviews or on social media. The New York Knicks forward has never really had a filter when it comes to what's on his mind and whether or not it will come out of his mouth when he opens it. Because of this, World Peace has done a lot to cause a little controversy with his words throughout his career and he's also been quite outspoken when it comes to issues like mental health.
In a fantastic Q&A with Steve Serby of the New York Post, Metta World Peace opened up about a myriad of topics. He openly discussed his own dysfunction and how it affected parts of his career, who the best/lone trash talker is in the NBA, a book he has coming out (possibly) next summer, and much more. Perhaps the most interesting part of the Q&A was the topic of dysfunction though:
Q: Did winning a championship with the Lakers make you hungrier to win a second ring?

A: I always wanted to win multiple rings, but when you're dysfunctional, you don't have no advantages.

Q: What do you mean?

A: Like when your head is not in the game. I had a period of time for a couple of years where my head wasn't in the game. And when you are out of the game mentally, you lose out on championships.

Q: What made you dysfunctional?

A: Your parents separated, your environment's dysfunctional … not a strong household … survival-of-the-fittest-type of environments. And it causes a child to be dysfunctional. Your child can't focus on life itself, which is supposed to be pure and beautiful … fun.

Q: There were things going on in your life that prevented you from focusing the way you needed to?

A: When you're raised a certain way, some people are scarred mentally, and they don't know how to get over it. Some people don't know that they've been scarred mentally, which is worse, when you don't actually know that you've been scarred.
We often forget about the private lives and problems growing up that could have provided huge hurdles to overcome in their development. And just because a player manages to overcome the odds and make it to a lucrative opportunity in the NBA doesn't mean their development as a person and learning how to be a professional stops. Sometimes we get players who get injected into a great team culture and have good veterans to mentor them and help show them the ropes of how to act. Other times, we have guys that just get tossed to the wolves and don't have the stability to learn what they need to do.
With World Peace, he clearly didn't have the guidance, or wasn't willing to accept the guidance if it was there, early on in his career and it kept him from realizing his full potential and his team's full potential. When it comes to the riot at the Palace at Auburn Hills back in 2005, his actions (and the actions of others, to be fair) helped detonate an Indiana Pacers team that was looking like a title contender. It's a subject that he has more thoughts on and we may get to see them in book form next summer.
Q: The Malice at the Palace.

A: I wrote a book about it, son. I think I'm gonna wait to talk about it. But I wrote a book about that whole experience.

Q: When's it coming out?

A: I think next summer.
Who knows if the forward formerly known as Artest is actually serious about the book about the Malice at the Palace? If he did actually already do this and has it scheduled to come out after his first season with the New York Knicks, it could be one of the more interesting storylines of the 2014 summer after LeBron James and Carmelo Anthony handle their free agency business (potential free agency business in LeBron's case).
World Peace also discussed the best trash talker in the league, naming Paul Pierce as his choice. In fact, he said that Pierce is the only choice because he's the only one left.
Q: Who's the best trash talker in the NBA?

A: Paul Pierce is the only one left.

Q: Is he good?

A: He's the best.

Q: What about Kevin Garnett?

A: Paul Pierce is the best.
Among other topics in the Q&A, he said that his favorite movie is "Titanic," he thinks Andrea Bargnani will open things up for his team, and a lot more.
The former Clipper apparently had some tricks up his sleeve after a chippy game

The Rockets were apparently looking for Austin Rivers and Blake Griffin after a chippy gam...

If they don't meet in the Finals again, let's appreciate every one of the 27 matchups since...
D-Wade picked up the steal and got creative on the fast break as the Cavs headed into half...

Despite the embarrassing hiccup, the youngest Ball had himself a pretty great day on the c...

The players were both ejected in the closing seconds, then continued their discussion off the...