Metta World Peace: Nobody 'getting past' Lakers in 2013
Los Angeles Lakers forward Metta World Peace predicts that no one will get past his new-look squad this season.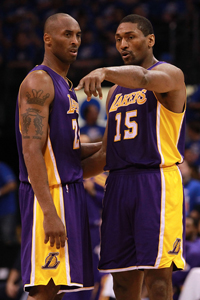 Metta World Peace sees another ring in Kobe Bryant's future.
(Getty Images)
There wasn't a parade, there wasn't a stage and there wasn't any talk of more than one, but Friday did see a member of a newly-minted NBA superteam give what amounts to a championship guaranteed.
It was Los Angeles Lakers forward Metta World Peace who said that his squad, now equipped with new All-Stars Steve Nash and Dwight Howard, should be finishing the 2012-13 season on top. Here's his proclamation soundbyte from an ESPN Radio interview.
"With the way the Lakers are looking this year, I don't see anybody getting past us this year at all," World Peace said. 
Hey, finally something from World Peace's mouth that makes sense and pleases everyone. 
Lakers fans have to love the confidence after a second straight season that ended in the Western Conference semifinals. There's a certain loss of identity that takes place when a perennial winner trips up too early, and that feeling was starting to compound into panic given that 2011 and 2012 were critical years when it comes to putting the finishing touches on Kobe Bryant's legacy. With Bryant aging, Andrew Bynum not quite reliable enough, Pau Gasol disappearing in key stretches and an otherwise totally forgettable (and old and overpaid) L.A. roster, the rising Oklahoma City Thunder were threatening to kick the Lakers out of their "Western Conference Dynasty" digs. Instead, Nash and Howard arrive to breathe new life into Bryant, the franchise's present, and, in Howard's case, the franchise's future.
But World Peace's statement of confidence is great for everyone else too. As with LeBron James and the Miami Heat before them, the Lakers' surest path to failure comes with over-confidence and mentally skipping ahead to the finish. The product on paper, we learned in 2011, doesn't equal the product when the lights turn on during the Finals. By slating his own team at the top of the pecking order, World Peace underscores an already developing "rings or it's a wasted season" ultimatum.
With or without these comments, the Lakers would be in the eye of the NBA's media storm this year. They are the most loved, the most hated, the most watched and the most analyzed. Whether he's tasting champagne or eating crow in June, World Peace gets points here for whetting everyone's appetite.
A look at who came out ahead after Tuesday's megadeal swaps the point guards on the East's...

How the addition of IT changes the Cavs and where they go this summer depending on LeBron's...

Ainge said that he expects the start of Thomas' season to be delayed, but he'll be 'fine'...
The NBA MVP odds have shifted quite a bit following the blockbuster Kyrie Irving - Isaiah Thomas...

It's debatable whether Boston gets better right away with Irving, but the future is definitely...

Kyrie Irving was set to grace the cover of this year's video game in a Cavs jersey -- whoo...