Metta World Peace on Game 4: 'We're not giving up, absolutely not'
Though he plans to be watching from the bench as his team faces elimination on Sunday night against the Spurs, Metta World Peace vowed that the Lakers won't give up.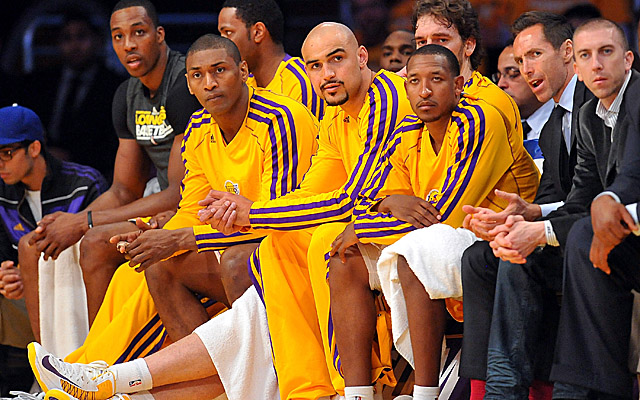 Metta World Peace won't be on the court in Staples Center for Game 4 against the Spurs with the Lakers facing elimination on Sunday night but promises to be back for Game 5.
For that to happen, the Lakers would have to force Game 5, and World Peace is fairly confident of that, too.
More on Los Angeles Lakers
Related links
More NBA coverage
"We're going to pull out this win, and I'm hoping that my knee will be ready for Game 5," World Peace said in an interview with CBS Sports Radio on Saturday. "And then we could do some special stuff [in] Game 5 and push for a Game 6. ... You've got to keep pushing, and that's what you're seeing from the Lakers. Everybody's continuing to give 100 percent. We're not giving up; absolutely not."
World Peace returned 12 days after having the meniscus in his right knee surgically repaired and helped the Lakers make the playoffs -- a late-season push for which they paid a heavy price. World Peace remains hobbled, saying on CBS Sports Radio's Eye on Basketball show, "I'm worthless right now." During L.A.'s frantic push to make the postseason, they also lost Kobe Bryant to a torn Achilles tendon that will keep him out 6-9 months.
After coach Mike D'Antoni decided not to start the ailing World Peace in the second half of Game 3, the Lakers forward came to the conclusion the team would have a better chance of extending this first-round series against the Spurs without him.
"Maybe I can get healthy, these guys get a win and we get five guys out there that can give full effort, 100 percent effort," he said.
Devin Ebanks, who hasn't played a minute in the series, is the logical beneficiary of World Peace's minutes. With Bryant out and with Steve Nash and Steve Blake ailing, the fact that the Lakers will be relying on D-League MVP Andrew Goudelock to help them avoid a sweep says so much about how wrong this Lakers season has gone.
"Outside of Tim Duncan right now -- and obviously, he's a Hall of Famer -- Andrew Goudelock is the best scorer in this series," World Peace said. "We've seen that all year from him in practice -- he's been lighting guys up. ... I always thought, even when Kobe played and Andrew was on the team, I always felt Andrew was the second-best scorer on the team."
World Peace had better hope he's right. With one year left on his contract and the amnesty provision looming during an offseason of potentially sweeping changes in Lakerland, nobody knows who's staying and who's going when the Lakers' season is finished -- whether that's Sunday night or not.
"I definitely want to be back next year," World Peace said. "I have one more year on my contract and, hopefully, God willing, I can finish my career as a Laker and finish my career with a couple more championships."
First, the Lakers simply want to avoid being swept.
Players such as Metta World Peace, Baron Davis and Nate Robinson have signed on

The guard is doing everything he can to make a name for himself (and making Cavs fans sweat...

Bryant is getting recognition for his off-the-court exploits in retirement
Our advanced computer model simulated Tuesday's Spurs vs. Cavs game 10,000 times

Larry Hartstein has a knack for picking Celtics' games and just locked in a play for Tuesday...

Leonard, who has played just nine games this season, has once again been shut down by the...