Metta World Peace says he wants to play in China or arena football
Metta World Peace says he wants to play in China for the CBA, or in the arena football league.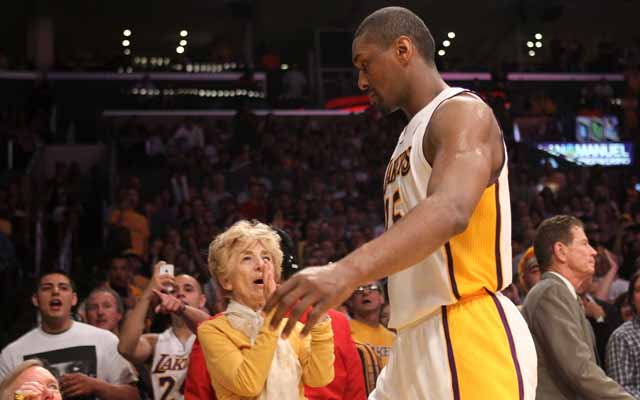 Huge news! Metta World Peace says funny, crazy thing!
Honestly, you know you've been in the NBA blog game a while when you're bored by the nutso things the guy formerly called Ron Artest says, but they are still noteworthy for being, wait for it, crazy. 
The recently-waived Laker told ESPN LA that he wants to play basketball in China, or take his talents to the arena league. 
"I don't really want to play for anybody," World Peace said Friday at the Lakers' practice facility. "I don't want to go anywhere. I want to go to China, or coach or play arena football."

World Peace said he has spoken to Yao Ming about joining his former Houston Rockets teammate's Chinese team, the Shanghai Sharks. He said he's had conversations with representatives from "a couple other teams" in China, as well.

World Peace recently completed a trip to Beijing and Qingdao, which further fueled his idea of playing in China should he be amnestied. A league source told ESPNLosAngeles.com that World Peace has explored the option of playing in China through conversations with former NBA players who have made the leap, figuring out if the path blazed by the likes of Stephon Marbury, Steve Francis and Gilbert Arenas would be right for him.

"You don't live twice," World Peace said. "You're not 33 twice. You won't be able to play in China at a good level again. I wouldn't be able to play in China again averaging, maybe, 40 or more points. That would be fun."
via Metta World Peace says NBA not an option next season - ESPN Los Angeles.
Oh, that wacky Metta World Peace! He's just wacky enough to do it, too! 
(No, no he's not.)
From USA Today: 
Yet while World Peace told reporters in Los Angeles on Friday that he was considering retiring, playing in China, playing arena football or perhaps becoming a player development coach, the reality remains that he would not be paid the $7.7 million he is owed if he refused to report to the team that claimed him. If he clears waivers and becomes a free agent, however, there are still indications that he has interest in joining a contending team in the NBA. The issue at hand appears to be his professional freedom, as clearing waivers would allow him to make a choice on retiring or joining a contender while not losing the earnings.

A person with knowledge of World Peace's situation told USA TODAY Sports that he now has the Los Angeles Clippers atop his list of possible destinations. The Queensbridge, N.Y., native previously had his hometown New York Knicks as his preferred choice on his list of favorites, but he is now said to be more interested in joining the new-look Clippers while being able to avoid relocating. Both teams appear to have interest in adding World Peace, but would only be able to offer him a veteran's minimum contract of $1.4 million annually.

His list is also known to include – in order of favorites – the Brooklyn Nets, Chicago Bulls, Miami Heat, Oklahoma City Thunder, San Antonio Spurs and the Indiana Pacers. With the Nets' signing of small forward Andrei Kirilenko on Wednesday, however, there is no longer a need for a quality backup behind small forward Paul Pierce in Brooklyn. The person spoke to USA TODAY Sports on the condition of anonymity because of the private nature of the process.
via Metta World Peace weighs options for next season.
So basically, if you're a contender, Metta is interested. Those teams are all cap-strapped, so he would have to clear waivers first in order for one of those teams to sign him. Which may be, as USA Today points out, the reason behind his outlandish comments about his future may be to dissuade a team under the cap from snaring him off waivers. 
Under the terms of the amnesty provison, teams under the cap can make a bid for a certain amount off the remaining $7 million on his contract to take his services. If no team under the cap puts in a bid, he becomes an unrestricted free agent, with the Lakers on the books for the entire $7 million. 
World Peace averaged 12 points and 5 rebounds last season for the Lakers. 
George suffered a similar injury in 2014, and immediately offered Hayward encouragement

A certified athletic trainer says Hayward is 'hard-pressed to get back this season'

Mike McClure, a DFS pro with more than $1M in winnings, gives optimal DraftKings and FanDuel...
The two have been trained together in the past and still keep in regular contact

Anthony opened up about finally leaving New York after years of rumors

Jonah Keri talks to with Ringer author, and Grantland alum Shea Serrano