Metta World Peace says the Lakers are going to the Finals
Metta World Peace thinks the Lakers will be in the Finals this season. Wait, what?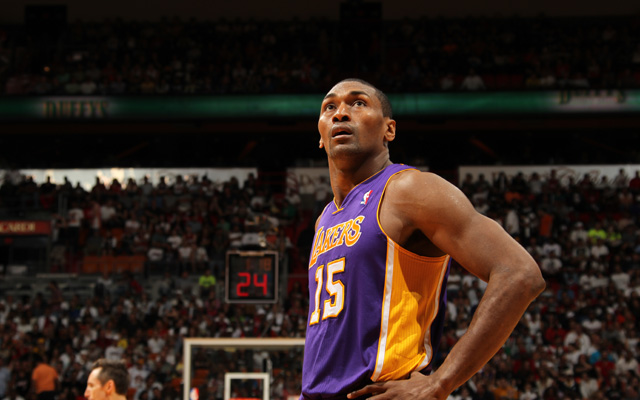 He might've been amnestied by them, but Metta World Peace apparently holds no hard feelings toward the Lakers.
Speaking at a promotional event for his children's book in New York, World Peace predicted that the Lakers would be making a trip to the Finals.
"I think the Lakers are going to go to the NBA Finals," World Peace said, via ESPN New York. "I think Kobe [Bryant's] gonna be healthy, they're gonna get Pau [Gasol]. The Lakers are gonna make a big trade like they always do. They're gonna get another good player, boom, boom, and they're gonna go to the Finals. I believe it. Kobe's gonna come back, he's gonna play team ball, and Pau's gonna play well."
Picking the Lakers, historically speaking, is typically a good idea. But this year? They just lost Dwight Howard, Kobe is coming off a major injury and the rest of the roster isn't all that great. It's a bit of a reach to have them in the playoffs, much less the Finals. 
But hey, Metta being Metta, you know? 
Thomas took to Twitter to let the Celtics know he doesn't want to ruin Pierce's night

The Hall of Famer was a seven-time All-Star with the Celtics, and was MVP of the 1976 NBA...

It's rare to see a legit punch in an NBA fight, but this was definitely one of them
We've got all the scores, highlights and news from an NBA Tuesday

The former Slam Dunk Contest champion will take his talents to Tri-State

Do NBA players have look-a-likes from famous paintings? We found out on the new Arts & Culture...