Metta World Peace says the Lakers want to 'go 73-9'
Metta World Peace says the Lakers' goal is to go 73-9, topping the Bulls' record for regular-season winning percentage.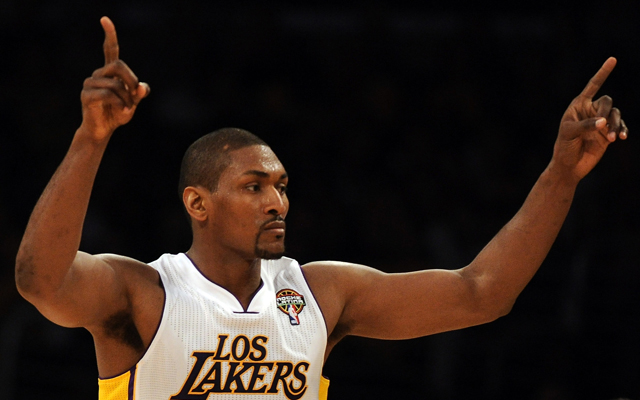 Metta World Peace wants to be No. 1 in terms of most wins in a season.
(Getty Images)
The bar has been raised. And you thought him saying "nobody's getting past" the Lakers was big. 
When the Celtics added the Big 3, they just talked about winning a title and bringing Boston back to relevance. When the Lakers added Pau Gasol, they just talked about contending. When the Miami Heat formed the Triad, they talked about "not one, not two, not three ... not six, not seven ..." championships, but even they never reached for the number. Not that number. That's hallowed ground.
Metta World Peace, though? He's trampled on that ground and stuck a Lakers flag in it. From Sports Radio Interviews (emphasis ours): 
What he thinks about the team possibly not having Dwight Howard at the start of Training Camp:

"We definitely want to beat the Bulls record and go 73-9, that's definitely something that I want to do. Whoever is out there at the beginning of the season then we gotta get it. It's as simple as that. We just have to go get it. (Host: So that Bulls record is something you're thinking about?) No question. You try to snatch records before you leave this earth. You gotta try to do a lot of great things so it's definitely a goal. With Dwight Howard, (Steve) Nash, Kobe (Bryant), myself, Pau (Gasol) and then (Antawn) Jamison and a lot of great additions it's something that's possible."
via Sports Radio Interviews » Blog Archive » Metta World Peace: "The way the Lakers look initially I can't see nobody getting past us".
OK, then. The shot has been fired. 
Everyone jumped down the throats of the media for talking about whether the Heat could reach 73-9. I'm sure the Lakers will engender the same reaction only not at all because our society is weird. 
Meanwhile, there are three ways of looking at this. 
1. Metta World Peace is a competitor, and every team's goal every season should be to reach 73-9, to be 82-0, to be the best team ever, to be the best they can be. He's setting a high bar for his team and that's what you want from a leader. 
2. It's Metta World Peace, and he's a little ... you know ... different, so he's going to say crazy things and you can't take him seriously. 
3. This is the start of one of the three favorites for the NBA title saying that their goal is not a championship but a championship -- and to reach the best regular season record in NBA history, to knock on the gates of heaven itself and topple Michael Jordan, the GOAT from the top of the pedastal for the greates team of all time. 
Can the Lakers do it? Well, there's no telling how long Dwight Howard's out. Kobe Bryant and Pau Gasol are both well past 30. Steve Nash is well past 35. Their bench is stronger, but still a question mark. They play in one of the most competitive eras of the past 30 years and do not possess the greatest player of their time.
So, no, the odds aren't great. But the Lakers have more talent 1-5 than any team in the league. It comes down to whether they can stay healthy and learn to fit together. If those things happen, there's no reason to think this is impossible, even if reaching for it is audacious. 
You guys have your popcorn? Because this season is going to be so much fun. 
Also, courtesy of Thom Powell on Twitter, we have MJ's reaction to this: 
CBS Sports HQ Daily Newsletter
Get the best highlights and stories - yeah, just the good stuff handpicked by our team to start your day.
Please check the opt-in box to acknowledge that you would like to subscribe.
Thanks for signing up!
Keep an eye on your inbox for the latest sports news.
Sorry!
There was an error processing your subscription.
Drummond is 5-for-30 from the 3-point line in his career

LeBron said the Lakers are 'picking up from scratch'

Davis parted ways with his previous agent earlier this month and is now part of Klutch Spo...
Morris and the Wizards are never afraid to speak their minds, but this time may have gone too...

Howard offered Shaq the chance to roast each other ... and then Shaq just roasted him

Porzingis tore his ACL in February and, as expected, won't be ready for the start of the s...