Michael Jordan, Charles Barkley to Kobe Bryant: Dream Team better than 2012 squad
Michael Jordan and Charles Barkely have responded to Kobe Bryant's comments that the 2012 USA Basketball team could beat the 1992 Dream Team.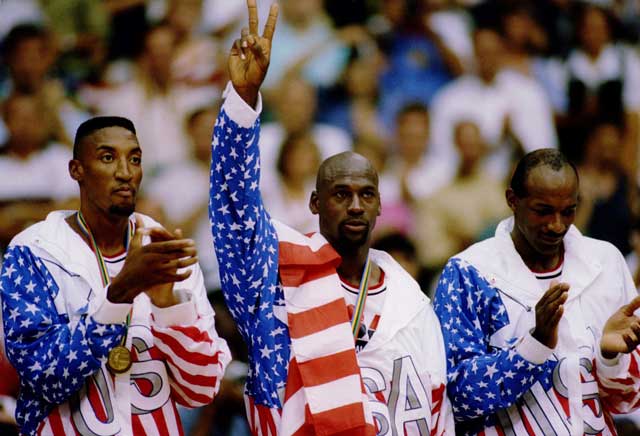 The Dream Team laughs off the idea that the 2012 USA Basketball team could beat them.
(Getty Images)
Dream on, Kobe Bryant.
Michael Jordan and Charles Barkley, two key members of USA Basketball's 1992 "Dream Team," have smacked down an assertion by Los Angeles Lakers guard Kobe Bryant that the 2012 USA Basketball team could beat the Barcelona gold medalists.
Yahoo Sports notes that Bryant told reporters in Las Vegas that he thought his London Olympics teammates could "pull it out" against the 1992 squad.
"Well, just from a basketball standpoint, they obviously have a lot more size than we do — you know, with [David] Robinson and [Patrick] Ewing and [Karl] Malone and those guys," Bryant said. "But they were also — some of those wing players — were also a lot older, at kind of the end of their careers. We have just a bunch of young racehorses, guys that are eager to compete.

"So I don't know," Bryant continued, the trace of a smile beginning to play its way across his face. "It'd be a tough one, but I think we'd pull it out."
The Associated Press reports Jordan's response. 
Jordan told The Associated Press Thursday that he laughed - "I absolutely laughed" - when hearing Bryant's comments that the squad training in Las Vegas could take Jordan and company.

Jordan said there's "no comparison" which team is better.

"For him to compare those two teams is not one of the smarter things he ever could have done," Jordan said prior playing in a celebrity golf tournament in Charlotte.
ESPN.com reported Barkley's response, given to Philadelphia radio station 97.5, which was similar.
"Oh yeah, that's no disrespect," Barkley said. "I ain't got to badmouth them. But like I said, their point guards weren't going to beat us. That's a no-brainer."

"I just started laughing," Barkley said. "How old is Kobe Bryant? He's 34? And he's calling us old? At the time, we were only like 28, 29. Michael Jordan and me were the same age. We were both 29. ... Other than Kobe, LeBron (James) and Kevin Durant, I don't think anybody else on that team makes our team."
Look, there's a real argument to be made that the 2012 squad is better than the 2008 Beijing gold medalists. In fact, USA Basketball chairman Jerry Colangelo has called this group "more mature," "deeper," and "better" than the 2008 squad.

But the Dream Team comparison are laughable braggadocio from Bryant, who does his patriotic duty here by hyping up his teammates and setting the stage for what should be another triumphant romp through the global competition for American basketball.
More on Team USA
Related links
Barkley is right: not too many of the 2012 players could have made the 1992 squad. Heck, half the team -- Tyson Chandler, James Harden, Blake Griffin, Andre Iguodala, Kevin Love and Russell Westbrook -- might not have even made the 2012 squad if guys like LaMarcus Aldridge, Chris Bosh, Dwight Howard, Derrick Rose and Dwyane Wade had been available. You might be able to give the Dream Team a real game at full strength with a group composed of today's players in their prime, but an injury-ravaged group with at least four key players missing isn't going to cut it against the likes of Jordan, Barkley, Magic Johnson, Larry Bird, Clyde Drexler, Scottie Pippen, etc.
1992's clear advantage was size, with a pair of Hall of Fame centers in David Robinson and Patrick Ewing against an undersized frontline with only one true center, Tyson Chandler. That's not even close.
Let's go position-by-position
Point guard
Magic Johnson and John Stockton vs. Chris Paul and Deron Williams
Breakdown: When all is said and done, all four players could wind up in the Hall of Fame, but only Paul would have a chance of cracking 1992's roster. Stockton vs. Paul is a push in the international setting, where pass-first play-making is hugely important given the surrounding talent.
Shooting guard
Michael Jordan and Clyde Drexler vs. Kobe Bryant, Russell Westbrook and James Harden
Breakdown: Keep in mind, Jordan was entering the height of his powers in 1992 while Bryant is a few years removed from his best days in 2012. Westbrook and Harden were both fringe selections on the 2012 team and wouldn't stand a chance of making the squad in 1992. Bryant would make the team, no question, replacing one of 1992's weaker deep bench reserves.
Small forward
Larry Bird, Scottie Pippen and Chris Mullin vs. LeBron James, Kevin Durant, Carmelo Anthony and Andre Iguodala
Breakdown: This is clearly 2012's strongest position, and both James and Durant would have strong cases to make the 1992 squad, with Mullin dropping off. Anthony, who will likely back up Durant, isn't squeezing in, as his score-first, score-often game is extraneous on such a talented team. Bird, despite his age, simply can't be removed and Pippen was a developing all-around monster at that time. Iguodala is a deep reserve in 2012: why take a poor man's Pippen when you have the real thing?
Power forward
Karl Malone, Charles Barkley and Christian Laettner vs. Kevin Love and Blake Griffin
Breakdown: Laettner clearly doesn't belong and that's one area where 2012 has 1992 beat: they have the better 12th man. But Malone and Barkley are both locks over Love and Griffin, who still have some ascending to do in their career arcs.
Center
David Robinson and Patrick Ewing vs. Tyson Chandler
Breakdown: No contest. Are you kidding?
Mashing together a combined squad of the 12 best players between these two teams looks like this: Magic Johnson, John Stockton, Michael Jordan, Clyde Drexler, Karl Malone, Charles Barkley, Larry Bird, Scottie Pippen, David Robinson, Kobe Bryant, LeBron James and Kevin Durant. 
The toughest cuts are Ewing and Paul. Robinson was more mobile than Ewing, though, so he gets the nod and the Stockton vs. Paul thing, as mentioned above, is a coin flip.
Regardless, it's overwhelming here. The combined squad features nine original Dream Team members and just three members of the 2012 team, four if you insist on taking Paul over Stockton. Jordan and Barkley are correct: they should be laughing at Bryant.
CBS Sports HQ Daily Newsletter
Get the best highlights and stories - yeah, just the good stuff handpicked by our team to start your day.
Please check the opt-in box to acknowledge that you would like to subscribe.
Thanks for signing up!
Keep an eye on your inbox for the latest sports news.
Sorry!
There was an error processing your subscription.
Golden State unfurled its latest banner, then won its first game of the new season

The Celtics and Warriors opened the season with wins

The depleted Thunder were no match for the Warriors, who got their rings Tuesday
The Celtics pulled away in the second half for a 105-87 win

A theory was raised about why Kevin Durant was announced last during the ceremony

The Celtics beat the Sixers, 105-87 on opening night