Michael Jordan: Hornets poised to make 'big leap'
Charlotte owner Michael Jordan said on Monday that he expects to make big roster upgrades this summer.
• 1 min read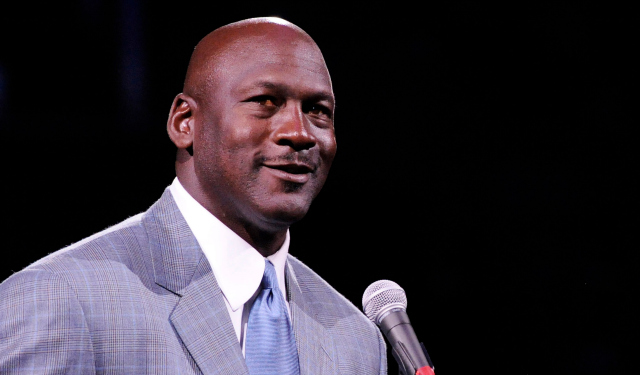 More Offseason Analysis: Coaching changes, news | Free Agency | Draft
Charlotte Hornets owner Michael Jordan said on Monday that he expects the team to make a "big difference" with regards to roster moves this offseason, according to the Associated Press' Steve Reed.
"I think we made a difference last year with Big Al (Jefferson) and some of the acquisitions — and I don't anticipate this year being any different," Jordan said.

…

Jordan is hoping Jefferson's success will convince other big-name free agents to come to Charlotte.

"I always thought Charlotte was a great destination," Jordan said. "Big Al has proven that you can come here and make a big difference. Hopefully we can look at that and attract some other superstars."
Jordan added that he anticipates growth from Charlotte's young core and that this is when the Hornets "have to make our big leap."
They own the ninth, 24th and 45th picks, so the team should get better by virtue of simply adding talent and getting some development from Michael Kidd-Gilchrist and Cody Zeller. It sounds like also Jordan wants to add a significant free agent, though.
The cap number is projected to be $63.2 million next season, and Charlotte will have $44.8 million in committed salary if Josh McRoberts opts into the second season of his contract, rookie contracts excluded. The Hornets will definitely have the financial flexibility to be a player in free agency, and Jordan said "we are going to use every resource to try to better the team." 
Charlotte had the league's fifth-best defensive efficiency this season, and the fact it made the playoffs was a huge step in the right direction for a franchise starved for success. It desperately needs to improve on offense, though, so Jordan is probably targeting scorers and shooters. With the relative weakness of the East, the Hornets might only be couple of moves from becoming one of the better teams in the conference.
The former Clipper apparently had some tricks up his sleeve after a chippy game

The Rockets were apparently looking for Austin Rivers and Blake Griffin after a chippy gam...

If they don't meet in the Finals again, let's appreciate every one of the 27 matchups since...
D-Wade picked up the steal and got creative on the fast break as the Cavs headed into half...

Despite the embarrassing hiccup, the youngest Ball had himself a pretty great day on the c...

The players were both ejected in the closing seconds, then continued their discussion off the...