Michael Jordan rents Houston Museum of Fine Art for birthday
Michael Jordan is turning 50 on Sunday, and he's throwing a party -- and he'll completely overspend if he wants to.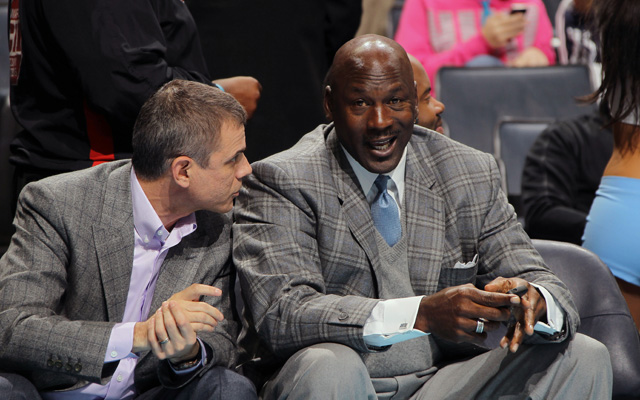 Jordan turns 50 this weekend.
(Getty Images)
Michael Jordan will turn 50 on Sunday, and the sports world has turned it into one big giant celebration of the GOAT. But with Jordan in Houston for his birthday, what's the richest man in NBA history going to do? Where do you throw a party for a man like that? Will it be a quiet affair somewhere small with close friends?
"LOL" as the kids say. Or "YOLO." Or something. Anyway, he's blowing a ton of money and renting an entire museum. From Culture Map Houston:
Jordan has had several local agents scouting the perfect spot for his party, which early plans outlined as a private dinner for 100 followed by a concert for 200 additional guests, according to one representative. 

Sources tell CultureMap that MJ considered the well-publicized $20 million Houston Mansion for his fete, and discussed borrowing Tilman Fertitta's swanky River Oaks residence for the night, but ultimately decided upon the Museum of Fine Arts, Houston as the prime venue for celebration.

One can imagine the second floor of the Caroline Wiess Law Building, overlooking the exhibition in the main gallery below, would be the perfect spot for an intimate dinner (presumably courtesy of City Kitchen Catering). 

Renting the MFAH costs a pretty penny -- a "donation" of $100,000 -- not to mention the added costs of valet attendants, catering and drink, security detail and special performers, but that's a drop in the bucket for a baller like His Airness. 
via Michael Jordan rents the Museum of Fine Arts, Houston for his 50th birthday NBA All-Star bash - 2013-Feb-12 - CultureMap Houston.
So you can imagine the costs of this thing are going to be pretty solid six figures. There's apparently going to be a private dinner for 100 and 200 guests total at the event. He rented a museum. For 200 people. 
Do you ever stop and want to be Jordan, just for a day? Just a day. I'm not saying I do ...
I kind of do. 
We'll have more on MJ turning 50 this weekend. 
You can follow Eye on Basketball on Twitter @EyeOnBasketball. Follow Matt Moore at @MattMooreCBS and like us on Facebook. 
We've got you covered for all the scores and highlights from Sunday's NBA games

The Cavs superstar compared Kaepernick to Martin Luther King Jr. and Muhammad Ali

The Warriors coach isn't surprised that the president and LaVar Ball are in a war of words
Kyle Kuzma is tired of how his teammate Lonzo Ball is being treated

The Warriors used a huge third quarter to come back from a 23-point deficit to get the win

Three takeaways from Golden State's 24-point rally past the Sixers