Mike Brown's son receives threats on Twitter over Lakers' poor start
Mike Brown's son, Elijah Brown, has received threats on Twitter because of the Lakers' 1-4 start. The main cause of this is stupidity.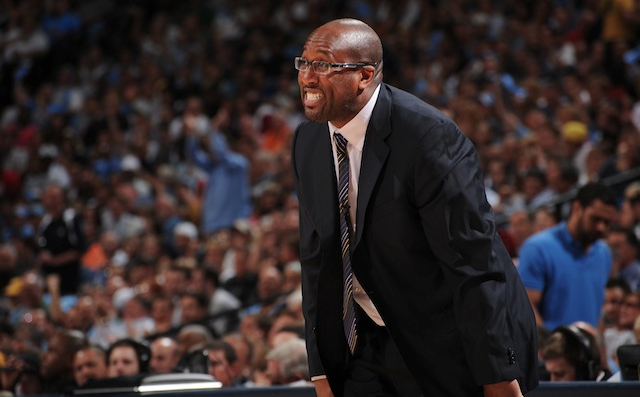 See this guy? Leave his family alone.
(Getty Images)
In case you were wondering how horrible sports fans can be at times, we've got a story about Mike Brown's son, Elijah Brown.
Elijah Brown is a D-I basketball prospect, currently considering offers from Akron, St. Mary's, Toledo and other basketball programs, according to Rivals. Apparently other offers he's been receiving as of late are coming in the form of death threats from Lakers fans because they're upset that his dad's team has started out slowly with a 1-4 record. (Via OC Register):
But some fans' ire Wednesday was directed at Brown's son, Elijah, who plays basketball at Mater Dei High. The Lakers coach, though, had no idea his son had received threats on Twitter despite having a friend monitor his son's account.

"That's news to me," Brown said after Thursday's practice. "I will alert Lakers security.

"That's the tough part about this business. To go after somebody's family or something like that is, in my opinion, just ridiculous. It's stupid, crazy, whatever you want to call it. They (family members) have nothing to do with what's going on right now."
That's just special.
I don't think I need to get into explaining why this is wrong, pathetic, despicable, etc. I don't need to get onto a soapbox and explain that our society has become far too entitled and out of touch with what is really important. This kind of story is just a reminder of how low some people will go because a team they chose to like as a kid had a rough week.
According to the story, Kristen Blake (Steve Blake's wife) and Daniel Artest (brother of Metta World Peace) have taken to Twitter to urge people to stop being idiots. Obviously, this is a case of people being tough guys behind a keyboard. You see it on comments of articles, message boards and all over Twitter. It's easy to get in someone's face via a monitor.
Considering Elijah Brown is 6-foot-3, 185 pounds, and in the physical shape of a D-I college basketball player, it's unlikely they would say the same things to his face. Maybe if the Lakers go on a winning streak, they'll say they're big fans of him and ask him to join #teamfollowback.
That's a Twitter joke.
Deciding who to watch on League Pass can be difficult, but these rankings promise to help

Veteran forward signed a one-year deal with the Knicks in offseason

Knicks forward had his truck stolen out of his driveway
The Celtics will send No. 34 to the rafters in Boston when they take on his old rival

It's never too early to look at June's NBA Draft

Cousins uses some colorful language to get his point across