Mike D'Antoni doubts Steve Nash will play again this season
Los Angeles Lakers' coach Mike D'Antoni doubts that Steve Nash will play again this season, but won't real him out.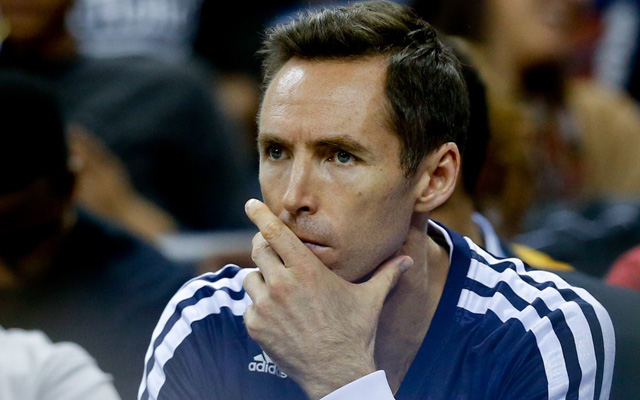 Steve Nash's career with the Los Angeles Lakers hasn't exactly worked out. With various leg and back injuries slowing him down, he's hardly been on the court for the Lakers the past two seasons and we haven't seen anything close to the point guard we admired in Phoenix. His most recent injury is nerve irritation of the area of his leg he fracture early in the 2012-13 season. All of his maladies will probably keep him out for the rest of this season.
Coach Mike D'Antoni told the media on Monday that while he wouldn't rule out Nash returning this season, he doubts he'll play again in 2013-14. With the Lakers no longer looking to be anything but a lottery team this season, there probably isn't a reason for him to risk further injury anyway.
Mike D'Antoni says he "doubts" Steve Nash plays again this season, but wouldn't rule him out

— Dave McMenamin (@mcten) March 3, 2014
Nash has only played in 10 of the team's 59 games this season and with this campaign already meaningless, there's no point in him doing anything other than getting ready for the 2014-15 season. That will be the last year of his contract, where he can either help the Lakers try to get back to the playoffs or be an expiring contract used in a trade to acquire another significant player for the Lakers. 
In his 10 games this year, he's averaging just 7.6 points and 4.7 assists in 22.5 minutes. If the nerve irritation is significant enough to keep him from coming back this season, is there any chance it keeps him from playing next season as well? If it doesn't improve and he can't feel confident in his health heading into next season, it's possible we've seen the end of Nash's career already.
A report last week indicated Charlotte is looking to move Walker, along with one of its hefty...

Barea responds by claiming that none of Wall's teammates like him; the Wizards continue to...

Cousins finished with 44 points, 24 rebounds, and 10 assists
Love left Saturday's game, which the Cavs lost 148-124, due to illness

Kidd was fired by the Bucks on Monday afternoon

We've got all the scores, highlights and news from an NBA Monday