Mike Dunleavy wants to make DMC some baloon animals
Bulls forward responds to Cousins calling him a clown.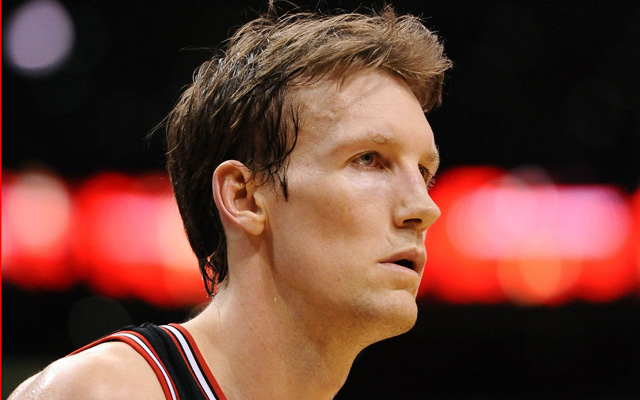 On Monday,  Bulls forward Mike Dunleavy continued his odd semi-feud with Kings forward DeMarcus Cousins. The two continued jawing at each other in the Kings' win over Chicago. Monday night, Cousins called Dunleavy a clown. On Tuesday, Dunleavy responded in just about the best way possible. 
"He called me a clown?" Dunleavy said. "I would like to respond but clowns can't talk. So I'll mime or make him some animal balloons or something.

"Oh, man. That's the epitome of the pot calling the kettle black. Honestly, I've never been called that before. I guess there's a first time for everything."
via Chicago Tribune - Bulls' Mike Dunleavy isn't one to "clown" around.
That's a pretty stellar response.
Here's what happened last year between the two: 
As you might expect, Dunleavy was not happy following the game, via the Sac Bee:
"I'm not even going to begin to reason with someone like that," Dunleavy said. "I don't know where to begin. I don't even know what happened the first time around. I thought I was just trying to box him out, a bunch of bodies fell and collapsed, and there was a timeout. Next thing you know, he starts barking at me. We try to run a play, and he elbows me in the head. I don't know."

More Dunleavy: "He came up and confronted me about whatever. He's just always talking, always running his mouth, you know? He should leave people alone."

And still more from Dunleavy: "He came up to me and got in my face about stuff. And we're here to play basketball, and this guy's got other stuff going on, obviously."
So that's fun. It's such an odd little feud between a veteran shooter wing and a low-post bruiser. But then, DMC has feuded with announcers in the past. Needs to pick up a feud with a mascot for the cycle. 
Right before Wiggins hit his shot, Carmelo Anthony hit a 3 to put the Thunder in front

The Suns firing Earl Watson three games into season is second-quickest firing in NBA histo...

Bledsoe tweeted, "I Dont wanna be here"
Giannis had his hand on McCollum's hip when he poked the ball away

Teodosic had to leave the Clippers' game Saturday night against the Suns

Irving said recently that he does not regret the profane outburst