Mike Miller 'badly' wants to stay in Memphis
Memphis guard wants to return, and has made Grizzlies aware of it.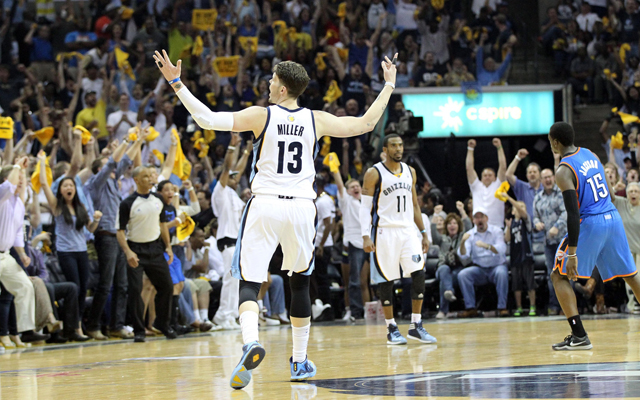 More Offseason Analysis: Coaching changes, news | Free Agency | Draft | Rumors
On Memphis radio Monday, shooter forward Mike Miller said that he wants to remain in Memphis. Miller became a free agent Monday night at 12:01 a.m. Tuesday morning. 
In an interview with 92.9 FM ESPN Monday afternoon, the 34-year-old said his first choice is to remain in Memphis.

"They know how badly I wanna be here," Miller said. "That makes it very simple. If they feel the same way, and it's a fair deal, it'll be a done deal."

Miller averaged 7.1 points on 46 percent shooting from deep. Most importantly, he played in all 91 games (regular season and a seven-game playoff series) for the Grizzlies.

Miller said he will fly out to Los Angeles tomorrow to meet with his agent and then with a "bunch of teams." But he wants what will likely be his last multi-year deal to come from the place where his career got off the ground.

In his last interaction with the Grizzlies before free agency gets underway, Miller said he conveyed his desire to be in a Grizzlies uniform.

"The passion I have for this city and basketball — they know where I wanna be," Miller said. "They know what the market is. Hopefully, we can work things out, we'll get it done, and I'll be here. I feel as good as I have in a long time. I think there's a lack of veterans in this league, as well as shooting in the league. I fill both those voids."
via 92.9FM ESPN - Mike Miller: 'Grizzlies Know Where I Want To Be'.
The question will be whether the tax-payer mid-level is enough for Miller at $3.278 million, and if the team is ready to re-sign the 34-year-old shooter who was the only player to play in all 82 games for Memphis last year to a multi-year deal. But the Grizzlies don't have many "franchise" type guys, and they should do what they can to retain Miller. They still need shooters. Badly. 
The NBA broke its silence with a statement related to the Lakers-Paul George tampering cha...

The Clippers big man thinks LeBron will reunite with the banana boat crew at some point

Have the Clippers reportedly found their next GM?
The NBA stayed to the point in their response to the Greek basketball federation

The Pacers believe the Lakers tampered with Paul George before they traded him

Among the questionable decisions by Jackson was signing Noah to a long-term, lucrative dea...