Mikhail Prokhorov said Nets are 'one more good player away'
Nets owner Mikhail Porkhorov said the Nets are 'one more good player away' from being 'a really strong team.'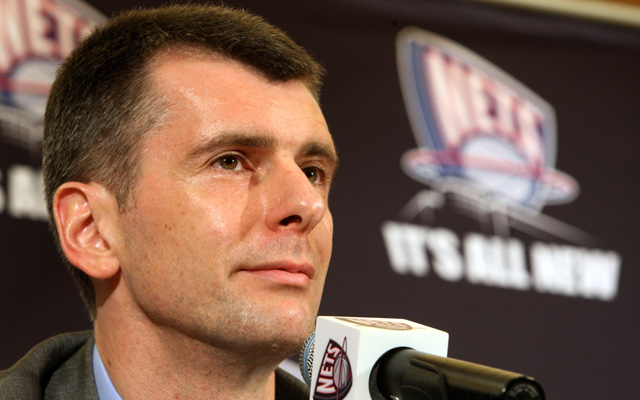 Nets owner Mikhail Prokhorov told reporters pror to the team's series against the Bulls that his team is "one more good player away" from being "a really strong team." And that has to make this team feel good. 
Prokhorov went on Bloomberg Television to talk about his team. The owner, who earlier said this year that a successful season would involve making it to the Eastern Conference Finals, says the Nets only need two more things to be an elite team -- talent and time.

"One more good player, and we need time to make a really strong team," Prokhorov said in an interview with Bloomberg Television on April 19th.
via Nets' owner Prokhorov: team "one good player" away -- The Brooklyn Game -- The Brooklyn Game.
So, just to run through this. Prokhorov spent more than $85 million this season on a roster that is "one more good player" away. The Nets are set to be at $85 million next season, severely limiting their roster options and flexibility, and while their good players are great (Deron Williams, Brook Lopez), several of the players they paid eight figures for are going to be harder to move than expected (the bottom has fallen out of Kris Humphries' value and expiring contracts don't fetch what they used to; Gerald Wallace is a shell of his former self).
But let's move away from all this. Why do you possibly go on television while your team is in a first-round series as the favorite and say you are "one more good player" away from being "a really strong team"? Don't you want to instill confidence in your club, if only for a few weeks?
His point about time is correct, though. The Heat were shaky and kind of a mess for much of their first season. The Knicks flailed through their first season with Melo and company. It takes time to build a contender, to add to the core in the right way. 
But are they going to have the wiggle room to do so? 
The younger Ball brothers are heading to BC Prienai, but that could spell trouble

Keep it right here for all of the news, notes, scores, and highlights from around the Asso...

SportsLine's advanced computer model simulated Tuesday night's Lakers-Knicks game 10,000 t...
The Reno Aces are concerned about the new WNBA franchise stealing their thunder

Hinkie parted ways with the 76ers in 2016 after drastically changing the direction of the...

SportsLine's Mike McClure, a DFS pro with more than $1M in winnings, gives optimal lineup...