Milwaukee Bucks' Larry Sanders injures ankle in Team USA workout
The Milwaukee Bucks' intimidating shot-blocker Larry Sanders injured his left ankle during the Team USA workouts on Tuesday.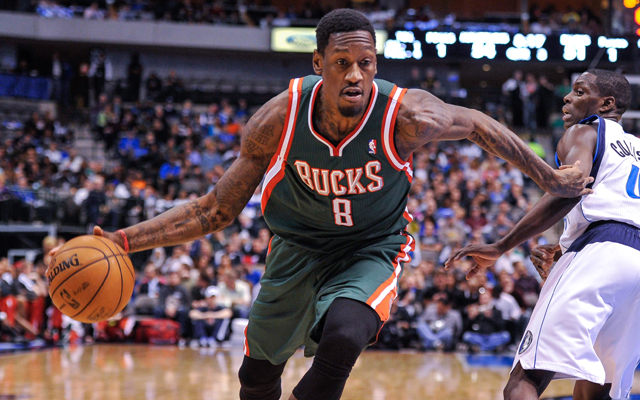 Larry Sanders had himself such an incredible third season with the Milwaukee Bucks that he went from being a disappointing first round pick in 2010 to being invited to the Team USA mini-camp that is being held in Las Vegas this week. Sanders wasn't on his way out of the league before averaging 9.8 points, 9.5 rebounds, and 2.8 blocks in the 2012-13 season, but he also wasn't on his way to potentially representing his country in basketball someday.
However, Sanders' bid to represent Team USA took a bit of a hit on Tuesday when he injured his left ankle during some workout activities. It caused Sanders to sit out the rest of the practice and he's expected to miss the rest of the week's practices and intrasquad scrimmage on Thursday night. Via the Journal Sentinel:
Bucks center Larry Sanders was getting into the swing of things on his second day at the USA Basketball national team minicamp.

Then he went up to block a shot by Chandler Parsons and came down on Parsons' foot, suffering a sprained left ankle in the process.

Sanders went to the trainers table and had his ankle wrapped tightly and he said he would have further tests later. Bucks general manager John Hammond, who had returned to Las Vegas on a Tuesday morning flight, watched with concern as U.S. team trainers worked on Sanders.
This is disappointing news for Sanders, but luckily it's nothing serious in terms of long-term health. In roughly a week, Sanders is expected to be just fine and he will be healed well before the Milwaukee Bucks go to training camp in the fall.
With 2K18 out everybody wants to know who has the 10 highest ratings in the game. Here's the...

Durant noted in an interview that all of the criticism in the immediate aftermath hit him...

Want the swagger of LaVar Ball? "NBA 2K18" lets you copy his absurd run from his WWE appea...
Durant apologized for a few tweets in which he criticized OKC and his former coach Billy D...

Lue does not expect the Cavs' big trade to affect the team's starting frontcourt ... at least...

Dwight Howard wants to be a farmer in his future and retire with his donkeys