Milwaukee Bucks waive Gustavo Ayon after picking up his option
A month after picking up his 2013-14 team option, the Milwaukee Bucks have waived Gustavo Ayon, who was a big part of the Tobias Harris trade.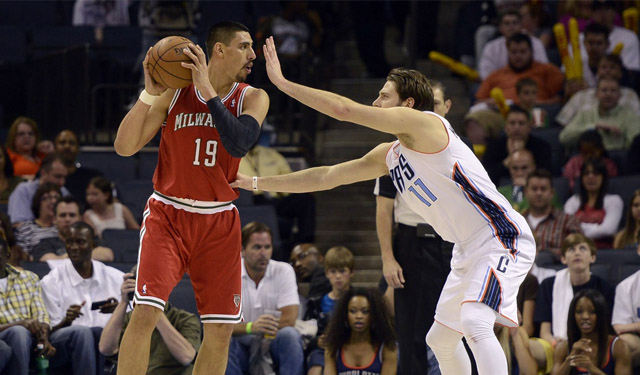 When the Milwaukee Bucks and Orlando Magic were working on the trade that sent guard J.J. Redick and teammates to the Bucks in exchange for forward Tobias Harris and friends, it seemed like both sides got a great deal because of the haul involved. The Magic were getting a forward prospect in Harris with a lot of promise and the Bucks were getting one of the best shooters in the NBA. On top of that, both sides were getting valuable role players like Gustavo Ayon to the Bucks and Beno Udrih to the Magic. Ayon was one of the role players the Bucks insisted on bringing to the team in the deal.
Gustavo Ayon had a team option that Milwaukee picked up for the 2013-14 season at $1.5 million. To get a role player as effective as Ayon for that price seems too good to be true. Apparently it was too good to be true. The Bucks requested waivers on Ayon, clearing a roster spot and getting rid of a player that twice in the last few months seemed like someone they really wanted on their team. From the Bucks:
The Milwaukee Bucks have requested waivers on center Gustavo Ayón, General Manager John Hammond announced today.

Ayón (6-10, 250) appeared in 12 games for the Bucks last season after being acquired from Orlando on Feb. 21, averaging 4.3 points, 4.9 rebounds and 1.0 assists per contest. The native of Tepic, Mexico, has appeared in 109 career games over two seasons split between New Orleans, Orlando and Milwaukee, with career averages of 4.8 points, 4.3 rebounds and 1.3 assists per game. 
It seems like Ayon just lost out on a numbers game. They waived him on Thursday because his deal for the 2013-14 season became fully guaranteed on Friday. When they picked up his option in June, the team had not yet signed Zaza Pachulia or drafted Giannis Antetokounmpo to populate their frontcourt. Considering they already have Larry Sanders, John Henson, and Ekpe Udoh in their big man rotation, Gustavo Ayon was just too much depth for a guarantee of that contract, even as low as it was.
Ayon may not clear waivers. He has such a low price tag for next season and has such great prouction in limited minutes that many teams would probably love to put a waiver claim in on him and assume his contract for next season. If not, he'll be an unrestricted free agent and free to sign with any team.
We've got you covered for all the scores and highlights from Sunday's NBA games

Kyle Kuzma is tired of how his teammate Lonzo Ball is being treated

The Warriors used a huge third quarter to come back from a 23-point deficit to get the win
Three takeaways from Golden State's 24-point rally past the Sixers

Okafor has played only 25 minutes this season

Capela's shoe slipped off, and was sitting near the free throw line