Minimal fines are the NBA's best answer to flopping, for now
Fining LeBron James, David West and Lance Stephenson a mere $5,000 each for flopping may not seem like much, but it's the only antidote the NBA has -- for now.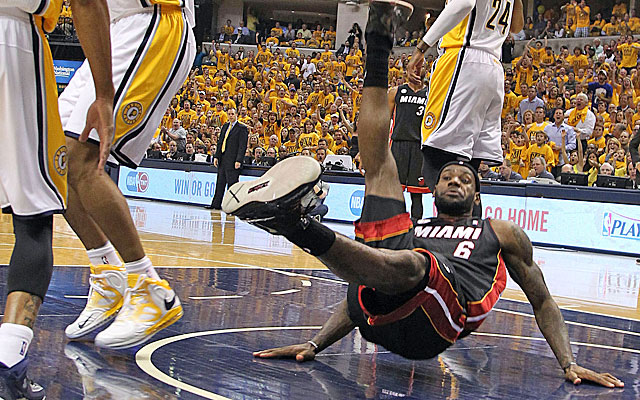 UPDATED 7:55 p.m. ET
Yes, $5,000 is tip money for LeBron James. It's generous tip money for David West.
For Lance Stephenson, it could cover a substantial portion of the acting school education he clearly needs, based on his woefully sub-par attempt at flopping in Game 4 of the Eastern Conference finals.
But don't minimize the penalty or the public humiliation that comes along with being called out as a convicted flopper just because the percentage of gross income doesn't fit the crime.
In the NBA's war on flopping, fining the game's biggest star for a flop that came barely 24 hours after he'd condoned the tactic as "not even a bad thing" counts as progress.
More progress is needed, obviously. But in the first year of the NBA's attempt to curb the fakery that is tainting the game, this is all we have. Hopefully, there will be more to come.
"It is what it is," James said before Game 5 of the conference finals of his $5,000 fine for flopping. When asked if he earned it, James said, "Come on, man, quit it. Next question."
The NBA reviewed calls, non-calls and potential flagrants after a poorly officiated Game 4 between the Heat and Pacers, as it does after every game. In addition to dishing out the flopping fines -- the Heat's first such punishment all season -- league officials also upgraded West's personal foul to a flagrant foul, penalty-1 for hitting Dwyane Wade in the head while trying to block a layup attempt with 5:57 left in the game.
"I know I got fouled," Wade said. "I just got up and tried to shoot the free throws. I didn't go back and look at it or anything like that. ... The league's trying to control their game in the best way they see fit. It's a tough series to call. It's a very physical series."
Asked if heftier fines should be doled out for flopping, Wade said, "I think it's plenty. That's a lot of money."
In instituting any kind of disciplinary measure, the NBA has to work in lock step with the National Basketball Players Association -- or, at the very least, it has to incrementally legislate so as not to invite the nuisance of grievances and other lawyerly tactics from the players. Had the league overreached on flopping, instituting a more aggressive fine and suspension schedule or even proposing a yellow-card system like international soccer has, the result would've been even more of an annoyance than the problem of flopping itself has proved to be. The remedy wouldn't have been worth the trouble.
Fining James $5,000 isn't going to make so much as a dent in his corporate empire. But after denying he was a flopper in the Heat's first-round series against the Bulls, and after proclaiming this week that flopping is nothing more than a harmless attempt to "get the advantage," James got what was coming to him after this epic double-flop with West in the fourth quarter of Game 4 on Tuesday night.
Will such a fine and the public scrutiny that comes with it serve as a deterrent? Probably not; five of the 19 players warned for flopping during the regular season wound up being fined as repeat offenders. Dozens more across the 1,200-plus game NBA landscape flopped away like Flipper in the deep end of the pool and got away with it.
If the Heat survive this epic series with Indiana and wind up facing the Spurs for the championship, it has a chance to go down in history as the floppingest Finals ever. 
For now, as these compelling Eastern Conference finals shift to Miami for Game 5 on Thursday night, the detestable practice of trying to trick the refs into getting calls wrong and then shouting from the mountaintops when one of those calls goes against you is under the microscope. To the extent that makes everyone a little more honest and slightly more respectful to the game, I say, good. Flop away if you must, but know that you're not fooling anybody.
Is this rock bottom for the Cavaliers because it sure feels like it is

Wade, as he's done so many times in his career, threw it up to LeBron for the thunderous f...

The Warriors coach added there should be no shame in being picked last since everyone's an...
We've got all the scores, highlights and news from all of Saturday's games

The two teams have reportedly not had any substantial discussions to this point

Oladipo may be getting most of the shine, but this second-year big man has been phenomenal...