Minnesota Timberwolves extend qualifying offer to Nikola Pekovic
The Minnesota Timberwolves have extended a one-year qualifying offer to center Nikola Pekovic, making him a restricted free agent this summer.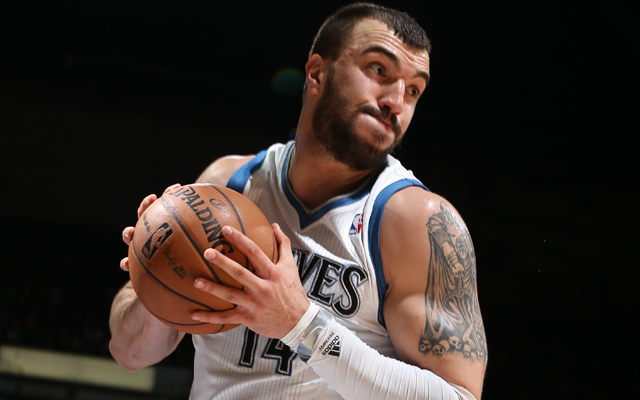 Over the last two seasons, Nikola Pekovic has gone from Darko Milicic's backup with the Minnesota Timberwolves to one of the biggest free agents on the market this summer. The 27-year-old center broke through to become a legitimate starter in the league during the 2011-12 lockout-shortened season and then followed it up with averages of 16.3 points and 8.8 rebounds in 2012-13. 
Pekovic will be a free agent this summer and the Wolves will have the chance to match whatever offer sheet he signs. Thursday, the team announced they have extended a one-year qualifying offer to Pekovic, making him a restricted free agent this summer. From the Wolves:
The Minnesota Timberwolves today announced the team has extended a qualifying offer to Nikola Pekovic, making him a restricted free agent.
Pekovic's ability to score in the post and carve out space in the paint for rebounds makes him an intriguing option on the free agency market this summer. Since coming over from Europe, he has dramatically improved every season during his three-year career. In his rookie season, he looked like he wouldn't last long in the NBA. His second season, he became a scoring option on offense and a big presence on the boards. 
Last season, Pekovic not only led the Wolves in points (he had the most points on the team but was behind Kevin Love's 18.3 scoring average in Love's 18 games) and rebounds, but he improved his defense. The big problem with giving Pekovic a sizable contract this summer is he's missed quite a few games the past two seasons -- a total of 39, although seven of those were DNP-CDs at the start of the 2011-12 season.
Mirotic and Portis combined for 49 points as the Bulls won their fifth straight game, beating...

Gobert, who missed 11 games earlier this season with a knee injury, will have an MRI

Get all the latest scores, news and highlights from Friday's NBA games
Porzingis is questionable for Carmelo Anthony's return to MSG on Saturday

The Spurs and Rockets will renew their in-state rivalry on Friday night

Anthony will play at Madison Square Garden on Saturday for the first time since being trad...