Misery Index: Several teams already in turmoil
With Thanksgiving almost upon us, it's time to take stock of the front-office and coaching kitchens where the temperature is getting a little too hot.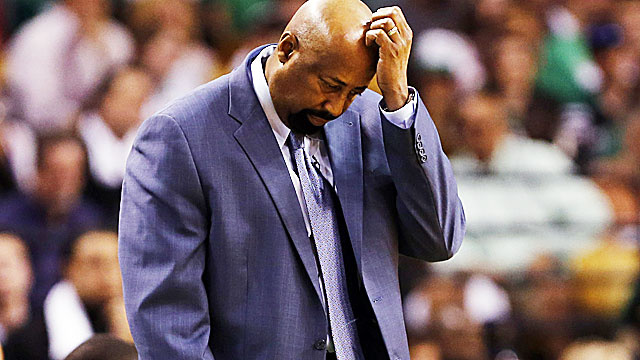 Thanksgiving brings back some fun memories in NBA coverage lore, such as the infamous New York Post front page with Isiah Thomas' head superimposed on a turkey and the headline, "Stick a fork in him! He's done!"
True story: I drove to the Knicks' practice facility that Thanksgiving Day in 2007, in the event Thomas was let go and I could catch him on his way out of the building. No such luck; the Knicks' tempestuous emperor, James Dolan, waited until the following April to hire Donnie Walsh and "re-assign" Thomas to a role that was never really defined. I made it home in time for turkey and stuffing.
In addition to food, family, football and adult beverages, Thanksgiving in the NBA is an unofficial marker on the calendar for teams to begin taking stock of where they are and where they're going. In most cases, there's a lot of gray area. It's way too early for even the most impatient owners to hit the panic button and start making changes, especially with so many new coaches and GMs in place this season.
Nonetheless, it's never too early to start assessing the teams with turmoil brewing -- those with high expectations that are struggling or those with low expectations that are rife with drama. So I bring you the Misery Index, a temperature gauge for how hot the various seats of power are for teams that fit into one of those categories:
Red hot: Knicks, Nets, Cavaliers
Speaking of Dolan, he told the Post in a rare interview published Friday that coach Mike Woodson isn't going anywhere. Given Dolan's contrarian track record for sticking with coaches and executives far longer than anyone thought possible, you might actually take him at his word. But when it comes to how high the expectations were for the Knicks and Nets and how poorly they're performing, nothing should be ruled out on either side of the East River. 
As bad as it is in New York, a far messier situation exists in Cleveland, where Chris Grant's tenure as GM is on shaky ground, league sources say. No. 1 pick Anthony Bennett, who has made exactly five baskets in 110 minutes, may well have been pushed on draft night by coach Mike Brown. But Cavs owner Dan Gilbert just hired Brown for a second tour of duty and committed $20 million to him. Brown's recent indictment of the entire roster -- "We didn't compete," he said after a demoralizing loss to the Wizards on Wednesday night -- was awfully telling. We know Kyrie Irving is talented, but now we'll find out if he can be a leader, too. Right now, there doesn't appear to be one of those on the roster that Grant has assembled.
Simmering: Jazz, Wizards, Raptors
When you're 1-12, the seat is getting hot regardless of what the mitigating factors are. But having let Al Jefferson and Paul Millsap walk in free agency, the Jazz clearly are in a rebuilding phase -- and it's not a bad time for it, considering the potential rewards coming in the 2014 draft. Tyrone Corbin doesn't appear to be in any danger yet, since the mandate from ownership is for player development over wins and losses. (Plus, with assistant Jeff Hornacek now coaching the Suns, there isn't a logical interim replacement on the bench.) With lottery pick Trey Burke back from injury to solidify the point guard position, let's see if things get better.
The Wizards had lofty expectations for returning to the playoffs this season, and given how bad the East is, it's too early to discount them in that endeavor. But with a 4-7 record, the results have been mixed so far, to put it kindly. League sources wonder how long GM Ernie Grunfeld can remain in self-preservation mode. Speaking of self-preservation, continued struggles in Washington would put coach Randy Wittman in a race with the coach of our next team in the Misery Index to see who will be the first coach to be fired this season. 
The other team in that hunt would be the Raptors, who just scored a much-needed road win in Philadelphia and play the Wizards on Friday night. The feeling among rival executives is that Raptors president Masai Ujiri will be quick to the trigger on a coaching change if things go south for Dwane Casey -- a move that would allow Ujiri, the reigning executive of the year, to begin putting his stamp on things. But clearly that time isn't now; at 4-7, the Raptors remarkably find themselves in first place in the Atlantic Division.
Getting warmer: Pelicans, Pistons
New Orleans is another team that expected big improvement this season, and it has yet to materialize. Ryan Anderson returning to the lineup will provide a major boost, and it's too early to make any drastic moves. But if things don't turn around, league sources advise to keep an eye on GM Dell Demps, whose mishandling of the aborted Chris Paul-to-the-Lakers trade was as rough a rebuke as you could have for a GM. There's no quibbling with the Jrue Holiday trade, but the Tyreke Evans acquisition has the potential to be a destabilizing force in an otherwise positive locker room.
A lot of executives around the league are rooting for Pistons president Joe Dumars, who did a solid job getting Brandon Jennings on a reasonable deal and adding Josh Smith to an already talented front court. But so far, the pieces haven't fit. If that's the long-term reality, and if Mo Cheeks wasn't the right choice in a deep offseason coaching talent pool, it could prove difficult for Dumars to survive this time.
Safe for now: Nuggets, Bucks, Rockets
The Denver organization has been lauded in some circles for being too cheap to retain the reigning coach (George Karl) and executive (Ujiri) of the year. This is a free pass that I do not understand. Having said that, I like the people Denver has put in place. GM Tim Connelly is a sharp, rising talent in the executive ranks. The front office is deep, too, with Arturas Karnisovas coming over from Houston and college-hoops brainiac Jim Clibanoff joining Ben Tenzer under Connelly. Former player Jared Jeffries also is cutting his teeth on front-office work in Denver. Brian Shaw finally got the head coaching opportunity he has long deserved, but so far it's been a case of be careful what you wish for. Andre Iguodala was a big loss, but there's no need to panic yet.
The Bucks are 2-8 after reshuffling the deck yet again this past summer. They have a new coach (Larry Drew) and just gave GM John Hammond a three-year extension. So the Bucks are what they are for now, and that's a team that everyone internally knew would take time to come together with so many new players. Perpetually competing for the eighth playoff spot in the East appears to be owner Herb Kohl's goal, and given the state of the East and the room the Bucks have to grow, that modest goal should be within reach. 
Finally, what happens when you land the summer's biggest free-agent prize, pair him with James Harden and start talking about contending for a championship? If expectations aren't met, bad things happen. It's way too early to write off the Rockets, but they just don't look like a team that has enough to contend with the likes of San Antonio, Oklahoma City, Golden State and the Clippers in the West. Owner Leslie Alexander has never been afraid of spending to win, but he's also notorious for being one of the most demanding owners in the league. Clearly, Kevin McHale needs time to sort all of this out and figure out how to maximize the talent he has. But the bar has been set high -- maybe, too high. 
Markieff Morris was already in line to miss the start of camp due to a pending assault cas...

The 76ers should hopefully get a lot of play out of their young guys this season

Okafor's been on and off the trade block for over a year and doesn't seem to be in Philly's...
Fisher is the fourth NBA player to compete for the Mirror Ball trophy on the show

Barkley commends the NBA, sarcastically, for extending the season and reducing back-to-back...

Enes Kanter isn't seeing much comedy in the Kevin Durant social media situation