Mitch Kupchak believes Lakers can build contender with Kobe's deal
Mitch Kupchak believes the Los Angeles Lakers can still have the flexibility to build a contender with Kobe Bryant's new contract extension.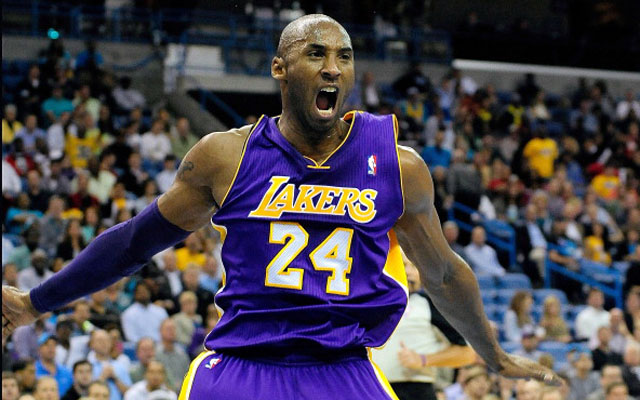 The Los Angeles Lakers just inked one of their storied franchise players for two more years at $48.5 million. With Kobe Bryant playing two more years past this season, they'll keep him as the highest paid player in the league through the 2015-16 season at the age of 37 years old. Considering he'll account for roughly 40 percent of the salary cap with his new deal, some are skeptical the Lakers made the best basketball decision in terms of building a championship contender in Bryant's later years.
During a Q&A with the media discussing Kobe's new deal, Lakers GM Mitch Kupchak admitted it will be challenging to build a title contender with an older Bryant commanding so much of the salary cap. However, he still thinks the organization can do it. 
Q: On if he feels the Lakers have enough cap flexibility to build a championship contender in the next couple years with Kobe under contract:
Kupchak: I think we do, I think we do. The challenge is there. The collective bargaining agreement doesn't make it any easier for anybody. It's restrictive and challenging, but yes, I do believe we can.
Kupchak admitting it's going to be hard but that he believes they can still build a contender is interesting because it will be on him to construct the roster. Obviously, he can't come out and tell everybody he's not expecting them to contend. That's not how it really works when you're running a legendary sports franchise and still have one of your icons on the books for a lot of money. But Kupchak will have the pressure of coming through on this idea of building a contender.
Earlier in the discussion, he was asked to explain the rationale behind giving such a large number to Bryant. He discussed the importance of keeping Kobe a Laker for his entire career, a goal of theirs since the 2004-05 recruitment of Bryant when he was a free agent. He also added this about the idea of having that first domino (Kobe) taken care of before looking at their flexibility.
Clearly, we had options to wait till the summer, which creates a lot of other kinds of challenges when you're in an open market. We could have waited two, three or four weeks from now, and now you're negotiating during the season with the player and that's never a good thing, either. We just felt after a month or so of discussion, looking at what this may do to us in the summer in terms of our cap and our plans, and without going into great detail, we do maintain flexibility. The uncertainty of the summer is behind us now. We know we have Kobe in the fold for this year and two more years.

The negotiation went pretty smoothly in terms of arriving at a number that as reported makes him the highest paid player in the league next year, the year after and of course this year as well. As I mentioned, we continue to have flexibility during the offseason not knowing what may take place during the offseason with these free agents. People continue to look at the offseason as the year to get a free agent, which is true. But for financial flexibility, it (helps) in a lot of ways in terms of making deals, so we do maintain that as well. In a capsule, that's where we are on the whole thing. 
Most people just assume the cap space remaining around their commitments past this season involve signing big name players, but Kupchak brings up a good point about knowing you have Bryant locked up through 2016 and then operating from there. The flexibility he talks about won't just be for signing free agents. It will allow them to make some deals that bring in players without having to totally match the money going out. With Steve Nash as an expiring contract as well, that could be a good bargaining chip for them.
Still, it's going to be extremely difficult for the Lakers to put enough great and complementary players around Bryant with his contract being what it is. It's not impossible but it's certainly a tough task. The Lakers will need Bryant to be the same player we saw last season before the injury, if not better.
Knicks forward had his truck stolen out of his driveway

The Celtics will send No. 34 to the rafters in Boston when they take on his old rival

It's never too early to look at June's NBA Draft
Cousins uses some colorful language to get his point across

The awards are voted on by peers in the NBA and adds to Russ' league MVP award he won this...

Minnesota is facing even bigger expectations headed into next season, and they'll be difficult...