Mitch Kupchak thinks Kobe Bryant can probably play three more years
Los Angeles Lakers' general manager Mitch Kupchak says Kobe Bryant can play three more years if he's still at a high level.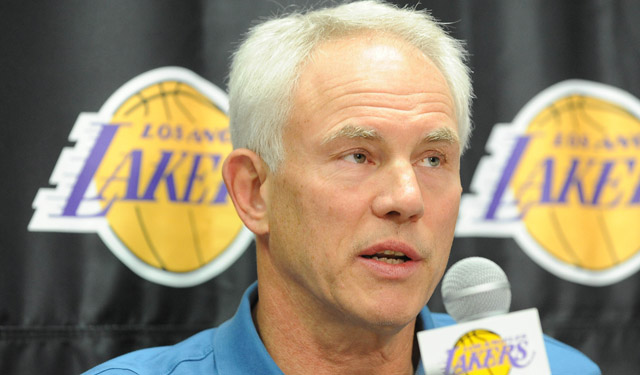 While the majority of people are wondering when Kobe Bryant will be able to come back to the Los Angeles Lakers following his Achilles' tendon tear, there's still the question of how long he plans on playing. Bryant said in July that he thinks he can play at a high level for another three years and recently said he's feeling really good and is shattering the expectations on when he'd return from his injury.
If you ask Lakers' general manager Mitch Kupchak whether or not Bryant can in fact play for another three years, he's thinking along the same lines as his star player. Mark Willard of ESPN LA 710 tweeted some thoughts from Kupchak when he was on the radio earlier Thursday. Kupchak believes that if Bryant is able to play at that high level, then three more years shouldn't be a problem for the soon-to-be 35-year old.
Kupchak on Kobe being a Laker in 3 years: "If he can play at a high level, I don't see any reason why he wouldn't be."

— Mark Willard (@Mark_T_Willard) August 15, 2013
While it's pretty well known just how close Bryant is to moving from fourth in all time scoring in the NBA to second with three more high level years, the real key here is figuring out just how the Lakers massage the salary cap situation that will come with keeping Bryant around after this year. Bryant makes the most out of any player in the league right now at just over $30 million. 
Nobody expects him to get that in his next contract, but how big of a pay cut would he be willing to take in order to help the Lakers put star talent beside him over the last two years of this three-year window he's been giving? Would he be willing to drop down to $10 million per season or $15 million? Would a cut down to $20 million really help the Lakers much at all? Regardless, we've got a long way to go in his recovery and play before those questions start being answered. 
He's still has to get healthy enough to make his debut with the Lakers in the 2013-14 season, whenever that may be.
The Cavaliers are reportedly very close to acquiring the 10-year veteran point guard

Kobe Bryant is now an Oscar nominee. Here's how you can watch his short

Players such as Metta World Peace, Baron Davis and Nate Robinson have signed on
The guard is doing everything he can to make a name for himself (and making Cavs fans sweat...

Bryant is getting recognition for his off-the-court exploits in retirement

Our advanced computer model simulated Tuesday's Spurs vs. Cavs game 10,000 times