Monta Ellis says he doesn't have to shoot as much for Dallas
Monta Ellis may have it all, but he doesn't need to give it all, he says.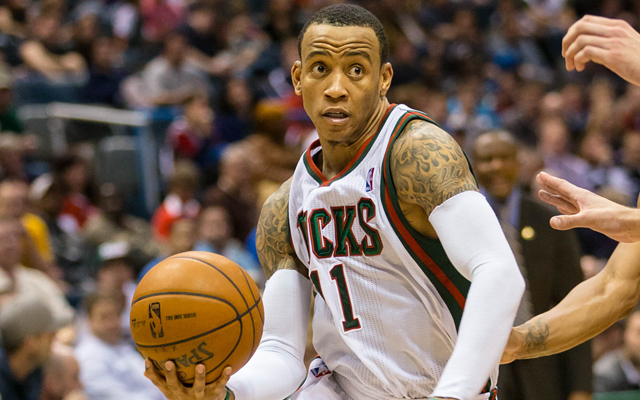 Let's start with this, because I think it's a good primer for understanding Monta Ellis as a basketball player, at least mentally. 
On Thursday, Ellis was introduced along with several other new Mavericks. And he was asked about his efficiency and volume. The answer... was interesting. 
"I don't really have to shoot the ball as much on this team," Ellis said. "The previous team I been on, like I said once before, I had to do 60 percent of the work no matter what the situation is. I think with this team here, I don't have to do as much or take as many shots because sometimes they're going to stop me and Dirk is going to be open, Jose [Calderon], Devin [Harris], the list goes on and. So I don't think I have to do as much as I had to do in the previous years.

"So that's going to get me back to being efficient, that's going to get me back to being more consistent and it's going to get me back to playing Monta basketball."
via Can Happiness Bring Back 'Monta' Ball? « Hang Time Blog | NBA.com.
Well, let's just take a look at how last year was. 
Not great stuff there.
Did a team with Brandon Jennings, Ersan Ilyasova, J.J. Redick, and Larry Sanders need Monta Ellis to shoot 17.5 times per game? What part of that concoction needed him to shoot that much, especially when he was at a 42 percent clip? Kind of hard to argue for that. 
Now, that said, there are always seasons where inefficent players show out, situations that redefine who they are. Jamal Crawford. Jason Terry (in Dallas). Zach Randolph. So Ellis can totally "get it" next to Dirk and under Carlisle. Carlisle is unquestionably the best coach he will have played for, Nowitzki the best player he will have ever played next to. It can change who he is and how he plays. 
Or... he could have it all. It's his choice, really. 
It appears Philadelphia will continue to be extremely cautious with its potential franchise...

Everything you need to know about the extensions that have been agreed to ahead of the Oct....

Aldridge and the Spurs have turned things around and reached an agreement on a contract ex...
If there are hard feelings between the Cavaliers and Kyrie Irving they won't be shown on opening...

The NBA commish brushed off comments made by the Hornets owner

LeBron James is still fighting through an injury, but Cleveland is still expecting him to play...