Monta Ellis thinks he's passing too much, no, seriously
Mavericks gunner thinks his preseason struggles are on account of his attempts to defer too often. Heaven help the rims.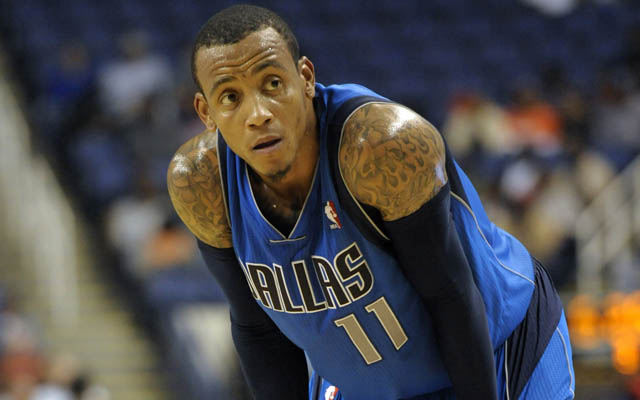 Monta Ellis has a reputation for... let's say questionable shot selection. He's a gunner. That's what he does. That said, he also has some pretty good assist stats (six per 36 minutes last season, and a 27 percent assist rate -- percentage of field goals assisted). So maybe he really can turn over a new leaf and be a productive member of the Mavericks if he decides and figures out how to be a part of the offense. 
Well, less than a month after saying that he was going to play "Monta Ball," Ellis is insisting that his preseason struggles are the product of him trying to defer "too much." 
"I think I'm looking for the pass too much," Ellis said after Wednesday's win over the Atlanta Hawks' backups, when he had 15 points on 5-of-13 shooting, five assists and six turnovers. "I've got to be more aggressive attacking the basket, getting a couple to go down and then work to see how the defense changes."

Ellis, who ranks fourth in the NBA with 43 assists this preseason, isn't saying he needs to be selfish. He just believes that he's been looking to pass too much instead of attacking and reacting.

"There's a lot of shots that's been there and I've been making the late pass," Ellis said. "I think the majority of my turnovers come because instead of me taking that shot or making the layup, I try to pass. I've got to get out of that. I've got to be more aggressive and make the defense move."
via Monta Ellis: I'm looking for the pass too much - Dallas Mavericks Blog - ESPN Dallas.
GIDDY-UP. 
Ellis shot 37 percent in isolation situations last season according to Synergy Sports, despite using that set nearly 14 percent of the time. He ranked 74th in points per possession among all players using at least ten percent of their possessions in ISO. 
Those numbers, if you're wondering, are not great. 
Look, being aggressive is good. And Ellis knows his game better than anyone else. But how he gets those looks is important. If he's struggling as a playmaker, he should work off-ball more. If he wants to get to the rim, he should be cutting. He doesn't have to anchor the offense anymore; the Mavericks have weapons.
Ellis should put the rapid fire tools down and focus on a more targeted approach. 
San Antonio's track record speaks for itself, but they've made a few puzzling moves this o...

The Kings top pick thinks your burgers are trash, California

Popovich added that Trump is 'unfit intellectually, emotionally, and psychologically' to be...
Larry Hartstein turned in a massive profit to close last season and locked in a pick for R...

Too many stars and not enough spots on the upcoming season's All-NBA teams

It appears Philadelphia will continue to be extremely cautious with its potential franchise...