More Laker woes: Dwight Howard, Pau Gasol sidelined with injuries
Dwight Howard and Pau Gasol are out more than a week with injuries.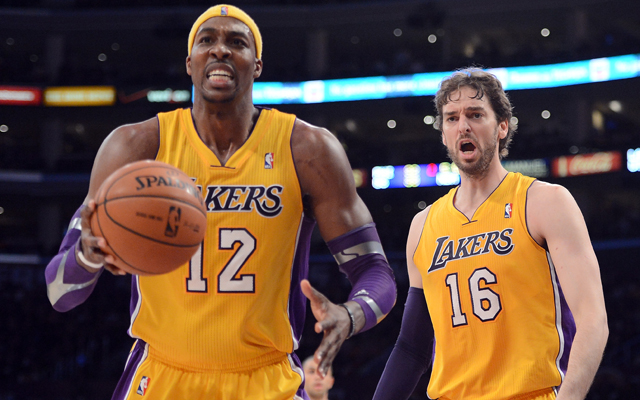 Neither of thes guys will be around this week.
(Getty Images)
Given how this season has gone for the Lakers, the injury news out of Los Angeles on Monday makes a lot of sense. 
First up, Dwight Howard suffered a torn labrum against the Nuggets on Sunday night and will miss a week, the Lakers told reporters at practice. 
Second, Pau Gasol suffered a concussion when JaVale McGee hit him in the face during the game and will not travel with the team on its road trip. Gasol gushed blood from his nose after the hit. Video courtesy of NBAVIDEOSS247 on YouTube: 
There's no timeline for either's return. 
Jordan Hill has been out with a hip injury, so this means Antawn Jamison could be starting at power forward along with Robert Sacre. Or, Metta World Peace might play at power forward. 
Ye Gods. 
The Lakers have lost three straight, the turmoil around the team is evident and the coyotes are circling. Steve Nash missed the entire first quarter of the season with a leg injury, Gasol has been battling knee tendinitis, and the team is three games under .500. 
So, not a great time for two of the Big Four to miss time. The team faces Houston and San Antonio on a road trip the two stars will not make. 
We're past the time for panic and straight into "Save the women and chidren; lower the lifeboats" mode. 
The Miami big man knocked down the set shot from the top of the key

Lin landed awkwardly after a layup attempt and winced in pain while grabbing his knee

Hayward suffered a horrific injury on Tuesday, but made sure to let the Boston fans know he...
The No. 1 overall pick has been tinkering with his form

George suffered a similar injury in 2014, and immediately offered Hayward encouragement

A certified athletic trainer says Hayward is 'hard-pressed to get back this season'