Mourning the process: With Sam Hinkie out, who do Sixers fans trust?
Sam Hinkie supporters are trying to come to terms with the new reality of the Philadelphia 76ers.
• 10 min read
On the set of The Disaster Artist in December and January, screenwriter Michael H. Weber routinely watched the Philadelphia 76ers get blown out on his iPad in between setups. Weber, 38, is a self-described lifelong and hardcore Philadelphia sports fan. In February 2000, he and his college friends drove from Syracuse to to see Allen Iverson drop 50 points on the Sacramento Kings at the arena then-known as First Union Center. 
Weber wholeheartedly believed in Sam Hinkie's plan to rebuild the 76ers by bottoming out, stockpiling assets and having the longest view in the room. After Hinkie resigned as president and general manager on Wednesday, reportedly unwilling to accept a "partnership" with Bryan Colangelo, Weber tweeted that he was done with the franchise. 
"I'm feeling scorned right now in a way that I haven't had enough time to process what's gone down," Weber said. "As someone who loves to write about relationships and especially breakups, this kind of feels like a breakup. I don't quite have that all worked out, but I've certainly had breakups that haven't felt as lousy as this. I'm still trying to understand all of it, and it's going to hurt for a while."
The Sixers last won a championship in 1983. Weber was 5 at the time, so he doesn't remember it. He was born and raised in New York — "enemy territory," he called it — so he's used to being mocked for his favorite teams' mediocrity. He could handle the last three years of extreme losing because of the philosophy behind it. 
The "process," to Weber, is about the series of decisions the front office made, but it's also about the fans who embraced it. They invested in and cared about Hinkie's vision. They chanted, "We've got draft picks!" at a game against the Brooklyn Nets at the Barclays Center. They showed up en masse to watch the draft lottery as if it was the NBA Finals. 
#Sixers fans chanting at #Nets: 'We've got draft picks.'

— Tom Moore (@tmoore76ers) March 16, 2016
"There's a great scene in Goodfellas where they explain what the title means," Weber said. "He's a 'good fella.' And in some ways, 'trust the process' became a little bit of our 'good fellas.' Like, you would talk about another fan — oh, so and so is a Sixers fan, does he trust the process? And it almost became a way to identify a certain type of fan versus another type of fan. And I think those of us who trusted the process are more forward-thinking. We are not the snowballs-being-thrown-at-Santa-Claus crowd.
"Only one fanbase gets a parade every year," he continued. "But what we were doing was so different, despite all the losing, there was something special about it. We weren't getting a parade, and we were trying to build a structure that will get us to one and sustain that, too. And how we were going about that was so different that it felt special. It didn't feel like the decisions our team was making were the same mediocre, crappy transactions and decisions that the majority of NBA teams make. This experiment felt noble to us."
That experiment, it appears, is over, and Weber is sad that we'll never truly know whether it was going to pay off. Before this, every time Philadelphia would visit Barclays or Madison Square Garden, Weber would be in attendance. He'd also drive to the Wells Fargo Center a couple times a year. Now, upset at Sixers ownership, he's asking himself whether or not he's even going to buy NBA League Pass next season. 
Weber said he will not "pack up and root for a different franchise," not with those memories of watching Iverson. If injured center Joel Embiid is healthy and playing, Weber thinks he'll be lured back in. At the same time, he can't bring himself to care about what happens in the Sixers-Knicks game on Friday.
"For the organization to pivot like this, we're kind of left out right now, wondering, 'Are we just supposed to roll with this?'" Weber said. "We don't have much of a choice, but we were embracing something that we thought was smart and different and we believed in both the message and the goal. And now, yeah, I've mostly been avoiding my email inbox today because there's even more abuse and mockery there. Which I get. Because, to abandon the process now, it's embarrassing."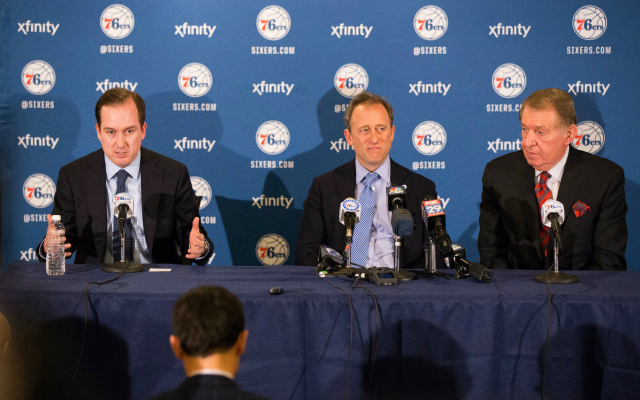 Kevin Lindsay, 27, has watched "an inordinate amount" of summer league basketball, he said, with "the depressing NBA.com purchases' receipts to prove it." Lindsay, who recently moved away from Pennsylvania, said he is lighthearted about his fandom and is fine with his favorite team being terrible as long as they're fun. He was upset about Philadelphia losing swingman JaKarr Sampson in February, but happy to see Sampson get a two-year contract from the Denver Nuggets. 
Lindsay got married on March 21, 2014, and the following year, the Knicks visited the Sixers on March 20. His wife is a New York fan, so they spent their first anniversary weekend in Philadelphia. 
"The Sixers won that night, so I get to choose the name of our first dog when we get one," Lindsay said.
Lindsay's wife works at Illinois State University, the alma mater of former Philadelphia player and coach Doug Collins, who is not a revered figure among Hinkie supporters. "We literally live above a statue of Doug Collins," Lindsay said. Back in November, when the Sixers were winless, Lindsay prayed to the statue, pleading for a victory.
On Wednesday, Lindsay tweeted his displeasure with profanity and capital letters. He couldn't believe that the organization would ask Hinkie to accept some sort of power-sharing agreement.
"If it was me or I think most reasonable people, you would not want to be in that work position where you've already had your authority undercut once," Lindsay said. "And then to have it undercut again potentially by your figurative boss's son? That'd be fairly insulting and show a lack of faith and, well, trust."
Is there anything that Bryan Colangelo could do to win Lindsay over?
"Sign Kevin Durant," Lindsay said, laughing. 
Lyle Walker doesn't watch a ton of Philadelphia games anymore but counts himself among the Hinkie faithful. He hopes that Hinkie gets another job and builds a championship team. If Hinkie went to Minnesota and won a title with Karl-Anthony Towns and Andrew Wiggins, players he coveted with the Sixers, Walker said he would laugh and it would serve Philadelphia right. 
"I know [the Sixers] stink," Walker said. "I just know what they're building, so I was behind it, but it doesn't mean that I have to watch every game. I'll watch a few games, whatever, but they stink and they have a horrible team, so it's hard on the eyes. But it is what it is. I knew there was a bigger goal." 
Walker, like the rest of the fans interviewed, does not blame Hinkie for leaving. He doesn't like Jerry and Bryan Colangelo -- he called Bryan "awful" 12 times in a 17-minute interview -- but he is much more mad at the owners. He saw the writing on the wall when Philadelphia brought in Jerry Colangelo to be the team's chairman in December, but he hoped Hinkie would still have a chance to see the fruits of his labor. 
"With Hinkie, I had full confidence," Walker said. "I had confidence that he can build a winner, it's going to take time. But now? No, I'm just sick to my stomach. It's like, now, I don't care. It's like apathy. I just don't care. It's like somebody just stabbed me in the back. Literally. The Sixers ownership just stabbed me in the back. And they panicked."
Since Hinkie's resignation, Walker has taken to Twitter, frequently responding to tweets from local and national writers. He is 39 years old and said he has always loved the Sixers, but he is convinced that the Colangelos will make Philadelphia irrelevant, perhaps qualifying for the playoffs but serving as fodder for the truly elite teams.
"I'm just disappointed," Walker said. "Just really disappointed in Sixers ownership. I thought they actually wanted to build a contender, but I was wrong. It's almost, I don't know. Nothing to believe in anymore."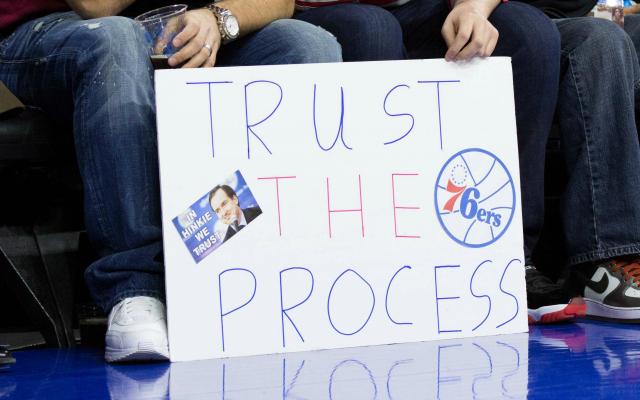 Six days before Hinkie resigned, T-shirts for the Rights to Ricky Sanchez podcast's 2016 lottery party went on sale. They are adorned with the names of every Sixer in the Hinkie era — even those who never came close to playing for the team, like Mac Koshwal and Chu Chu Maduabum. "Please come," Michael Levin wrote on Sixers blog Liberty Ballers. "It will be the end of our suffering. That sounds more culty than I meant it, but at this point, who cares?"
Depending on where the lottery balls fall, Philadelphia will have either three or four first-round picks this June. As Hinkie wrote in the 13-page memo to Sixers owners that leaked to the media, the team has a nearly 30-percent chance of winning the No. 1 pick and about a 50-50 chance of coming away with two top-five picks. With the potential debuts of Embiid and Turkish forward Dario Saric on the horizon, Philadelphia fans saw this summer as Hinkie's big chance to move the process along.
When Spike Eskin saw Wednesday's news, he texted Levin, his Rights to Ricky Sanchez co-host. Fans were tweeting at both of them, asking them to do an "emergency podcast," and he thought that they should. Levin replied that he didn't want to. 
"I came really very close to deleting my Twitter," Levin said, laughing. "It's so f---ing dramatic. I had my cursor hovering over the deactivate button." 
Levin, a television writer who moved from Philadelphia to Los Angeles in 2011, has been writing about the Sixers since 2008, tweeting about them since 2010 and co-hosting the podcast since the day after the 2013 NBA Draft, Hinkie's first. He decided against deleting his account.
"So I tweeted the word f--- and then watched all the tweets roll in from everybody else," Levin said. "It would have been much healthier for me to just slam it shut. I knew what everyone was gonna say. You've been on twitter long enough, you know what's gonna happen with crying MJ and whatever. But I felt like I was duty-bound to see it through, and sit there and let the tweets wash over me like rain after my fiancée just sailed off into the sunset with another man. That's what it felt like."
Eskin, a program director at SportsRadio 94 WIP in Philadelphia, thinks people like The Rights to Ricky Sanchez in part because their listeners don't run into each other that often in the real world. "We have been the people who have bonded those people together," Eskin said. "And we're always there as their voice." That meant the emergency podcast had to happen.
The podcast was 82 minutes long. At the beginning, both Levin and Eskin sounded like they wouldn't cheer for the Sixers anymore. By the end, they were half-joking about "staying together for the kids."
"I thought it was cathartic for both of us," Eskin said. "We've had dark ones before, but no one was ever as sort of rambly and, I think, emotional."
Nothing Eskin has been involved in professionally has made him more proud than building the podcast and the community. Levin plans to be openly disdainful of everything about the team for a month, but will remain a Philadelphia fan unless both Hinkie and coach Brett Brown wind up working for the same team. Levin also pointed out that one of his Liberty Ballers writers, Marc Whittington, became a Sixers fan because of Hinkie.
"They're going to win 10 or 11 games this year," Eskin said. "They won 18 last year and 19 the year before. And we're all happy and think, like, we have the greatest GM in the world. How fun is that? How absurd is that?"
Fans now have the option of buying a second lottery party T-shirt: a tribute to Hinkie that reads, "ONE PART COURAGE, TWO PARTS PATIENCE." This year's party will surely be different than the past two — Levin guesses there will be "a lot of hugging strangers in, like, a sad way." 
When Eskin arrived at work on Thursday, a couple of radio hosts asked him if Hinkie's resignation was proof that his beloved process had failed. Eskin was incredulous.
"The message that I have for the people that did and do trust, and the people who don't, is that we were right and they were wrong," Eskin said. "It's funny, [Hinkie] can still be a hero in this. And we can just say that Jerry and Bryan screwed it up if it doesn't work. We're never going to back down."
CBS Sports HQ Daily Newsletter
Get the best highlights and stories - yeah, just the good stuff handpicked by our team to start your day.
Please check the opt-in box to acknowledge that you would like to subscribe.
Thanks for signing up!
Keep an eye on your inbox for the latest sports news.
Sorry!
There was an error processing your subscription.
The NBA handed out their regular season awards on Monday night

The Lakers owner commented on Magic Johnson's exit and Rob Pelinka's role as general manag...

The Bucks' Giannis Antetokounmpo took home the 2018-19 NBA MVP award
Gobert is the 10th player in league history to win the award multiple times

Mike Budenholzer led the Milwaukee Bucks to the best record in the NBA

This is the second straight season that Williams has been named 6MOY