Moving on from Harden, the Thunder rely on built-in chemistry
The Thunder have been shaken up, but it's their two horses they must rely on to take them to another level. And to keep the team together.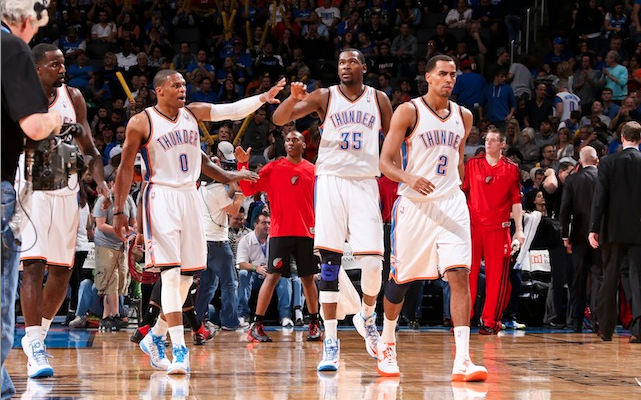 The Thunder may be missing something, but they look the same where it counts.
(Getty Images)
OKLAHOMA CITY -- It was a very strange thing in the Thunder locker room about an hour before tipoff Friday night.
Kevin Durant sat in front of his locker as he usually does, a peanut butter and jelly sandwich in his hand, headphones on, staring at a TV playing his opponent's last game on it. Russell Westbrook sat about six feet to his right, watching the same TV with his feet propped up in an empty chair.
A chair that for the last three years James Harden has filled between them.
The Thunder made the decision not just to look toward the long-term plan when they traded Harden, but also to place that future in the hands of Westbrook and Durant. General manager Sam Presti not only believes in his vision, but in his two young superstars as well. The core of the Thunder might be shaken, it might be rattled, but the mission remains unchanged. And the battery that powers this powerful Thunder team still runs strong.
There was a certain tightness, an incredible closeness between the Thunder's young core and losing a key piece like Harden should obviously disturb some of that togetherness and chemistry. The hole left by Harden's departure might be unfilled -- Kevin Martin's locker is well away from Harden's old digs -- but Scott Brooks has no choice but to move his team forward and focus on the goal.
"James [Harden] was a good player," Brooks said. "Don't get me wrong. But he wasn't Dr. James. He wasn't helping the group stick together. All the guys do. Russell, Kevin, down the line, Perk, Nick. All the guys. That's what makes good teams."
Strictly on paper, the Thunder haven't missed Harden yet in their 1-1 start. Put your finger over Martin's name and you'd assume the Thunder's new sixth man was wearing No. 13 and rocking a bushy beard. He scored 15 points and had five assists in Oklahoma City's opening night loss against the Spurs, and chipped in 19 points on just 11 shots in 29 minutes in the Thunder's win Friday over Portland.
But what Harden provided OKC was another dimension. He was the perfect blend player to fit beside Westbrook and Durant. I've always thought it was either incredibly serendipitous or by design that Harden's locker sat between Westbrook and Durant. He seemed to connect those two on the floor by giving OKC that extra option. He removed the my-turn-your-turn look of exchanging possessions. He took out the tension that comes with taking turns.
Martin isn't going to fill that same role. He can provide many of the same things Harden did -- efficient supplementary scoring -- but he isn't going to be a playmaker or secondary ball-handling option to deploy when Westbrook goes haywire.
He also isn't James Harden. He wasn't the franchise's first draft pick in Oklahoma City; he wasn't part of a group that grew into a contender; he wasn't one of the three players standing in Miami with his arm draped around the other watching the final seconds tick off their season. He can't replace Harden in those ways. It's natural that this is a process for the young Thunder to overcome, for them to redevelop a new chemistry with a player on the court.
"I've never once went into a practice or a game thinking 'Oh my gosh, I'm really worried about our chemistry tonight," Brooks said. "[Chemistry] was never a question. It really wasn't. I think when you talk about chemistry with our group and if you question it, I don't think you've been around our group as long as I have."
Martin summarized his view of fitting in with the Thunder simply after his first practice: "Talent isn't the problem, it's just going to be chemistry."
Which Brooks clearly isn't all that concerned about. Because when you play with Durant and Westbrook, you fit in by default. Martin might not be their new best friend off the floor and they may not hang together like they did with Harden, but on the court it only takes a minute to become worthy of being a groomsman for Durant.
Durant is one of the most unselfish stars in the game, a perfectly efficient player who takes ownership of a team by his actions and not his words. The Thunder fall in line behind their alpha in Durant and his right-hand man in Westbrook. It's a brotherhood in OKC and if you're with them and you buy in to the mission, you're welcomed with open arms. It's almost a cult of basketball and Durant has everyone drinking the Thunder Kool-Aid.
What the Thunder realize is this isn't the same team. They aren't just trying to pick up and pretend that Martin is the new Harden. They're a new group with a new feel.
"You can't duplicate it," Westbrook said of chemistry, "but we have a group of guys that have been here for a while. We're switching the team up a little bit but every year we've had a different team and we've found a way to incorporate guys and make sure everybody knows what it takes for us to win. So I don't think that's going to be a problem."
As long as the wins come, that empty chair between Westbrook and Durant's locker won't be anything more than a foot rest. But if adversity strikes and times get tough, this young team might be tested. If Westbrook struggles handling the ball more as a decision maker late in games -- like he did in San Antonio -- that empty chair might become a perfect reminder of what's missing.
Until then, it's believe in the plan, believe in the program and believe in Kevin Durant and Russell Westbrook.
Kevin Durant says he doesn't agree with what President Donald Trump agrees with

Evaluating where the future Hall of Famer might land up if he is freed from Chicago's rebuilding...

Adam Silver said his piece with the schedule out; we address that and what the slate looks...
The Hawks and Sharecare reportedly agreed to terms on a five-year deal

A look at the context of the schedule and who plays who when, and how far they travel during...

Durant took on rapper Lil Dicky and actually might have lost