Much Too Soon: A look at Kyrie Irving's struggles and attitude
Kyrie Irving is an All-Star starter but has come under fire.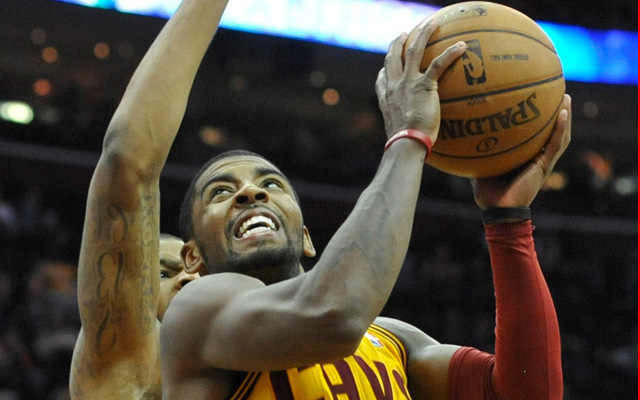 Sunday night, the Cavaliers blew a 20-point lead vs. the Suns. They scored six points in the third quarter. The entire, 12-minute frame, they managed six points. It was yet another in a season full of disasters, as the Cavaliers have found new ways every night to lose with what is, on paper, a good team. 
And yet for as good as they look on paper, they still have things happen like this, their third-quarter shot chart from the Phoenix game.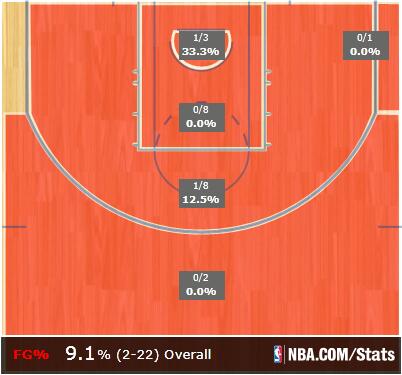 Yikes. 
So what's the problem? Well, it's had to identify. It's not rebounding, they're 14th in percentage of all available rebounds snagged. Their defense has fallen way off from early success; the Cavs are now 18th in points allowed per possession. But offense? Offense is a mess. 
Points per possession: 25th
Percentage of buckets assisted: 29th
Effective field goal percentage (factoring three-pointers): 28th
Points off turnovers: 27th
Fast break points: 26th
Points in the paint: 25th
(via NBA.com)
You get the idea. They can't score, inside or out. And that's really disappointing considering they have an All-Star starter in Kyrie Irving. Irving exploded out in front of a weak draft class, and looked like a franchise megastar. Even after an injury-riddled second season, people like me believed that Irving would be a top-three point guard in the NBA within the next three seasons. But last year, something happened. Irving's attitude shifted. He stepped aside of criticism for his then-coach Byron Scott. He bailed on Fan Appreciation night. Some of this is to be expected; Irving turned 21 last March. But usually these problems arrive after a few more years of losing, after the first big contract guarantees their financial status. And it's especially confusing for a kid who came into the league with big-name friends (he's a casual friend of LeBron James) but no attitude issues to speak of. 
So why then is Irving struggling this season, scoring less, shooting worse, and still hasn't made a leap in assists? 
The Akron Beacon-Journaltook Irving to task on Satuday, laying out the case for his attitude issues which go back to last season. 
But the looming question hanging over this game, this franchise, is simple: Who will Kyrie Irving be when he returns from New Orleans?

Something changed within Irving last season, and it coincided with his return from All-Star weekend. It was evident to anyone around the team, particularly former coach Byron Scott, who told me in the days before he was fired, "I haven't changed, but he has."

...

He is 80-193 with the Cavs, and certainly that isn't all his fault. The Cavs didn't give him much help the last couple of years. That was supposed to change this season, only it hasn't. If he is truly the leader, then Irving has to own some of that.

Instead he doesn't have to because 860,221 people voted for him. That's about 56,000 more votes than Chris Paul received for this All-Star game, which is astonishing since Paul plays in Los Angeles and is widely (and rightfully) regarded as the NBA's best point guard. That's where Irving is trying to get, but he won't as long as journeymen like D.J. Augustin and the like continue tormenting him. And starting in the All-Star game only re-enforces the misconception Irving is blameless in all of this.

...

Irving has to take ownership of all this. When he truly does, inferior guards will stop having big nights against him.

Part of the problem was Irving being anointed the Big Man on Campus immediately upon arriving. He hasn't been held accountable much the last couple years. That has festered into what we've seen this year, which is too much dribbling, at times a lousy attitude and a 21-year-old who has shown his immaturity.

Two opposing general managers this season have told me they think Irving is pouting. Over what is anyone's guess. Jarrett Jack hasn't been the locker room enforcer he was supposed to be. Luol Deng should help, but he just arrived and may not be here past April.
via Jason Lloyd: Kyrie Irving's accolades outnumber his successes - Cavs - Ohio.
So that's not a great set of indications as to how things are going with Irving. Maybe it's a product of his frustration over a front office that keeps trying to be the smartest kid in the class with his answers instead of studying for its tests. Maybe it's a product of that same relationship with James, being fed information on how things work in Cleveland under Dan Gilbert, though that seems unlikely. James has nothing to gain and everything to lose in that scenario and he would know feeding Irving that info won't help him. 
Maybe he's just not that good. 
But, I mean...
Maybe it's just a bad season. Maybe it's an undisclosed injury. Maybe it's because he agreed to be on the cover of NBA Live 14. 
One thing that is clear is that Irving's defensive issues are legitimate. Irving told Lloyd in the ABJ article that he thinks guards are scoring on him in the pick and roll. Not only are the Cavs 7th league-wide in defending the pick and roll according to Synergy Sports, but Irving himself is in the 54th percentile defensively in that set. It's isolation where he burns, allowing .97 points per possession in the 24th percentile of the league. 
He also gets torched in hand-off situations (1.2 points per possession) and getting caught behind screens (1.0 points per possession).  In short, if he has help, the Cavs are helping. If he doesn't, he gets eaten up. That's an effort issue. 
It's possible the attitude issues are misconstrued. It may simply be a lot of little things taken out of context, and he may have every right to be upset about whatever he has been. But it's the rumors of such actions combined with the evidence of his play that leaves you concerned. 
This summer, Irving will play with Team USA in FIBA play. This has traditionally been a learning experience for young stars. Irving has practiced with them in the summers, even shown out. But being with them every day is a new experience. A lot of players have spoken about those summers, about seeing how the best players prepare themselves, about the work they put it in the offseason, into practice.
Maybe that's what Irving needs. Because Irving is the face of this franchise for the near future (players of his caliber don't leave on their rookie deals because of restricted free agency and the raise structure -- he's not going to the Lakers).  And he's going to have to shoulder a bigger part of the load. Otherwise all that warm attention he's gotten is going to turn darker and darker, and he'll see the flip side of stardom. 
Our advanced computer model simulated Saturday's Thunder-Cavs game 10,000 times

The Jazz are reportedly looking into trading Rodney Hood before the Feb. 8 NBA Trade Deadl...

The Cavaliers are ready to reset everything if they have to. Their interest in Lou Williams...
It sounds like the Cavaliers are going to be active before the NBA trade deadline on Feb....

We've got all the scores, highlights and news for Friday night

George Hill, who is unhappy in Sacramento, could be a solution to Cleveland's backcourt si...