Nate Robinson: '(Officials) hate me'
Nuggets guard thinks the referees actually have it out for the diminutive point guard.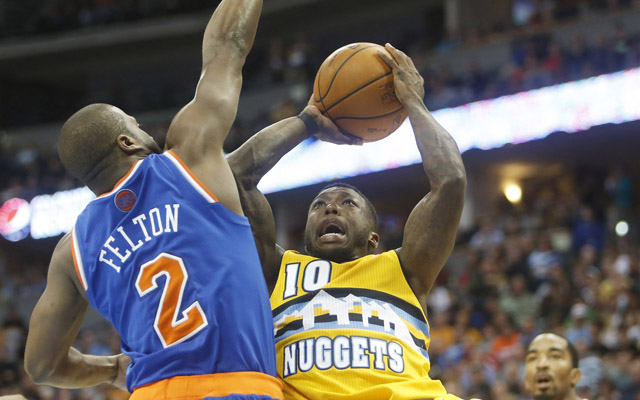 Nate Robinson was hit with a technical Friday night in the Nuggets' win over the Knicks, and after the game, made it pretty clear that he thinks the officials are not members of the official Nate Robinson fan club: 
"They hate me, they hate me," he said. "I don't know why, but it is what it is. I already know I've got the target on my back, but I'll play through it; I don't care. I really don't. It doesn't bother me none. If I get a call, I get a call. If I don't, I don't. If I get a tech, hopefully it's not in the fourth quarter. Hopefully I don't get any more. But I know I will. It's nothing new for me."
via Nate Robinson regrets technical fouls, but knows more on the way.
Robinson was frustrated by a series of calls in which the Knicks aggressively attacked Robinson's handle without a call, only to be followed by touch fouls on the perimeter. The Nuggets barely hung on when a Carmelo Anthony turnaround jumpshot was blocked by Randy Foye. 
Robinson is averaging nine points on just 39 percent shooting this season and has struggled to find a consistent role after signing with Denver as a free agent, but in recent weeks has found more and more of a role with Denver's bench unit alongside Andre Miller. 
Are these comments stiff enough for a fine from the league? The NBA's pretty loose with its definition of things deserving of a fine, so don't be surprised if Robinson has a fine coming. Maybe he should get "THEYHATEME" on his jersey like "He Hate Me."
Right before Wiggins hit his shot, Carmelo Anthony hit a 3 to put the Thunder in front

The Suns firing Earl Watson three games into season is second-quickest firing in NBA histo...

Bledsoe tweeted, "I Dont wanna be here"
Giannis had his hand on McCollum's hip when he poked the ball away

Teodosic had to leave the Clippers' game Saturday night against the Suns

Irving said recently that he does not regret the profane outburst