Nation's No. 3 OT headed to Army Bowl
Ohio State five-star offensive tackle commit Josh Myers received his jersey to play in the U.S. Army All-American Bowl during a ceremony at his Miamisburg (Ohio) High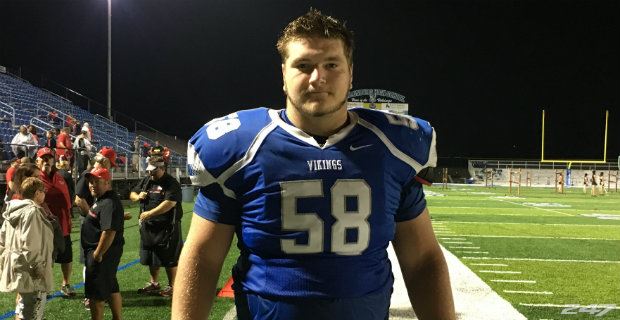 Ohio State five-star offensive tackle commit Josh Myers received his jersey to play in the U.S. Army All-American Bowl during a ceremony at his Miamisburg (Ohio) High School Tuesday morning.
The nation's No. 3 offensive tackle per the industry-generated 247Sports Composite shared the moment with three members of the school band who were also invited to perform at the game Jan. 7 in San Antonio, Texas.
"It was awesome," Myers said of the ceremony. "It was a really cool thing."
SALUTE Josh Myers for his official U.S. Army All American ceremony today! #ArmyBowl #Savage17 #GoBucks @joshmyers58 pic.twitter.com/JFtZ8Kt8mH

— #ArmyBowl Tour (@SelectionTour) October 18, 2016
The 17th annual Army Bowl will be played Jan. 7 inside the Alamo Dome, with NBC having the national broadcast. The Army Bowl is the highest-rated high school sporting event on television every year.
The tradition of the Army Bowl is special with many going on to success on Saturdays and over 300 former Army All-Americans having been selected in the NFL Draft including the likes of Andrew Luck, Odell Beckham Jr., Jamaal Charles, Adrian Peterson and Patrick Peterson.
Over 35,000 fans attend every year, many of them servicemen and servicewomen.
"It's hard for me to put into words what's it's going to be like to play in front of them and meet them," Myers said. "They risk their lives to protect our country and I've been dreaming of this opportunity. It's a chance for me to represent my team and my city if Miamisburg. It's unbelievable."
No coffee needed this morning #FIREDUP as we welcome @joshmyers58 to the 2017 @ArmyAllAmerican! pic.twitter.com/scKFOf1Myb

— Joe Bouffard (@FBUNortheast) October 18, 2016
Myers is one of the jewels of an Ohio State recruiting class that 247Sports ranks No. 1 nationally. He will be joined by future teammates in defensive end Chase Young, offensive lineman Wyatt Davis, cornerback Shaun Wade, receiver Tyjon Lindsey, running back J.K. Dobbins, quarterback Tate Martell, defensive tackle Haskell Garrett and offensive lineman Jake Moretti as U.S. Army All-Americans.
"That's unreal," he said.
Iggy is focused on giving back to the Boys and Girls Club as he is with his Silicon Valley...

Ball missed much of the preseason after injuring his ankle against the Nuggets on Oct. 2

The Warriors are coming into the season with overwhelming championship odds
The best player in the world has a chance to make an important statement -- and kneel

The Cavs begin their defense of the Eastern Conference against the new-look Celtics

San Antonio's track record speaks for itself, but they've made a few puzzling moves this o...