NBA Daily Picks: Are the Thunder ready to roll?
Daily picks against the spread including Thunder-Pistons, Lakers-Pelicans, Nets-Wizards, and more. It's a buffet.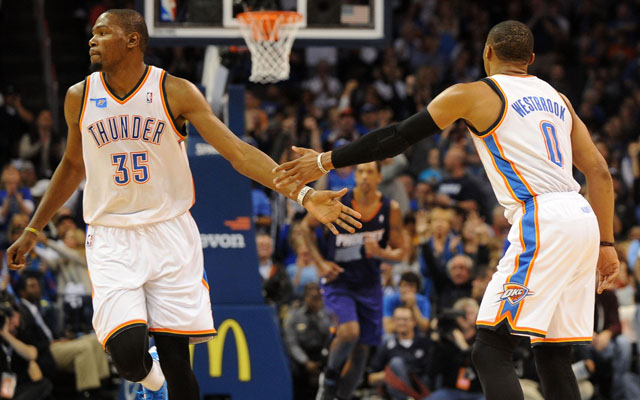 Picks against the spread analysis for Friday, Novemer 8th.
Full Expert Picks | Odds | Scoreboard
Thursday results: The line bumped up after I made my pick, LeBron missed a free throw. The Nuggets couldn't put the Hawks away at home, and the Rockets were drunk Thursday night. I'm not kidding. I think they were literally drunk. 
There was a lot of crying and throwing things, here. 
Tuesday: 0-3 YTD: 37-32-3. 
DANGER WILL ROBINSON, DANGER
GAME: Lakers at Pelicans
FAVORITE: Pelicans (-9.5)
PICK: STAY AWAY!
Even on the back-to-back, I don't trust the Lakers. At all. This team thinks it's good. (It's not, by the way. Seriously, the Rockets were drunk.) And thinking you're good can do amazing things for you in the short term. 
On the other hand, the Lakers lost by 25 to the Mavericks and the Pelicans either look unbeatable or like hot mess every other game. No way to figure this one out, especially at that line. 
WEIRD SCIENCE
GAME: Thunder at Pistons
FAVORITE: Thunder (-3)
PICK: Thunder cover.
Fun game. But this one being as tight at is is kind of odd, right? Thunder coming off a big win vs. Dallas, the Pistons starting to take more and more bad shots. The Pistons are better. But are they "hang with KD and the gang" good? That seems ambitious, with OKC coming off a rest day. 
Odd line, either way.
I've Got A Bad Feeling About This
GAME: Nets at Wizards
FAVORITE: Nets (-2.5)
PICK: STAY AWAY!
I don't know. The Wizards are pretty awful, and the Nets have to get it together sometime. Something about this just feels off. Maybe it's that it's in Washington. Maybe it's just the Nets' inconsistency. Chalk this one up to a gut feeling, but I don't like it either way.
Hey, Good Lookin'
GAME: Jazz at Bulls
FAVORITE: Bulls (-13)
PICK:  Bulls cover
Don't care about the line. Don't care about the "team desperate for a win" factor. (OK, that maks me a little worried.) The Bulls are frustrated and want to take it out on someone, the Jazz are on an East Coast road trip. Utah lost to Boston, for crying out loud. They can't hang, even in a low-possession game. 
GAME: Kings at Blazers
FAVORITE: Blazers (-7.5)
PICK:  Blazers cover
Rose Garden effect. I'm not calling it the Moda Center. You can't make me. 
Then-Lakers owner Jerry Buss eventually shot down the idea

Bryant will have both No. 8 and No. 24 raised to the Staples Center rafters on Monday

The Lakers will be retiring Kobe Bryant's No. 8 and No. 24 jerseys at halftime
The Nuggets will look for their second-straight win with Nikola Jokic back in the lineup

This composition is absolutely amazing

Stephen Curry, who grew up in North Carolina, wants to be part of the next Panthers ownership...