NBA Daily Picks: Return of the Anti-Tank Sixers?
Daily Picks for Wednesday, November 6th, including Wizards-76ers, Raptors-Bobcats, Jazz-Celtics, and Pelicans-Grizzlies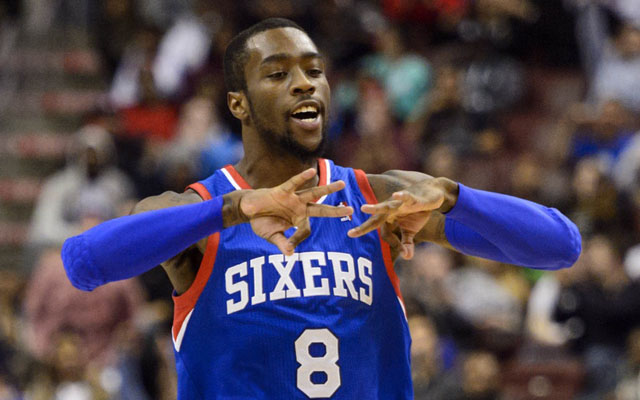 Picks against the spread analysis for Wednesday, November 6th 
Full Expert Picks | Odds | Scoreboard
Tuesday results: HOT DOG, HOT DOG, HOT DIGGITY DOG. 
Tuesday: 7-2 YTD: 32-24-3. 
DANGER WILL ROBINSON, DANGER
GAME: Wizards at 76ers
FAVORITE: Wizards (-2)
PICK: STAY AWAY!
Everything's back to normal, right? Right? I mean, we can trust the Sixers to lay down and die now, right? I'm not so sure. They still had fight when they were getting blitzkrieged by the Warriors and the Wizards are a hot mess right now. I don't like going anywhere near a spread where the Wizards are favorites until a coaching change or a long win streak to stabliize things.
GAME: Raptors at Bobcats
FAVORITE: Raptors (-2)
PICK: STAY AWAY!
Both teams on a back-to-back, Raptors trying to rebound, Bobcats coming off an emotional high in the win over the Knicks. But the Bobcats have been legitimately decent this year and the Raptors unravel at weird times right now. Jonas Valanciunas should feast on their front line, but all of their perimeter weapons can be matched by the Bobcats. The double back-to-back just sets off all sorts of alarms. 
WEIRD SCIENCE
GAME: Jazz at Celtics
FAVORITE: Celtics (-3.5)
PICK: Jazz wins outright.
The Celtics are favored?! In a basketball game?! Like, with NBA players?! I get the idea. Jazz on an East Coast road trip, on a road-road back to back after getting pantsed by Brooklyn, vs. a Boston team that is so desperate for wins they would chew their own leg off to get into the win column. 
But the only way this makes sense is if tomorrow word comes out that Rajon Rondo's starting and in that case, the line is way too low. Without him, this team is the Worst Team in Basketball. The Jazz are bad because they're young and flawed, not bad. The Celtics are bad. 
Throw this one back, I think it's spoiled.
I've Got A Bad Feeling About This
GAME: Pelicans at Grizzlies
FAVORITE: Grizzlies (-7.5)
PICK:  Pelicans cover
I decidedto jump off the Pelicans' bandwagon for good on Tuesday night when they lost to the Suns. That's it. Any team that loses to Orlando and Phoenix in a week span does not have the structural integrity on its bandwagon to support my weight, diet or no diet. I'm out. 
Buuuuuuuuuuut...
Look Memphis gave up a cover at home to the Celtics. The Celtics, people. The Pelicans are desperate for a win like the Celtics, and yes, it's a road back to back, but 7.5 implies that the Grizzlies can create eight more points than New Orleans. I don't have confidence of the creating eight points, period. 
Hey, Good Lookin'
GAME: Cavaliers at Bucks
FAVORITE: Cavs (-1.5)
PICK:  Cavaliers cover
Line opened at Bucks -3 and moved to +1.5. Larry Sanders is mad at his coach, Their only healthy point guar is Nate Wolters and Caron Butler is playing big minutes. This seems a little bit like the public hammed the Cavs prompting the move, and Cleveland's been bad away from the Q, but I just don't have enough confidence in Milwaukee winning the thing.
Cuban weighed in on the ongoing feud between the basketball dad and the POTUS

Embiid has taken his trash-talk game to the next level this season, but he's not scared

Last year Durant said returning to his old home was 'never going to be a regular game'
The All-Star forward injured his wrist during Sunday's loss to the Lakers

Steven Adams believes he's the problem with the Thunder struggles in the clutch

LaVar claims that Luke Walton has been 'soft' on Lonzo so far