NBA Draft Combine: Withdrawals and standouts
Two hundred or so NBA executives sat courtside Thursday at the NBA Draft Combine in Chicago. The event is agent-driven and while there's not much that can be done about that, there is something that the NBA can do to improve it going forward.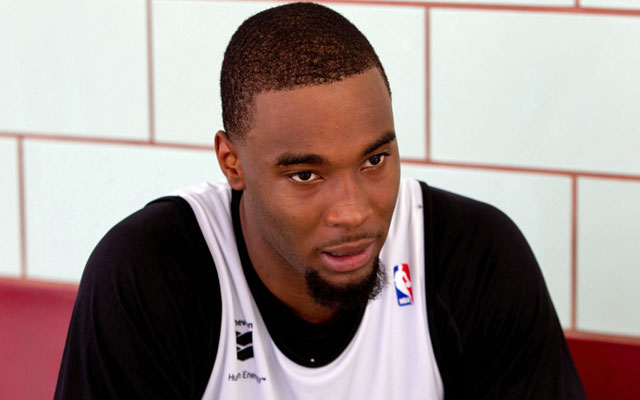 Even Arnett Moultrie decides to sit it out at the Combine.
(US Presswire)
CHICAGO - Jeremy Lamb and Bradley Beal sat watching their fellow shooting guards. Thomas Robinson leaned forward, itching to get a chance to go against the other power forwards. 
But such is life at the NBA Combine -- where the elite players aren't allowed to play at the request of their agents. 
Future number one overall pick Anthony Davis sat it out -- even though he doesn't even have an agent yet. Davis, Beal, Lamb and Robinson were joined by Michael Kidd-Gilchrist, Austin Rivers, Dion Waiters, Harrison Barnes, Andre Drummond and, yes, even Arnett Moultrie, as those who decided to sit out this year's NBA Combine. 
Arnett Moultrie? Seriously. 
That meant guys like Larry Bird, Sam Presti, Danny Ainge, Mitch Kupchak and other NBA general managers were forced to watch the next tier of prospects for four hours on day one at the UIC campus on Thursday. 
They saw Damian Lillard put on a dead-eye shooting clinic. They saw big man Meyers Leonard dominate and show why he shouldn't slip out of the top 10 pick come June 28. They saw skilled Canadian Andrew Nicholson display an offensive arsenal that made Bird proud. 
But they didn't see most of the guys that will shake David Stern's hand early on June 28. 
And even for the players they did watch, it wasn't an easy assessment. Most of the action wasn't live game action or even head-to-head battles. The majority was drills. 
"If you've seen pre-game warmups or halftime, that's basically what this is," one high-ranking NBA executive told me. "Structured pre-game warmups." 
OK, that may be harsh. But there wasn't a ton to be gained from the NBA Combine in terms of legit evaluation.
The real value comes in the measurements, testing and interviews. The numbers won't officially be released until Friday, but there was plenty of good news for several players. Beal checked in at 6-foot-4 1/2 with shoes, Sullinger stood at 6-foot-9, Robinson and Royce White at 6-foot-8 and Rivers at 6-foot-5. Drummond was 6-foot-11 with a 7-foot-6 wingspan. Henson's wingspan was 7-5. 
The interviews began on Wednesday night and continued following the on-court action Thursday -- around 3 p.m. 
Lamb said he was tied up with 30-minute interview sessions from 3 until 9 p.m. Drummond walked to his room at 5:30 with three in the books and two remaining. Some guys had eight interviews scheduled. Beal even spent 30 minutes with the Boston Celtics, a team that holds two picks in the early 20s. 
There were crazy questions. Robbie Hummel was asked by one team who, in his opinion, was the worst player at the Combine. Drummond was asked to diagram a UConn play. John Henson was posed the question what he thought he'd average in 11 minutes on this year's team. 
I won't give you Hummel's answer, but Drummond succeeded and Henson's response was four points and three rebounds. 
The NBA Combine is much like the one run by the NFL in that it's nearly impossible to get the top players to participate. It's high-risk, no-reward. However, Beal and Lamb would have excelled in this setting where the guards spent the majority of their time in shooting drills. 
Then again, what would that have proven?  We know Beal and Lamb can shoot the ball, anyway. 
Well, at least most of us know that. If an NBA general manager is putting a significant stock in the NBA Combine -- or even a workout for that matter -- he probably isn't going to be successful. The scouting has been done over the course of the season, as is the case with guys like Beal and MKG. Or for the past two years with a guy like Barnes. 
It would be nice to see the NBA attempt to make the event more competitive, structure it in a way where we see more two-on-two or three-on-three rather than shooting drills. 
But I still love it. Any basketball fan does. 
It's fun to watch Lillard drain NBA 3-pointers with ease, to see Hummel move freely without a knee brace - and to see Kendall Marshall back on the court following the wrist injury that kept him out of the NCAA tournament. 
Perry Jones III and Henson didn't back out (well, their agents didn't back out) and both showed well. Leonard, a legit 7-footer whose toughness has been questioned, was a beast. Moe Harkless and Terrence Ross' stock continued to rise with strong shooting displays. Quincy Miller struggled. So did Tony Wroten and Kevin Jones. 
Lillard, the Weber State star, proved he belonged with the big boys. 
"Everyone knew I could shoot," he said. "But I wanted to show it. I didn't want to people to think I'm scared." 
"I just wanted to get the experience," added Perry Jones III. "It's a once in a lifetime thing." 
T-Rob was rocking back and forth in his chair underneath the baseline, chomping to get on the court. Beal was locked in as well -- and you can bet Rivers didn't want to be a bystander, either. 
But go downstairs to the lobby of the Marriott Hotel in Chicago. Just watch. No one is more in demand and has more power than the agents right now. 
The NBA doesn't make the NBA combine. Guys like Jeff Schwartz, Jeffrey Wechsler, Mark Bartelstein and David Falk do. 
We've got all the scores, highlights and news from all of Sunday's games

The Rockets beat the Warriors 116-108 on Saturday night

The Cavaliers gave up 148 points in their loss Saturday afternoon to the Thunder
Blatt made the comment before coaching in the All-Star Game in Turkey

Is this rock bottom for the Cavaliers because it sure feels like it is

Wade, as he's done so many times in his career, threw it up to LeBron for the thunderous f...