NBA Draft: Is Andrew Wiggins starting to justify the hype?
University of Kansas' Andrew Wiggins had historically high expectations heading into his college year. Is he starting to justify them with his recent play?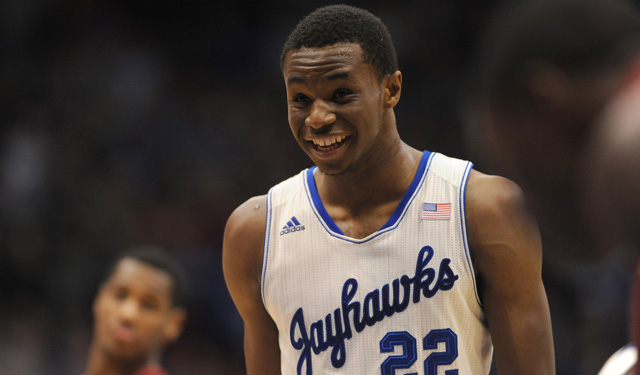 Oddly enough, a lot of people have been disappointed with Andrew Wiggins at the University of Kansas in his freshman season.
I'm not sure what we were all expecting when his one-and-done college season tipped off, but I'm sure we wanted validation that he was worthy of the hype. We wanted to know that he was a professional playing against children, none of them his peers. We wanted domination and confirmation of all the attention paid to a Canadian teenager, as if he were the hoops version of Justin Bieber.
He's been very good but he hasn't been a freshman we've never seen before. That's where the disappointment has come for most people. When I spoke to Gary Parrish of CBSSports on the Eye on Basketball Podcast about Wiggins, he made a very astute comparison. He likened what Wiggins is going through in his freshman season to what we saw from Derrick Rose in his one redacted season at the University of Memphis. Rose had incredible hype (nothing like Wiggins though) and didn't really blow anybody away until his tournament run. 
It was at that point in which Rose showed his star potential and broke down most debates of whether or not he should be the number one pick in his draft class. For Wiggins, we could be seeing a similar realization as we prepare for conference tournaments and the big dance in March. Over the past two games, Wiggins has shown how brightly his star might shine over the next two months of play.
While he's had plenty of good games to cancel out the poor showings, his averages of 16.5 points and 6.1 rebounds aren't blowing anybody away. However, the way he's played the previous two games is really showing the type of skill set that will help him excel the rest of this season and when he gets into the NBA. He's scored 56 points on 29 field goal attempts over the past two contests. 
It all starts with his jump shot. Wiggins' big drawback heading out of high school was his lack of a consistent jumper. The bad news with his jumper this season is it hasn't been all that consistent even still. He's made just 28.8 percent of his spot-up jumpers (38.1 percent for effective field goal percentage) this season. When you factor in all catch-and-shoot shots, that number goes up to 35.7 percent with an effective field goal percentage of 55.4 percent. Basically, he's been pretty solid on 3-point shooting but has suffered inside the arc on jumpers.
He's shown us some pretty solid shooting range -- and more importantly a good, comfortable shooting stroke -- during these last two games.
It doesn't change how the world will think about him as a shooter, but you can see the potential for something really solid there. His shooting motion is more compact than we've seen in the past and there's a smoother delivery. Most of his problems going forward will likely be about balance, rather than release point. 
In looking how his jump shooting might translate to more of an NBA style of play, you can see more solid evidence in his shooting off the dribble against TCU when he had 27 points on 8-of-13 from the field. 
Shooters get chased off the 3-point line all the time in the NBA by aggressive closing defenses. While some people will lament the pull-up midrange jumper off the dribble by scorers like Carmelo Anthony and Rudy Gay, it's a skill you want to see from a scorer because it shows good balance in the shooting motion. Even in such a small sample size, Wiggins looks to have the capability of rising up off a one-dribble pull-up (preferred over dribbling around like JJ Barea before firing up a jumper). 
While ironing out the needed consistency of a reliable jumper is still there for Wiggins, attacking off the dribble and using his overwhelming athleticism in transition is primarily where his impact will be felt. This season, Wiggins has been destructive in transition scoring nearly a point and a half per possession and making 71.1 percent of his shots. 
The most impressive thing about his attack when he's moving toward the hoop with the ball is his body control. Yes, he can jump really high and in an explosive manner, but if he didn't have the control he has with his body in the air, he'd be crashing into guys left and right while creating turnovers. You don't see him doing that at all. He jumps straight up against defenders instead of laterally, which would give him the chance of committing an offensive foul.
The way he's drawing free throw attempts shows real potential for him doing that in the NBA, as well.
Looking at that clip, I couldn't help but thinking of James Harden in transition when he just has to do a strong step-through move or a Euro-step in order to get the defender off-balance to have no choice but to commit the foul. At 77.9 percent from the line this season, getting him plenty of chances at free points is a good way to keep him engaged on offense and give him a better chance at keeping consistency with his jumper.
Again, it's only two games but it's not like this is the only time he's shown us pro-level skills and the potential for superstar development. I just wouldn't be shocked if we started to see this become a normal type of performance for the remaining 11 regular season games and the tournament play to follow.
Perhaps, we've viewed Wiggins as a disappointment so far because the hype was too big for him to capitalize right away. Just don't be surprised if this is the start of him proving the number one pick in the 2014 NBA Draft can only be one possibility. 
Video for this post via Dawk Ins. Subscribe on YouTube and follow on Twitter at @DawkinsMTA.
CBS Sports HQ Daily Newsletter
Get the best highlights and stories - yeah, just the good stuff handpicked by our team to start your day.
Please check the opt-in box to acknowledge that you would like to subscribe.
Thanks for signing up!
Keep an eye on your inbox for the latest sports news.
Sorry!
There was an error processing your subscription.
All three teams got what they wanted out of the Carmelo deal

Carmelo Anthony's trade to the Hawks has layers, but Twitter just respects his hustle

Keep checking back for the latest updates as NBA free agency continues
Atlanta is expected to waive the 10-time All-Star, who could soon be a Rocket

The three-time champ is the latest NBA star to go Hollywood

The next act of LeBron's career could put him in some unfamiliar territory