NBA Draft Options: Picks No. 21 through No. 25
The Thunder, Hornets, Grizzlies, Jazz, and Rockets are on the clock.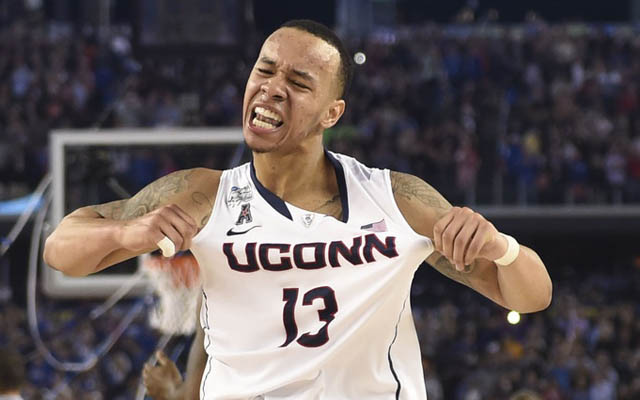 More Draft: Mock drafts | Draft news | Draft options
A team-by-team look at picks No. 16 through 20 in the 2014 NBA Draft and what those teams can do. Click here for picks No. 1 through No. 20.
Draft a big: The true big crop isn't great at this spot. Jusuf Nurkic could go top 12, or fall all the way here. If he lands here, it's not a bad option. ... if they amnesty Kendrick Perkins. Nick Collison may have another home this summer. But if they're looking to add mobility, Nurkic isn't the option. He is versatile, though, and plays hard.
Adreian Payne could fall here. There are concerns about how he adapts to a new system. He would be a pretty great pick up, even if they have Serge Ibaka. Payne could help balance their scoring off the bench.
Michigan center Mitch McGary has gained a lot of momentum the past few weeks precisely because of the lack of options. He hasn't worked out for teams and has a back issue. But he also has the best skill set of any big here.
Patric Young is a major reach, but he's also got more polish and has been part of a winning environment. He's a hard worker who's matured through the same time span he's fallen from a lottery pick to a likely second rounder.
Jarnell Stokes: Stokes and Steven Adams would lead the league as a frontcourt in "altercations involved in."
I'll throw T.J. Warren in here, even though he's basically a tweener and probably a three offensively. He may need to defend fours based on speed. But offensively, the Thunder could use the scoring balance. Jerami Grant is a reach here and similarly stuck between stations (he's only 6-foot-8), but he is athletic and can run the floor. Would they consider him a better bet than Perry Jones III at this point, though?
Draft a wing:Thabo Sefolosha has probably been shuffled loose of the Thunder coil, so they could use a wing here, but they've got to be able to defend to stay on the floor. Some size would be preferable. They don't need another Jeremy Lamb.
If Kyle Anderson falls, they should probably jump on that. He can shoot from behind the screen, which would help them quite a bit. His handle would do good things in their system. The Thunder are also more comfortable with drafting position-less guys like Anderson and molding them.
Cleanthony Early would look really good running breaks. They need a guy who models KD in terms of offensive versatility and Early is basically a generic-brand KD. He's the Dr. Thunder of wing scorers. His rebounding could help, too.
I don't think it's totally insane to imagine Rodney Hood falling here. Hood has a lot to like, but his wingspan isn't outrageous and would have to live down the "Duke's terrible defenders" stigma. He'd be a pretty easy fit.
P.J. Hairston could slide here. This is right in his range, and given the Thunder's comfort level with the D-League, it could be easier for them to take him. He does pretty much everything they're looking for.
K.J. McDaniels has to be on the list, too. He plays smaller than his measurements indicate, based on his frame, but that can be improved upon, and he's insanely athletic. But the jumper is simply not consistent enough to stretch the floor and they need that.
Draft a point guard: I mean, it's a definite need. They like Reggie Jackson at shooting guard. Derek Fisher is gone. And this is the deepest spot for it.
Elfrid Payton is trending higher right now, with some liking him as high as the early teens. But he really struggles with shooting. If he falls, he's perfect here. That pure point everyone wants Russell Westbrook to be? Say hello to Elfrid Payton. Tough kid, could run the offense off the bench.
Shabazz Napier and Tyler Ennis could be here (but likely only one). Floor leaders, which OKC desperately needs. They can score a little bit, too, which, again, they need. A lot of this depends on the Thunder's free agency plans, if they can move Jackson back to the bench and start a better two-guard. But can you risk that?
Trade: Unless they're adding a major veteran component, doesn't make much sense, but they do have another pick at the end of the round if they wanted to go that route. Trading down might be an option based simply on how many roster spots they have. 
Draft a big: They're good at center with a two-man rotation of Marc Gasol and Kosta Koufos. A third would be nice, but this is little high for that pick.
Power forward is interesting. The Grizzlies are trying to extend/re-sign Zach Randolph, and Ed Davis is up for extension as well. Jon Leuer vanished from the rotation last year but is still around. Do they want to hedge their bets here?
Taking Patric Young at 6-10 and playing him at backup power forward isn't a bad plan. He'd at least give some post scoring and could pair well with Koufos. Jerami Grant at 6-8 is pretty good. He's athletic and can get to the rim off the face-up, which is something they need. Not a terrific shooter, but the athleticism could be worth it.
In the unlikely event Adreian Payne falls this far, they should jump on him immediately. Jarnell Stokes would give them the toughness that fits with their model as well. The question is if he's skilled enough to score at the next level.
Take a wing: This makes considerably more sense. They need scoring badly. Tayshaun Prince is one nail in the coffin from the ground, Tony Allen needs to play defender two-guard, and they need scoring with size.
I had been big on K.J. McDaniels of Clemson for them, but after watching his workout, the jumper's just not there. He has obscene athleticism and is quick as a lightning bug, but the Grizzlies need a more consistent shooter.
Cleanthony Early is effectively perfect. Shot 37.5 percent from 3. He's plug and play at age 23. He can handle in transition and has a 6-11 wingspan. If Kyle Anderson falls, and he has been, that would be a tough choice between the two. Warren would have to play three here, but if Tony Allen can defend the wing and let Warren cover a spot-up shooter instead, they could make it work.
If Rodney Hood were to drop, he's obviously a candidate here as well.
Draft a point guard: The future of Nick Calathes is in the air. Beno Udrih as well. They have been constantly looking for depth at this position. They have stronger needs on the wing, yes. But adding a Tyler Ennis, Shabazz Napier, or Elfrid Payton could give them stability where they need it. They've got to save Mike Conley's body a little bit more. Every year, he reaches the postseason dead tired.
Trade: Doesn't seem like a great plan unless they get major return on it. They need some younger talent, some athleticism, and don't have much extra to get. Moving it for a veteran could be risky unless they pull off a major steal. 
So many options for Utah after the No. 5 pick.
Draft a big: There's a good chance they upgrade at power forward at No. 5. But at center they could still use help, despite Enes Kanter and Rudy Gobert. Is three Euros too many? Jusuf Nurkic fits their profile, and he's got a better skillset than the other two.
They had better like whoever they get quite a bit, though. If they take Vonleh or Randle (or Embiid?) with the No. 5, they're going to be too big-heavy with Kanter, Gobert, Favors and that pick. If they go Aaron Gordon or a guard at No. 5, Patric Young could give them some athleticism to pair with the stiffer centers. Mitch McGary wouldn't make much sense unless they're planning on moving someone.
Warren might be the best option overall, able to score from either position and help them in smallball lineups.
Draft a wing: P.J. Hairston is the same size as Alec Burks with a smaller wingspan. But he might be more athletic. It's not a great fit, though. Early makes some sense, but that depends on what they do with Gordon Hayward, who's a free agent this summer.
Jordan Adams is in this range on some boards. I like him more as a second-rounder, but he, C.J. Wilcox, and Jordan Clarkson all can shoot the way they need.
Draft a point guard: They could use the depth behind Trey Burke, and the possibility of having a pure point in Payton, or a floor manager in Napier or Ennis is tempting. All three could be off the board here, and there's a substantial dropoff after those three. Vasilije Micic would be a reach, but is really the next best option.
Trade: They've got what they need going forward and aren't in a rush. If they get a good 2-for-1 combo, they should look at it. Trading for a veteran would be unwise and out of character, though 
Draft a big: They could use another five, honestly. McGary would make some sense here, but feels a little redundant with Cody Zeller. If they feel Young can play the five, he would give them some more athleticism, and you might be able to get away with a Young-Al Jefferson frontcourt.
Jerami Grant is an intriguing option, here. For a small-ball lineup, he could help with rebounding and provide putbacks and athleticism. Jarnell Stokes is big and mean, exactly what they could use on the inside.
Draft a wing: This is their biggest need but it hinges on what they do at the No. 9 spot. If they don't grab a shooter there, which they are almost certain to, C.J. Wilcox, Jordan Adams, Hairston, Jordan Clarkson, and Bogdan Bogdanovic are all really good fits, here. K.J. McDaniels may be the best player available, but his lack of shooting makes him redundant with MKG and Jeff Taylor.
Glen Robinson III is a little bit of a reach here, but he's kind of the hybrid form of the athleticism and skill combination.
Draft a point: Luke Ridnour is a free agent and Gary Neal plays shooting guard most times. This might be the biggest need from them overall. Payton's not a great fit since they need to be able to score. If Napier's on the board, that fits with what Michael Jordan likes to do with great college players and he's a good fit in terms of scoring.
The problem is that Napier, Ennis, and Payton could all be off the board and there's not a great option beyond that. Free agency and someone like Patty Mills might be the better solution.
Trade: A value deal for a veteran wouldn't be a bad idea, honestly. If they can pick up someone, especially a role-player/shooter type, for this pick, they might have more of an immediate impact. Moving back doesn't make much sense, they need the talent. 
Draft a big: They're likely to move Omer Asik this summer, so yeah, another big would be a good idea. They have bigger needs, but if they're chasing wing defense/scoring in free agency, then adding Jusuf Nurkic here would make a lot of sense. They like their guys skilled, he's skilled. They like their guys big, he's 6-11. He's not particularly mobile and he's also very likely to be off the board here, maybe even in the middle first-round.
McGary's not a bad plan, here, either but they'd have to feel pretty good about the back situation. Patric Young fits to a degree but it's kind of weird with Terrence Jones and Motiejunas around.
Draft a wing: Their biggest position of need. The problem is A) They have their eye on Carmelo Anthony and B) If they don't get Melo, they need wing defense. Taking a rookie for immediate defensive impact just isn't a great plan.
But if they're playing the long-term game, Early and K.J. McDaniels should lead the pack, along with Hairston. Hairston might be able to play immediately and make an impact. I also like C.J. Wilcox a lot in this spot, along with Roy Devyn Marble. Gives them scoring balance off the bench.
Don't rule out Bogdan Bogdanovic or Jordan Adams here, either.
Draft a point guard: They're honestly pretty set here. They've got Lin. If they trade Lin, they've got Patrick Beverley. If they need depth, they have Isiah Canaan who's ready to contribute. They don't need another guy at that position at this pick. Maybe second round to put into their D-League system.
Trade: It's Houston. Houston is always looking to trade. Veterans, young guys, assets, future picks, money, whatever. That's always on the table here. 
The Lakers legend details why the NBA popularity will continue to rise

If the Thunder forward doesn't know the reason, he has a very short memory

The 76ers star doesn't see a bright future for Jon Snow
Valanciunas played professionally in Lithuania before joining the Toronto Raptors

SportsLine's advanced computer model simulated Tuesday's Cavaliers-Hawks game 10,000 times

Larry Hartstein is 14-6 on Sixers picks and 16-8 on Timberwolves picks and has a strong play...