NBA Draft Stock Watch: Aaron Gordon, Doug McDermott rising
A look at the draft stock of prospects in the draft including Aaron Gordon, Marcus Smart, Montrezl Harell, Doug McDermott and more.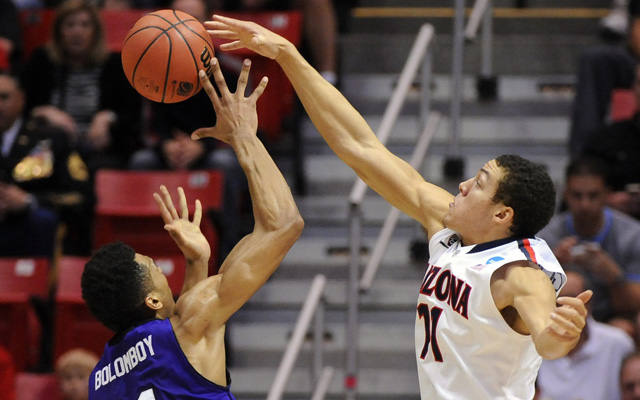 More NBA draft: Wiggins passive? | Thursday stock watch | Weekend Prospects
A look at how the draft stock of various players played out over the opening weekend of the NCAA tournament in Rounds 2 and 3. 
For more on Duke forwards Jabari Parker and Rodney Hood whose college careers may have ended in disappointing fashion to Mercer Friday, click here. 
Aaron Gordon, PF, Arizona: Outside of Kentucky, Arizona has done the most for its prospects in the tournament, and Gordon's no exception. His athleticism has him in the top ten, and he showed more of that as Arizona blazed its way to the Sweet 16. 
Interestingly, where Gordon's athleticism is most on display is defensively. Despite not having an elite wingspan, his ability to essentially jump ladders in a single bound gives him the ability to challenge shots exceptionally well. 
Weber State was not prepared for this.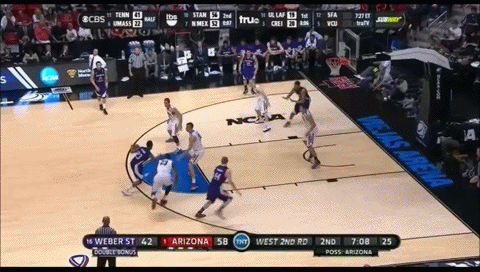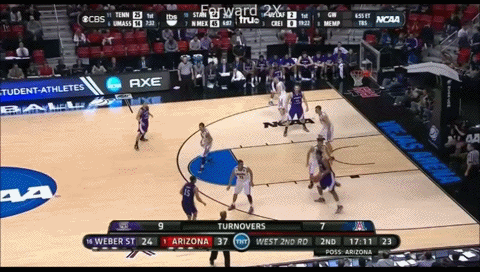 Against Gonzaga, he got his offense going, and most of it was just overwhelming the Zags with his athleticism. If he gets paired with a point guard who can throw the lob, he can be devastating. But he's got a little bit of offense, too. 
He busted out the three-ball, for example: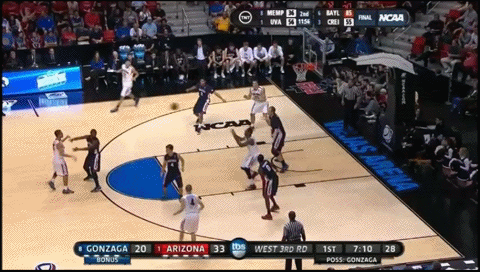 Here's the floater, which is a nice touch. 
Oh, and it turns out Gordon is in fact the strongest Hulk there is.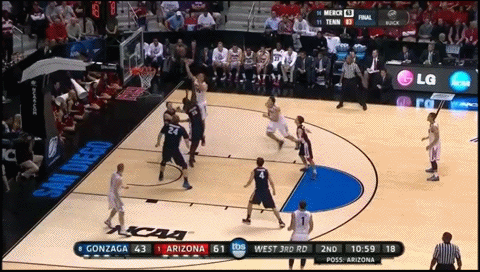 The comparison for Gordon is often Blake Griffin based on body type and athleticism, but several people on Twitter mentioned a solid recommendation of Shawn Marion. His athleticism makes him a top ten guy. If he can keep showing this versatility, he could creep up in front of some of the guys in front of him. 
Stock: Rising up and throwing down
Nick Johnson, SG, Arizona: Johnson projects as a late first-rounder as a junior, but he's had quite the opening few games. Johnson took over in the Wildcats' win over the Zags, with 17 points on 7-of-10 shooting, five assists to just one turnover, five rebounds, and four blocks. 
Any guard that has the timing and elevation to block shots like this probably has a chance at a future in the league.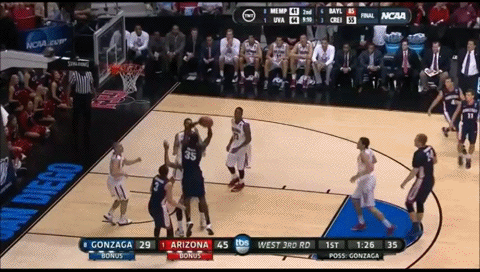 Johnson's scoring was what you'd expect, some open threes, some transition layups. But the passes were actually more impressive.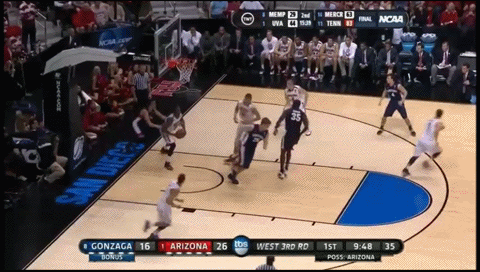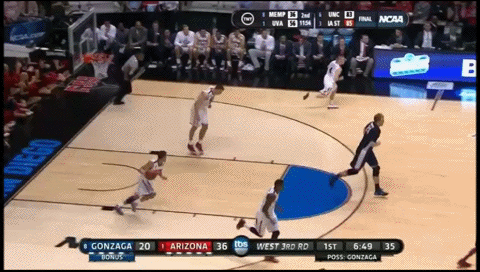 Russ Smith, PG, Louisville: Turnovers, turnovers, turnovers. That's really the issue for Smith, and whether or not he can land an NBA job will depend on if teams feel he can learn to run a team's offense efficiently. In the win over Manhattan, Smith shot efficiently, but had just three assists to six turnovers. He's a gamer and made fast decisions, but nothing was really answered as far as the questions on the defensive end for him.
Same story against St. Louis, shooting 3-of-10 with seven assists and seven turnovers. And some of these...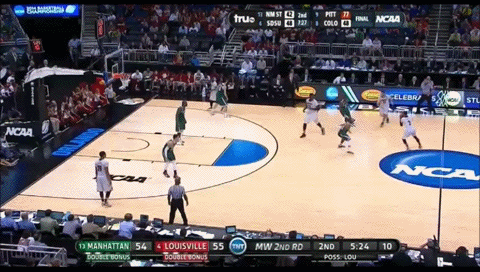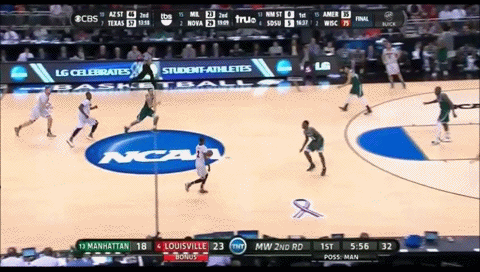 These plays don't define his college career and his pro prospects weren't great anyway. But as you watch him lead Louisville to win after win and wonder why he's not higher, this is part of it.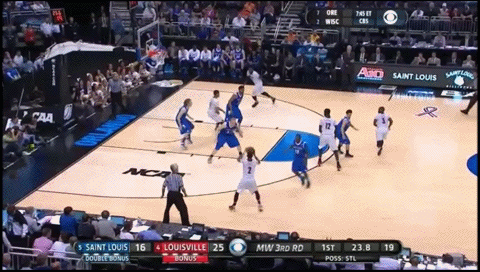 Stock: Slight slip.
Montrezl Harrell, PF, Lousville: Harrell is just a beast. He's not going to be a primary offensive weapon, and he's not going to have a lot of versatility. But he showed vs. St. Louis how he can bruise down low, and also displayed some impressive defense.
Watch how he shuts off the pick and roll on the edge and then stays active in the paint (try and not notice how long he's in the paint for):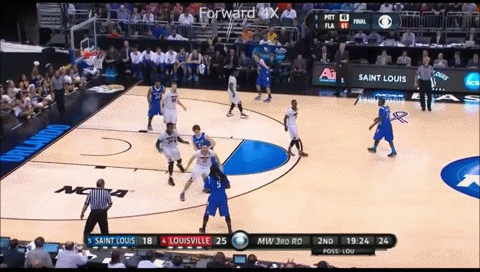 Stock: Trending upwards.
Doug McDermott, F, Creighton: McBuckets had himself the kind of start to the tournament you want, dropping 30 on Louisiana LaFayette and doing so on 13-23 shooting with 12 rebounds to boot. The standard comp for McDermott is a slightly bigger Kyle Korver. But here's another comp: a smaller Ryan Anderson, one you can truly play at small forward but who can help you on the boards. Korver is 6-7, McDermott 6-8, and Anderson 6-10. McDermott's probably not going to be dropping double doubles or racking up the rebound rate like Anderson, but he also could play in big lineups at small forward or small lineup at power forward. There's some flexibility with Dougy McD that has been noticeably absent from other elite college shooters.
Check out the one-legged Dirk fadeaway here: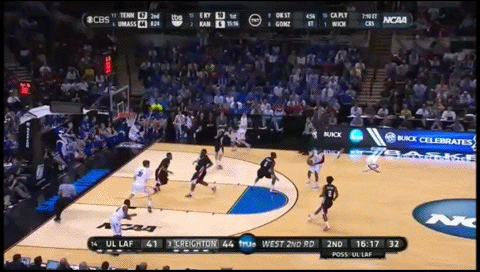 And the smoothness on the cut, the catch, and the shot: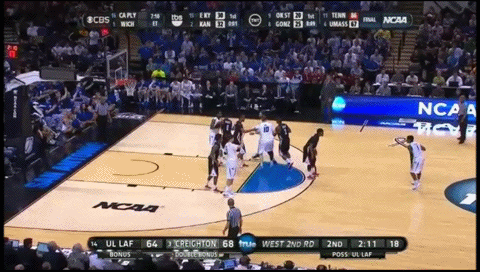 It should also be noted he can punish teams for playing him to the outside. ULL went way overboard, and he just killed them on a few plays like this.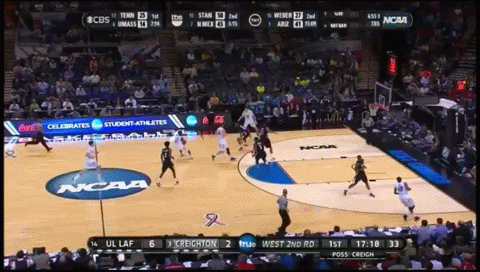 Baylor had the athletes to guard McDermott, however. And with Creighton's limited options, Baylor overloaded covering him. Don't believe me?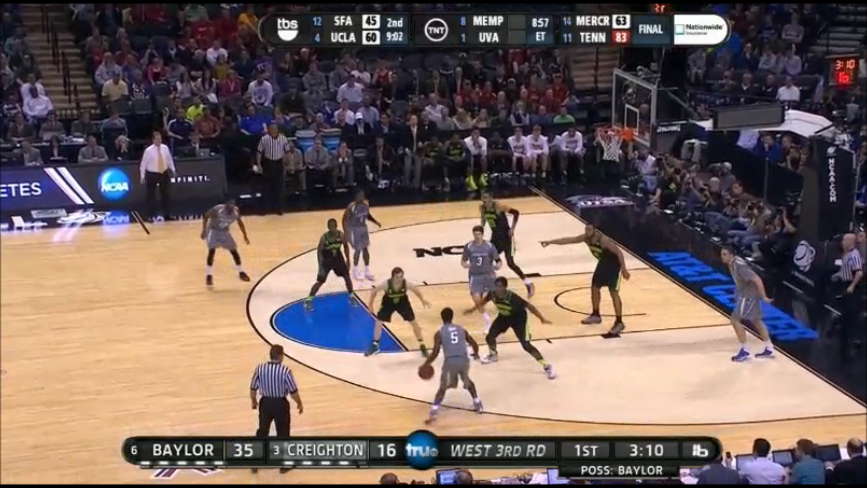 That's all five defenders closing on McDermott and one of them pointing at him. This was not a screen possession. 
It sure seemed like he just missed some good looks vs. the Bears, however. Whether their length rushed him, or if you're a fan of narratives, the pressure got to him, he had chances and just missed.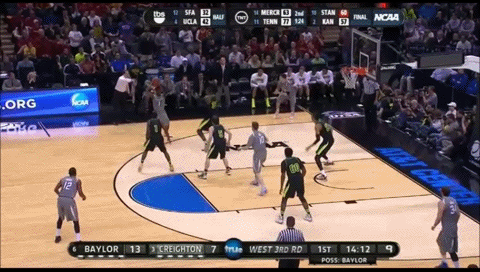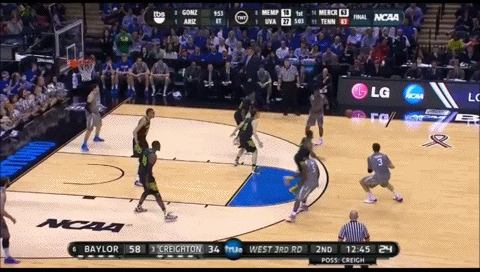 When you look at McDermott's overal body of work, you have to like his chances of translating. By all accounts, he seems more Ryan Anderson or Antawn Jamison than Adam Morrison. 
Draft stock: rising. Could hit top seven pretty quick.
Marcus Smart, G, Oklahoma State: 5-of-14 from the field, 23 points, got to the line, seven assists, six steals, 13 rebounds. That's quite a statline. And for an Oklahoma State team that honestly has enough talent to win but hasn't put it together, he's had to do a whole lot. You saw tha against Gonzaga. If you want to talk NBA-ready, Smart may be the on guy who understands the load he has to carry. That can be a good thing or a bad thing.
But he does have some potential at point guard. Check out this find in transition: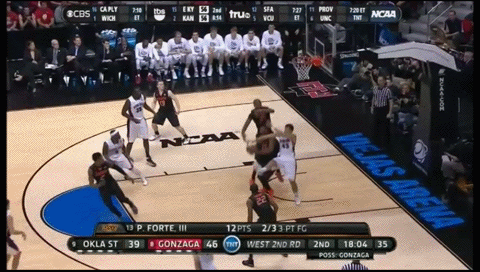 There are bad habits though. Smart comes of the pick and immediately, he's looking for the shot. He loves the long, looping perimeter dribbles to find a pull-up three. Sometimes it can chane momentum. Sometimes it just seems like he's forcing it.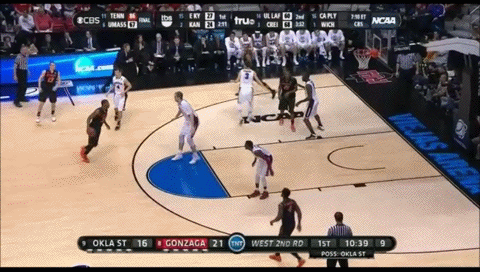 This one in particular bothered me not only because he holds it high and nearly has it stolen but when he regains the ball on the perimeter, he waits for the defender to catch up, and then decides on ths shot. The line Smart walks between scoring playmaker and gunner is going to determine a lot about his NBA career, and that's going to be dependent on where he's drafted. He's exceptionaly talented, and unlike some guys, went down firing, but there's also the risk of inefficiency.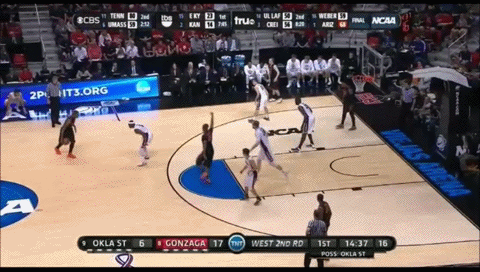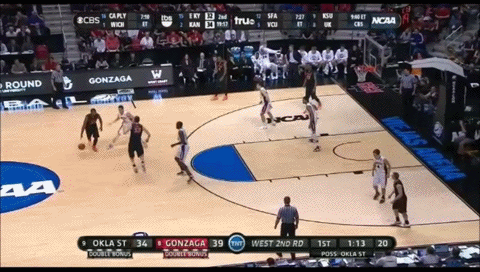 Stock: He's a Rorschach test. You see what you want to see.  
Kyle Anderson, SG, UCLA: Anderson looked good along with the rest of UCLA over the weekend. They were just so superior to their opponents athletically, it was like varsity vs. junior varsity. Anderson has an NBA frame with goo length and it shows in things like his extension over opponents on jumpers. He moves well in transition and can weave in an out of opponents. 
Everything I've seen from him makes me think he'd be a great fit in Oklahoma City. 
Stock: Slight rise. 
Zach LaVine, PG/SG, UCLA: LaVine is crazy athletic and reminds me of a Tyreke Evans type with better playmaking instincts and a better jumper, with considerably less explosiveness. (Reke had and has elite explosiveness.) He hasnt played much in the tournament, but that's in large part due to UCLA's army of wings. 
Stock: holding steady based on potential. 
Jordan Adams, SG, UCLA: He gets buckets, you have to give him that. But at 6-5, 220, his body type doesn't translate well to the NBA. He's shown enough to earn a second-round pick and a good run at summer league, however. He needs to develop a signature skill. 
Stock: holding steady.
Mirotic and Portis combined for 49 points as the Bulls won their fifth straight game, beating...

Gobert, who missed 11 games earlier this season with a knee injury, will have an MRI

Get all the latest scores, news and highlights from Friday's NBA games
Porzingis is questionable for Carmelo Anthony's return to MSG on Saturday

The Spurs and Rockets will renew their in-state rivalry on Friday night

Anthony will play at Madison Square Garden on Saturday for the first time since being trad...