NBA Draft Stock Watch: Assessing Sweet 16 and Elite 8
A brief look at the performances of potential draft picks in the second weekend of the NCAA tournament: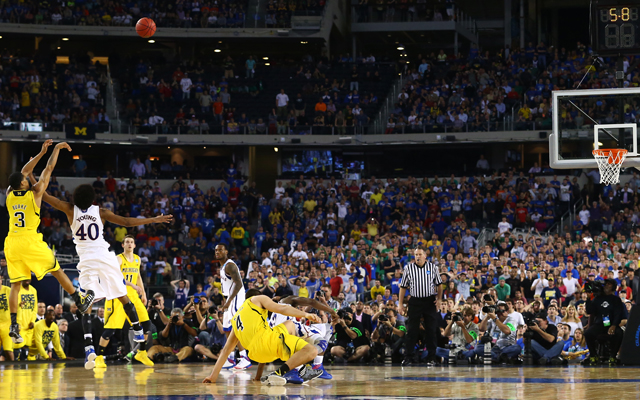 A brief look at the performances of potential draft picks in the second weekend of the NCAA tournament: 
Trey Burke, Michigan: No one helped their stock more in this tournament than Burke. It's not just the scoring performances, it's that Burke translated himself into a household name with his scoring potential and the huge shot to upset Kansas.
The problem is Burke is an undersized scoring point. Can he run an offense? Can he be a distributor? Can he work as a defensive leader? The tournament reveals your ability to take and make some terrible shots that everyone remembers for being awesome due to their level of difficulty, but they can't solve the questions about your ability to translate to an appropriate position skill-set.
The good news is that while his tournament exploits make him look like a gunner, the truth is that he has an excellent handle and good vision. Burke could be devastating for a fast-pace team, and has been effective in pick and roll situations at Michigan, something that puts him ahead of the curve for most college points.
Burke's size is helped by his wingspan, but overall, Burke is another player emblematic of this class, but maybe on the positive side of the coin. Limited, with some challenges ahead of him, but intriguing as all get-out as a lottery pick.
Deshaun Thomas, Ohio State: Thomas is listed uniltareally as a second-round pick, but a strong performance before Ohio State ran out of contested Aaron Craft 30-foot jumpers might have moved him closer to the end of the first.
Thomas is 6-7. But hey, Anthony Bennett is 6-8. Bennett has a wider skill range, but Thomas has a nice bit of aggressiveness getting to the rim. He was a high point for Ohio State in the loss to Wichita State with 23 points and five rebounds, and kept relentlessly going to the rim.
Michael Carter-Williams, Syracuse: How about a 12-11-5 spot for MCW against Marquette to put Cuse in the Final 4? How about aggressively getting to the rim, finding cutters in transition, getting the ball off the glass, and showing athleticism?
MCW has drifted between the late lottery and the 20s this year, but this run could wind up lifting him into the top 10. And hey, this guy looks much better than the last Syracuse lottery pick did at this time.
Mason Plumlee, Duke: Solid, is the word with 14 and 7 vs. Michigan State and 17 and 12 in the loss to Louisville. Plumlee could do little to raise or lower his standing. He's going between 10 and 20 in the draft, and that's pretty well set.
Wait, no, this is the 2013 draft, so he could go, like, 5. But still.
Gorgui Dieng, Louisville: Another guy who's done a lot to raise his stock. He's an actual center, which is rare. His defense is already legitimate, which is rare.
Bigs are the rarest of the rareties in the NBA right now, and Dieng has everything you're looking for. He can protect he rim, he has the length and size you want. He's got just enough of an offensive game to where he won't be too much of a liability to be on the floor.
He bullied Plumlee despite Plumlee's numbers in the Elite 8. Dieng's a solid pick.
Ben McLemore, Kansas: It's not that I think McLemore isn't worthy of the first pick after his miserable NCAA tournament run. It's a handful of games in a select set of circumstances. And McLemore did have 20 points on 15 shots in the loss to Michigan. He was pretty decent in that game and showed good athleticism. 
The point is more that McLemore, as the presumptive first, or second (if you think Nerlens Noel goes or that the knee isn't a concern) pick is indicative of the draft. But you know what you're getting with McLemore: a standard wing with good athleticism whose success will be determined by his approach to playing off-ball and his decision making.
Griffin said recently he thinks it's more likely that LeBron James goes to New York than L...

Mayo was suspended for two years last summer for violating the league's anti-drug program

The NBA broke its silence with a statement related to the Lakers-Paul George tampering cha...
The Clippers big man thinks LeBron will reunite with the banana boat crew at some point

Have the Clippers reportedly found their next GM?

The NBA stayed to the point in their response to the Greek basketball federation